The Rings Of Power's Director Says Fans Should Do This Before Watching The Series
Ben Rothstein/Prime Video
Anticipation is growing as the premiere of "The Lord of the Rings: The Rings of Power" quickly approaches. While "The Hobbit" film trilogy explains what happened before "The Lord of the Rings," this new series will focus on what happens in the Second Age. The show's co-creator, J.D. Payne, explained the overall setting during a recent Television Critics Association press tour. "This is before Frodo, before the rings, the time during which the rings of power were forged," he said. This is also the first time that the island nation of Númenor is depicted on any screen.
Episodes will be released on Amazon Prime weekly, with the first two episodes premiering September 1 stateside at 9 p.m. ET. The buzz surrounding the highly anticipated series may intrigue people who have never visited Middle-earth. It may also encourage long-time fans to revisit the movies and the books. So how does someone properly prepare for the series that many people will be watching? An executive producer and director of the first two episodes has the answer.
The material that J.A. Bayona wants fans to review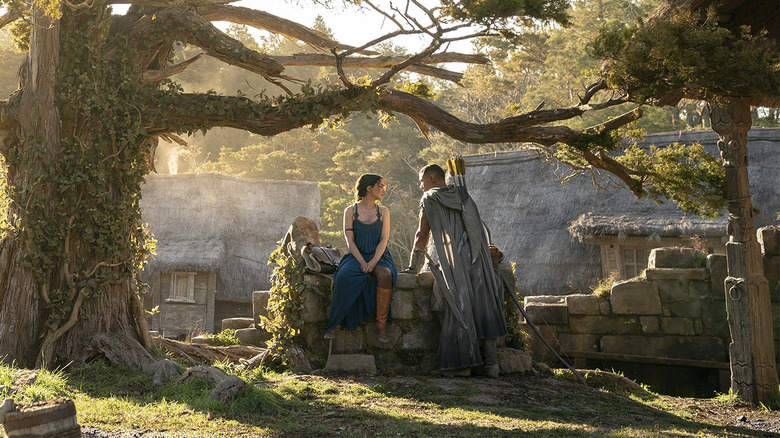 Ben Rothstein/Prime Video
In a recent interview with io9, executive producer and director J.A. Bayona said there are benefits to reading J.R.R. Tolkien's books before or even after watching the new show. "To me, it would be very exciting if people were interested in going back to the books or read them for the first time after they watch the show. But if they want to read it before the show, I think it's also great because they will know where the story is heading and they can get even more excited knowing that when they watch the show," he said.
As mentioned in the latest trailer revealed during San Diego Comic-Con, "The Lord of the Rings: The Rings of Power" is based on Tolkien's writings. While the series will tell a new set of stories, the appendices of "The Lord of the Rings" have been used as a blueprint, aiding in the connection of storylines to Tolkien's bigger picture, according to Entertainment Weekly. The show is expected to introduce new characters as well as expand on some familiar names, including the Dark Lord, Sauron, whose eye is prominently displayed in Mordor in "The Lord of the Rings" film trilogy.