Who Plays Ser Harrold Westerling On House Of The Dragon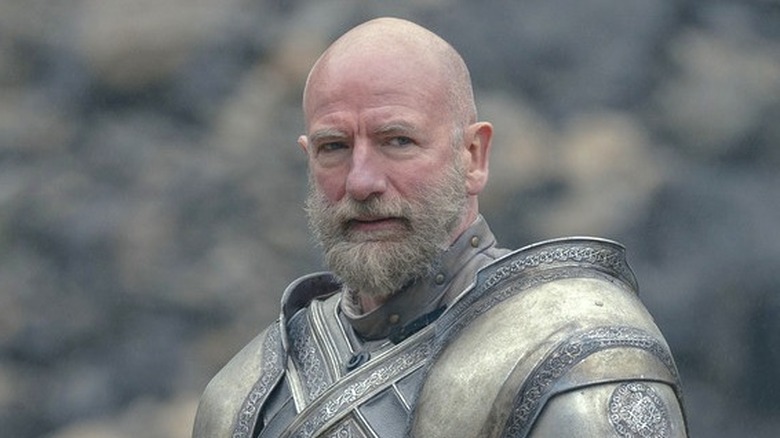 Ollie Upton/HBO
In HBO's "House of the Dragon," Ser Harrold Westerling is part of the Kingsguard. He's shown to have a watchful eye and share familiar banter with Princess Rhaenyra Targaryen (Milly Alcock), as shown in Episode 1 when he welcomes her back from riding her dragon, Syrax. Later he shows that he may have more loyalty to Rhaenyra than King Viserys (Paddy Considine) when he takes the princess to see her uncle, Prince Daemon Targaryen (Matt Smith), while also informing her that the King does not yet know that Daemon has returned.
Not a lot is known about Ser Harrold Westerling in the George R.R. Martin books, except that he served in the Kingsguard during the reign of King Jaehaerys Targaryen (Michael Carter) as well as King Viserys, and at some point, he became Lord Commander of the Kingsguard. It's exciting to see that we'll learn more about this elusive character in "House of the Dragon" since his character has been expanded beyond the books. If the actor who plays Ser Harrold Westerling looks familiar, it's probably because this character actor has portrayed everything from a Middle Earth dwarf to a Scottish War Chieftain, and with 134 credits to his name, you've probably seen more of his roles than you realize (via IMDb).
Graham McTavish is the only actor to appear in both Rambo and Rocky films
When someone mentions working actors, chances are they have someone like Scottish actor Graham McTavish in mind. McTavish, who plays Ser Harrold Westerling in "House of the Dragon," has been acting since 1986, with one of his first roles opposite Denzel Washington in one of his worst movies, "For Queen & Country," in which he played the Lieutenant.
After two decades of mainly British television roles that prove he's a steady and hard-working actor, he had an audition for "Rambo" within days of moving to the United States. "It was just one of those mad moments," he told the Daily Record in 2008. "I thought I would just be meeting the casting director, but then I became aware that there were all these posters on the walls of Rambo and Rocky and it dawned on me I was in Sylvester Stallone's office." He was offered the role of Commander Lewis that afternoon.
Seven years later, McTavish would take on the role of trainer Tommy Holiday in "Creed," becoming the first and only person to act with Stallone in both the "Rambo" and "Rocky" franchises (via Movie Market).
McTavish played Dwalin in The Hobbit trilogy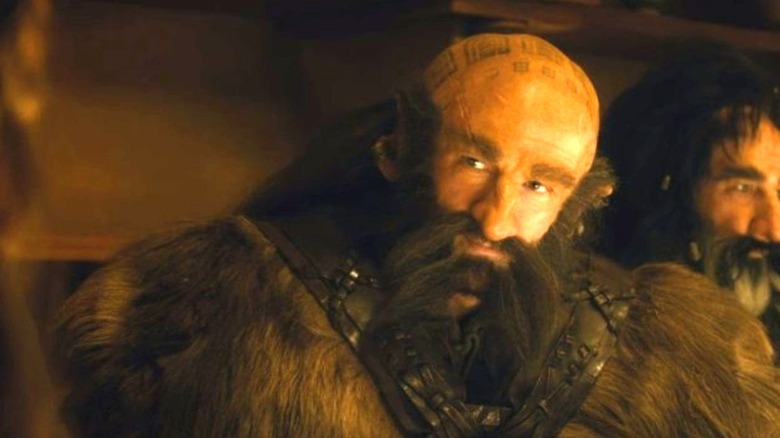 New Line Cinema
In 2010, McTavish was cast in "The Hobbit" trilogy as Dwalin, one of the Dwarves that traveled with Bilbo (Martin Freeman) and Gandalf (Ian McKellen) to take back the Lonely Mountain from the dragon, Smaug. As Dwalin, McTavish was serious, plainspoken, and very loyal. McTavish, a fan of the Brontë sisters, knew that Emily Brontë had two dogs named Grasper and Keeper, and decided that Dwalin would probably be the kind of person to name his axes. When he suggested it to Peter Jackson, he got excited and said they could even engrave the blades in Dwarvish. "And the next day, there they were: the engraved blades of Grasper and Keeper," he told TheOneRing.net.
McTavish's next role was in the phenomenally popular Starz series "Outlander," playing the fierce Highlander Dougal Mackenzie and, later, his ancestor, Buck Mackenzie. His time on the show also spawned a friendship with Sam Heughan, and the two created and starred in the Scottish road trip documentary "Men in Kilts." Then he took on his most recent role before "House of the Dragon," as a spy who becomes an adviser to King Vizimir (Ed Birch) in Season 2 of "The Witcher." It's unknown if he'll appear in Season 3. 
Besides being a well-known voice actor for shows and games, such as Dracula in "Castlevania" and the "Uncharted" video games, he also is an accomplished theater actor, performing in world-renowned theaters like The Royal Court and Bristol Old Vic (Creative Artists Management). We're eager to see what he brings to "House of the Dragon."