The 7 Best And 7 Worst James Woods Movies Ranked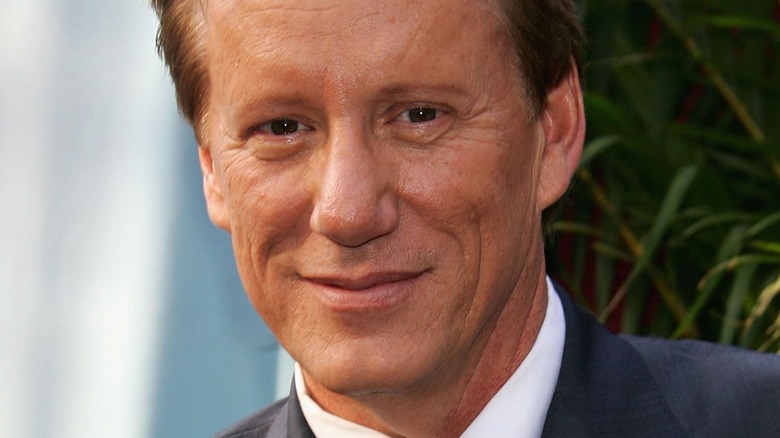 Evan Agostini/Getty Images
In recent years, James Woods has been more known for his outspoken political views and various professional and personal controversies than his acting. In fact, he claims that he's been blacklisted from Hollywood for his opinions, to the point that he's decided to retire from the profession altogether (via Fox News). But putting that aside, there's no denying that Woods has had a long, unique acting career, including multiple acclaimed performances in some truly classic films. 
After growing up in Rhode Island, Woods proved early in his acting career that he had a strong intuition for picking good movies, even some that were misunderstood at the time and may have taken a few years for much of the general public to come around on. After spending much of the 1970s in relatively small roles, his big breakthrough came by way of the 1979 true crime drama "The Onion Field." That was a turning point since, by the end of the next decade, he had made films with Sergio Leone, Oliver Stone, and David Cronenberg — not to mention adding "producer" to his byline. 
While his take on Hades from Disney's "Hercules" is not only one of the most popular performances in his career but also one of his personal favorites, here's a list of his best and worst live-action starring roles.
Best: Videodrome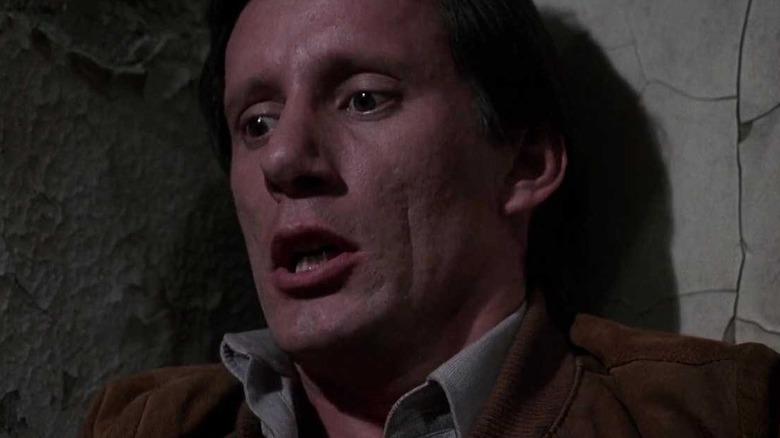 Universal Pictures
"Videodrome" can be considered David Cronenberg's debut studio film, as it was the first to have the backing of a major production company. He was betting big on it, even turning down an offer to direct "Return of the Jedi" to make "Videodrome" instead (per Entertainment Weekly). While the gamble wouldn't pay off — the film underperformed at the box office — it was a creative success by most measures, particularly in retrospect. It currently ranks at 79 percent fresh on Rotten Tomatoes.
Body horror at its most horrific, Woods plays a Toronto-based UHF TV head who becomes obsessed with "Videodrome,"
a voyeuristic broadcast seemingly originating in Malaysia. Staring endlessly at grainy, plotless footage that seems to show people being tortured and murdered, he and fellow viewer Nicki (Deborah Harry, of Blondie fame) follow the broadcast down a rabbit hole of politics, piracy, hallucination and dependency.
As for Woods, it was one of the first movies in which he was top-billed, and it announced his willingness to do more challenging, avant garde roles. Every actor hopes they have at least one bona fide cult classic under their belt, and Woods has that with "Videodrome."
Worst: The Getaway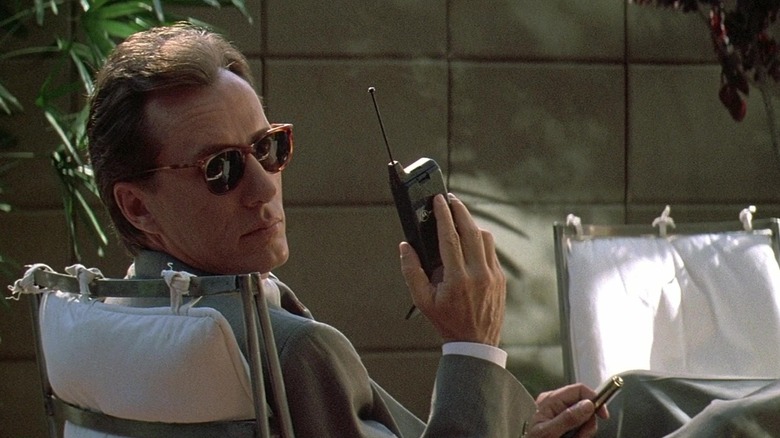 Universal Pictures
A remake of the 1972 Steve McQueen/Ali McGraw action classic that teamed the real-life couple with Sam Peckinpah and a whole lot of blood, 1994's "The Getaway" was supposed to serve as a similar vehicle for Alec Baldwin and Kim Basinger, then one of Hollywood's hottest romances. 
Although similarly based on the Jim Thompson classic, Baldwin/Basinger was no McQueen/McGraw, and director Roger Donaldson was definitely no Bloody Sam. Critics were tough on the remake, with many wondering why all involved would go to so much trouble remaking an already-classic film in the first place. This time around, the story felt a lot more shallow and mean-spirited than both the original movie and Thompson's novel.
Woods is good at playing slimy characters, but cast as Jack Benyon, the role originated by Ben Johnson, he's all the bite of the snake without any of the seductive slither. He at least avoided a Razzie, which can't be said for Basinger, who was nominated for Worst Actress.
Best: Casino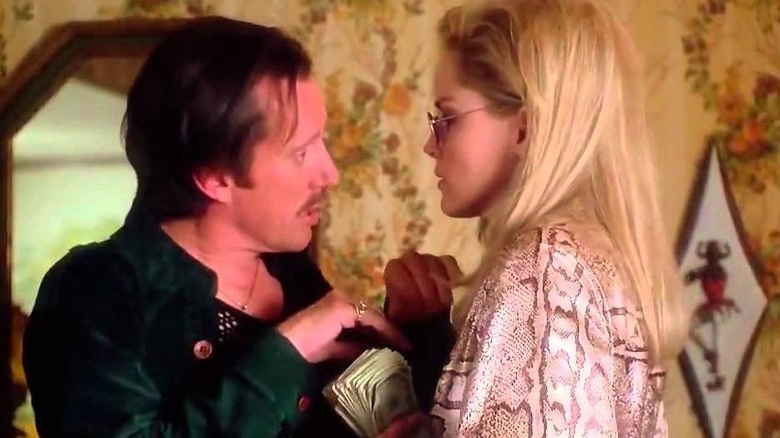 Universal Pictures
After working with several name filmmakers in the '80s, Woods rounded the corner into the '90s and ran head-on into Martin Scorsese. "Casino" may have been seen as something of a slight disappointment at the time, particularly when viewed as a companion piece to "Goodfellas," but the voiceover-heavy tale of mobsters setting up shop in Las Vegas has grown in stature during the ensuing decades. 
But "Casino" did well with both critics and the box office, even nabbing Sharon Stone a best actress Oscar nomination. As for Woods himself, he's never been slimier (and that's really saying something) than as Lester Diamond, a true parasite who knows just what to say to get Stone's Ginger crawling back to him time and again, always with money. It's positively heartbreaking how De Niro's Sam Rothstein genuinely tries to make Ginger a better version of herself, yet she always seems to have Lester hiding somewhere in the shadows.
Excellent work by Joe Pesci and De Niro ultimately overshadowed secondary players like Woods; nonetheless, he did some great work here.
Worst: Pretty Persuasion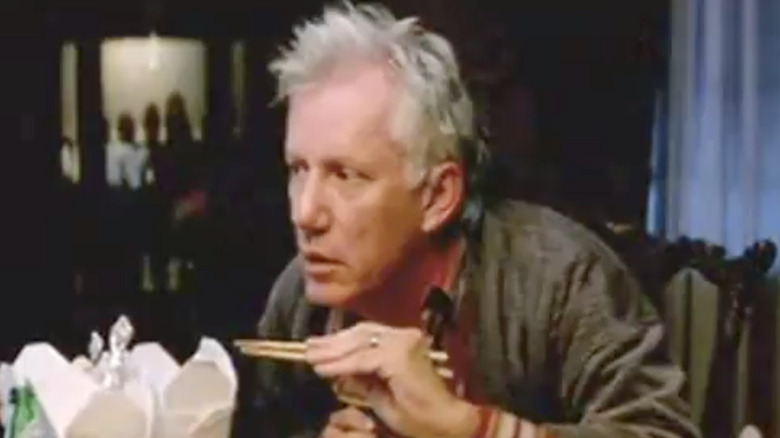 Samuel Goldwyn Films
By the time 2005 rolled around, Woods wasn't really getting lead roles in movies anymore, instead doing a lot more scenery-chewing supporting work. While he has a lot of forgettable output from this period ("John Q," "Northfork," "End Game"), there are a few movies that stand out as interesting choices — even if they weren't necessarily good ones. Such is the case with "Pretty Persuasion," a black comedy about three teenage girls who concoct a plan to falsely accuse a teacher of inappropriate contact. 
Unfortunately, "Persuasion" too frequently aspires to be edgy, and any greater message gets lost in the shuffle. Several critics pointed out that Woods is a stand out, playing the father of the teenager (Evan Rachel Wood) who is the ringleader of the whole operation. Unfortunately, the game effort by Woods seems to have been wasted on a movie that wasn't trying nearly as hard as he was.
Best: Cop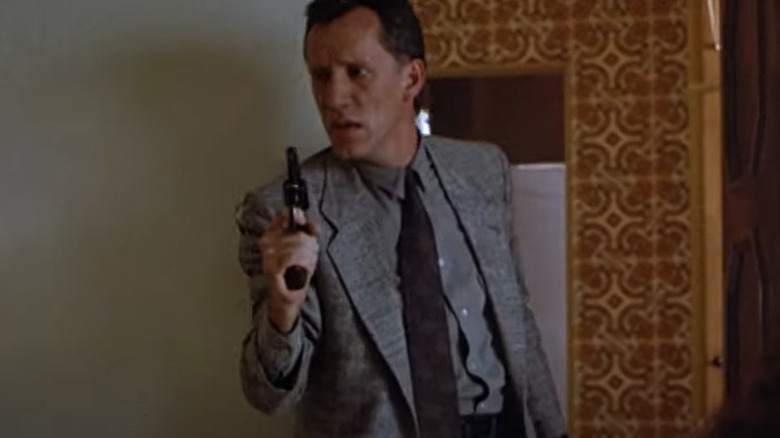 Atlantic Releasing Corporation
Woods made his producing debut with this 1988 noir flick, based on a James Ellroy novel. Starring in the film as police sergeant Lloyd Hopkins, Woods is a troublemaking boy in blue forced off of a murder case, but determined to keep at it anyway. Co-starring such solid supporting players as Lesley Ann Warren and Charles Durning, the trailer for the Woods vehicle promised "the most startling performance of his career," and asked: "When a man cares too much, how far is too far?"
It's a set-up that has been done in a hundred other films, but "Cop" still ends up being a compelling thriller, and Woods proved himself as a commanding lead. It was among the first movies where he showcased his chops in an action setting; if he had made some different career moves, who knows? Perhaps he could've become an '80s action star.  
Although Cop wasn't quite his "Lethal Weapon," this film represents a pivotal moment in the career of Woods — and perhaps, his most underappreciated gem. 
Worst: Kicked in the Head
Some actors are just better suited for supporting roles. Such is the case with Kevin Corrigan, who first broke through as Uncle Eddie in the sitcom "Grounded for Life" and was a great side character in films like "Goodfellas," "Superbad," and "True Romance." His first real attempt at becoming a lead — 1997's "Kicked in the Head," which he also co-wrote — simply felt like a reminder that he needed to get back to supporting work.
Corrigan plays a listless slacker who needs to deliver a bag to some dangerous people on behalf of his uncle, Sam (Woods). When he fails to do it, death threats and hijinks ensue. 
This surprisingly stacked ensemble film also included Lili Taylor, Michael Rappaport, and Linda Fiorentino, but it simply wasn't enough to make the film anything but forgettable. "'Kicked in the Head' is one of those movies where you wish the story was about the supporting characters," Roger Ebert said in his review.
Best: The Onion Field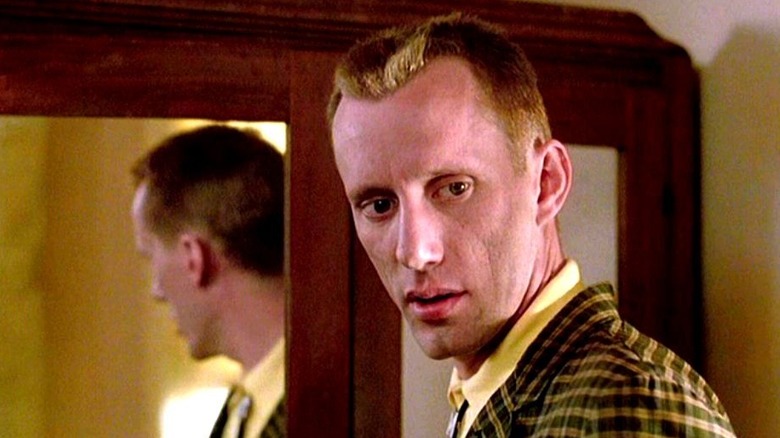 Embassy Pictures
Based on the 1973 book of the same name — itself a retelling of actual events — "The Onion Field" was a turning point in the career of two actors in particular. It was the film debut of Ted Danson, three years before "Cheers" would make him a household name. But it was also a career-making role for James Woods, who earned the first raves of his career as real life criminal Greg Powell, one of two men charged with the kidnapping of two police officers and the murder of one.
Woods was nominated for multiple awards for his performance, including a Golden Globe and a National Society of Film Critics award. After nearly a decade of playing mostly side characters — some where he was credited as little more than "Bank Officer" and the like — "'The Onion Field" marked the arrival of Woods as a talent worth watching.
Worst: Jamesy Boy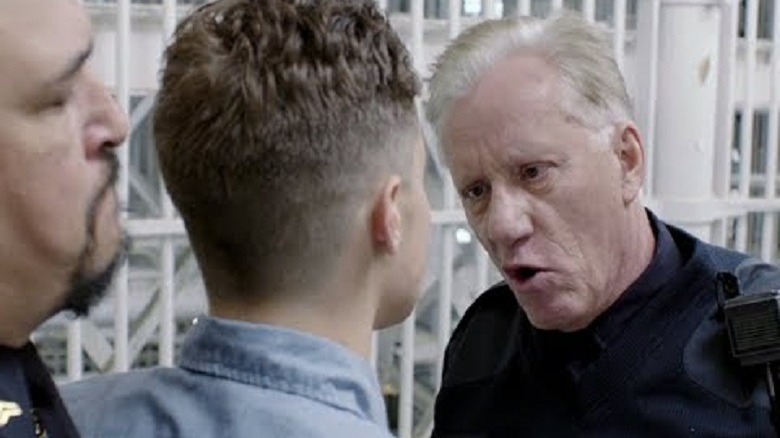 Phase 4 Films
Many big-name Hollywood actors reach a point in their careers where they start doing direct-to-video, largely forgettable films that rely heavily on their strengths and don't force them to stretch much. This 2015 gang drama seemed to indicate that Woods was headed down that road, and if he stays true to his word, it might just be his last live-action film. Which is a shame, because it's one of his worst. 
Co-starring Mary-Louise Parker and Ving Rhames, "Jamesy Boy" is as awkwardly structured as it is named. Based on a true story, it follows a young man named James Burns, imprisoned as a teenager and forced to turn himself around while in a maximum security prison.  
Playing a fairly generic correctional officer in a rather forgettable tale of redemption, it's likely not the kind of role Woods wanted to go out on. Nevertheless, he has done nothing since except voice work.
Best: Once Upon a Time in America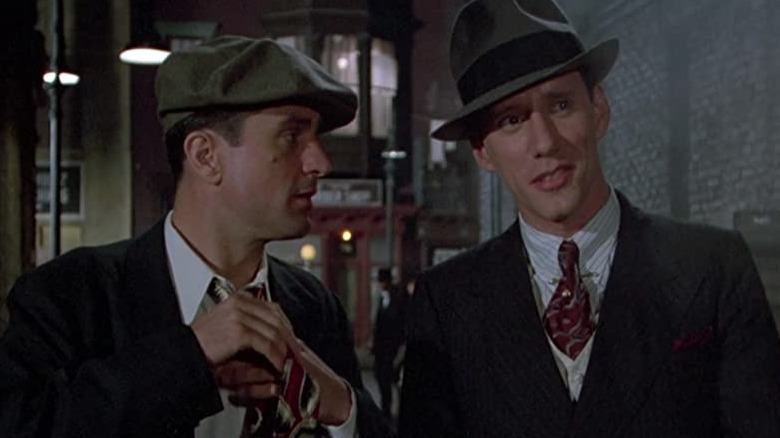 Warner Bros.
Considering Sergio Leone only really made eight movies — and three of them were the "Dollars" trilogy — there were just a few lucky actors who ever got to be directed by the Italian master. In 1984, he returned from a self-imposed sabbatical to make his eight and final film, "Once Upon a Time in America," and it would be another classic.
Detailing the rise of several Jewish gangsters in a tale that spans almost the entire first half of the 20th century, "America" not only gave Woods the opportunity to join the ranks of those directed by Leone, but also marked the end of his "Once Upon A Time" meta trilogy.
Leone had his choice of actors for this comeback/final film, and Woods landed a coveted spot as a supporting player behind Robert De Niro; while the initial U.S. theatrical release was marred by an overly edited, shortened cut, "America" has since been restored to Leone's vision in subsequent home entertainment releases, and recognized as a classic.
Worst: John Q
Though a commercial hit, grossing over $100 million, "John Q." wasn't well received by critics. Many praised Denzel Washington's performance, but said the movie didn't have much else worth recommending. 
A screed against healthcare bureaucracy masquerading as a thriller, the Nick Cassavetes-directed flick follows a desperate man (Washington) who takes extreme measures when told that his health insurance won't cover a heart transplant for his son. Taking a large swath of the hospital hostage, he forces his son's name to the top of the donor list — and becomes something of a folk hero in the process. 
Despite a somewhat interesting premise, "John Q" becomes mired in standard hostage thriller cliches and does little to spice up the well-worn genre. Woods plays the cardiologist initially unable to do the transplant because of the insurance issues, eventually becoming one of the people taken hostage. Woods is fine here, but he doesn't stand out in his usual scene-stealing ways, and this is a movie that could have used that.
Best: Salvador
The general opinion on Oliver Stone has been divisive for much of the past few decades. But in the '80s, he was on the rise and considered one of the most exciting filmmakers in Hollywood. Stone had been responsible for acclaimed films like "Midnight Express," "Scarface" and this 1986 film that tells the story of a once-acclaimed photojournalist (Woods) falling deeper and deeper down a rabbit hole of violence and dictatorship while covering the Salvadoran Civil War.
Co-starring Jim Belushi (in a rare dramatic role) and Michael Murphy, Stone wrote and directed the flick, which would earn Woods his first of two Oscar nominations. Even critics who were lukewarm on the film itself, it seemed, praised the performance of Woods. 
"In terms of performances, this is James Woods at his absolute best," wrote Paul Shirey of JoBlo in a 2014 examination of the film. "We've seen shades of this type of performance throughout his career, but this is Woods at full tilt. He gives everything to this role and, after all the on-set turmoil, pulled out what stands as the best performance of his career. It's quintessential James Woods and a marvel to watch." 
Worst: The General's Daughter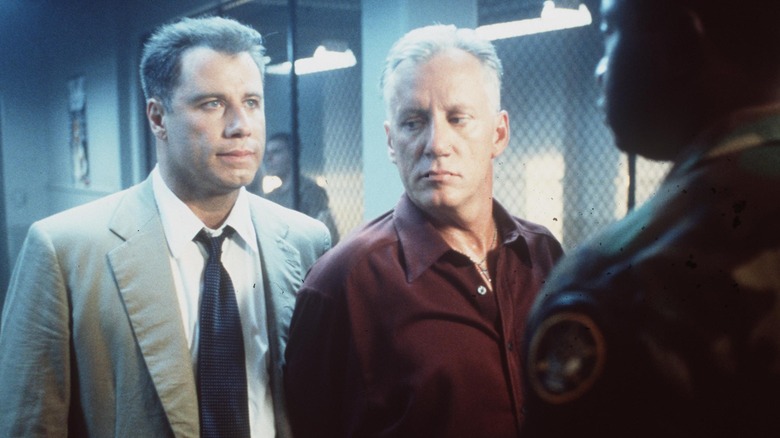 Getty Images/Getty Images
In the late-1990s and early-2000s, Woods was in the "Hollywood blockbuster" phase of his career. His output during this time consisted of several movies that were hits at the box office, but didn't impress critics all that much. John Travolta, meanwhile, was still drafting off his monumental "Pulp Fiction" comeback, but "Phenomenon" and "Face/Off" was suddenly becoming "Lucky Numbers" and "Battlefield Earth," and this Simon West drama didn't help matters.
When the daughter of a general dies under questionable circumstances, Travolta's character is the undercover detective assigned to the case; Woods plays the commanding officer of the murdered woman. What could've been a powerful look at the rampant mistreatment of female military personnel — and a "Few Good Men"-like investigation of the military's tendency to cover up its crimes — instead landed with the dull thud of raising thorny questions and then not being invested enough to fully explore them.
Best: True Believer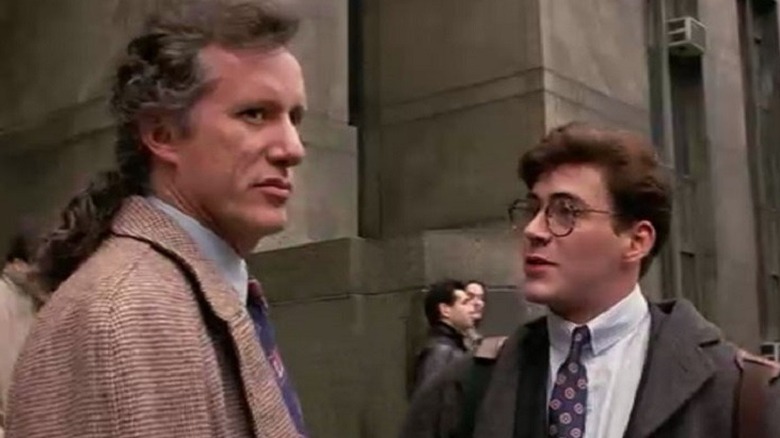 Columbia Pictures
Considered by some to be the best film ever headlined by James Woods, "True Believer" boasts a 95% Rotten Tomatoes score. It's worth tracking down.
Co-starring a young Robert Downey Jr., the drama follows Eddie Dodd (Woods), a former civil rights attorney who has since sold his soul to work in the lucrative realm of defending powerful criminals. When he gets talked into taking on the case of a possibly wrongfully-accused man, it leads Dodd down a rabbit hole of conspiracies involving the police, all the way up to the district attorney.
The film is a showcase for the towering talents of both Woods and Downey, and remains a career highlight for both some thirty-plus years later. "True Believer" might not be the best remembered movie — although Woods mentioned it twice during his memorable appearance on "The Simpsons" — but that's unfortunate, as it's among the best courtroom dramas of the last few decades. 
Worst: The Specialist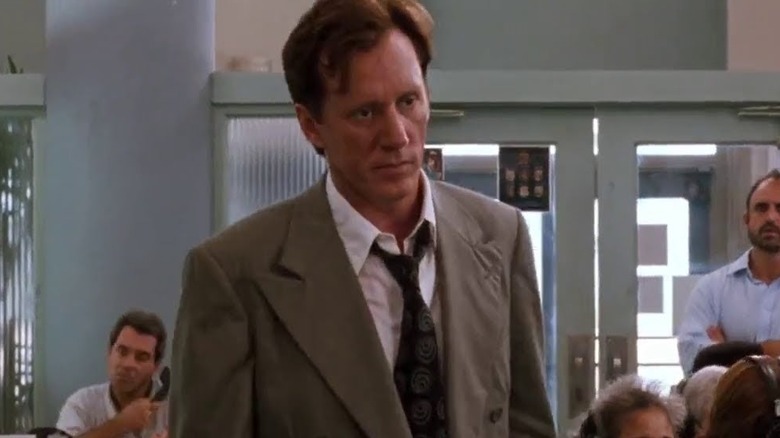 Warner Bros.
By far the worst movie James Woods has ever been in — at least among movies in which he makes more than a cameo or quick appearance — has to be the 1994 action thriller "The Specialist." At the time of its release, Sharon Stone was basking in the afterglow of "Fatal Attraction" and a new status as the most wanted leading lady in Hollywood; Sylvester Stallone, meanwhile, had engineered a comeback of Travolta-esque proportions with 1993's "Cliffhanger" and once again seemed ready to take the action world by storm. What could go wrong with a pairing of these two red-hot talents? Well, everything.
Stallone plays an explosives specialist, while Stone is a mysterious woman who hires him; the two are soon side-by-side on a poorly conceived mission with lots of stuff blowing up all around them. The chemistry between the two leads, however, wasn't setting anything on fire.
The film made a good amount of money, powered by audience desire to see Stallone and Stone, but was poorly reviewed and racked up Razzie nominations, including for the performances of Stallone, Stone (who "won"), and Rod Steiger.
Woods might have stayed out of the crosshairs of the Razzies with his performance in "The Specialist," but it doesn't mean he did anything special here, either. At least he'd earn the second of his two Oscar nominations a year later with "Ghosts of Mississippi," another great performance in a filmography that has both sunk and soared.