American Pickers' Mike Wolfe Reveals The Disappointing Fate Of His First-Ever Find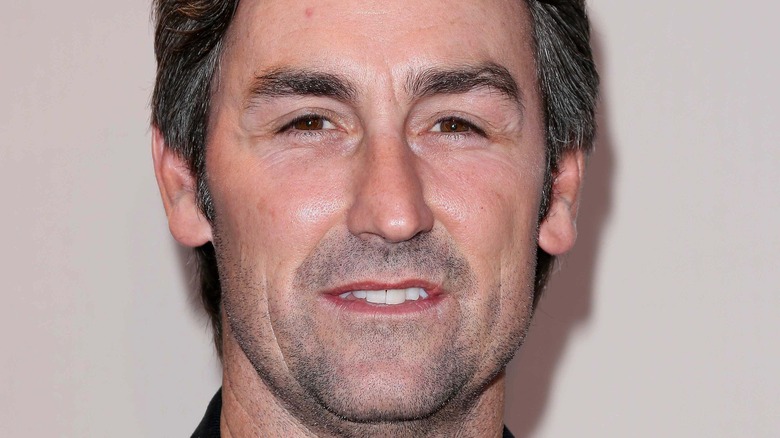 s_bukley/Shutterstock
For the better part of the past 12 years or so, History's thrill-of-the-hunt reality show "American Pickers" has been one of the network's best-loved original series. During that period, the rollicking road show has somehow made the antiquing world both fascinating to watch for viewers across the globe and, perhaps more improbably, made it sort of cool.
The infectious enthusiasm of "American Pickers" star and creator Mike Wolfe is a big part of that, and his unabashed passion for picking has been front and center in every single episode of the hit series. That passion, of course, long pre-dates the show's 2010 debut. As noted in a 2020 "CBS Sunday Morning" interview, Wolfe had been trying to sell the "American Pickers" concept to a network for five years before History finally picked up the show. In that same interview, Wolfe admitted he'd actually been picking for a few decades before the fateful TV deal fell into place.
In fact, Wolfe claimed he made his first legit pick when he was just 4 years old. Here's what became of the item that helped set the "American Pickers" star on the path to becoming the antiquing world's most prominent picker.  
Mike's first pick didn't exactly find its way to the Antique Archeology showroom
Yes, Mike Wolfe has been "picking" for a very long time. And in a 2014 interview with "Stage Right Secrets," the "American Pickers" star talked briefly about the fate of his first pick, openly lamenting that he no longer possessed the item. "I wish I did [still have it]," Wolfe said, adding, "I sold it like two weeks later." That item was apparently an old bicycle Wolfe came across in a garbage pile. Per Wolfe, "I was 4 years old and I pulled a bicycle out of the garbage."
What Wolfe did next would prove a pivotal moment in his life, with the small screen star stating, "And I sold it to an older kid in the neighborhood for like 5 bucks ... I thought I was rolling." That transaction would indeed serve as a blueprint for his professional endeavors as an antiquer, with Wolfe still getting a kick both out of preserving someone else's discarded treasure and turning a profit in the process. Per Wolfe, "It just kinda took off from there ... I always felt like I was a little detective on a history hunt, and it never left me."
Not only has the need to give a second life to other people's long-forgotten artifacts never left Mike Wolfe, but it's also likely made him wealthy beyond his wildest dreams as it landed him a lucrative TV gig and a booming antiques business. And it all started before the "American Pickers" frontman was even in kindergarten.