The Hilarious Way SNL Star Molly Shannon Used To Secure Acting Gigs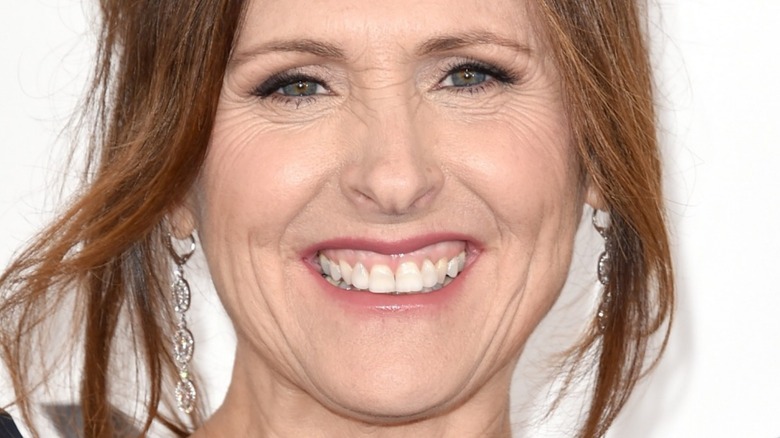 Jason Merritt/Getty
When Molly Shannon joined "Saturday Night Live" in 1995, it was a time of upheaval for the long-running sketch comedy series. Season 20 was the final season for veteran players Mike Myers, Adam Sandler, and Chris Farley, all of whom had begun to court movie stardom, as well as a number of other cast members who had either quit or were fired (via Ranker). Initially added as a mid-season hire, Shannon quickly became a staple of the series' late-'90s era alongside Will Ferrell, Ana Gasteyer, and Cheri Oteri. Like other "SNL" alum before her, Shannon was able to launch one of her characters — the oddball Catholic school girl Mary Katherine Gallagher — into a full-fledged "SNL" movie with "Superstar."
Shannon continued to put her comedic chops to work after leaving "SNL" in 2001, nabbing recurring roles in series like "Will and Grace" and "Sex and the City." More recently, the actress has enjoyed a career renaissance in acclaimed shows like "Enlightened," "Divorce," "The Other Two," and "The White Lotus." She also won a Film Independent Spirit Award for her performance in the film "Other People" (via IMDb).
Shannon wasn't always the in-demand performer that she is today. Here's the hilarious way the "SNL" alum used to pick up acting gigs.
Shannon scammed talent agents to get auditions
Prior to landing "Saturday Night Live" in 1995, Molly Shannon had early minor roles in "Ellen" and "In Living Color" and worked in restaurants (via New York Times). In an interview on The Howard Stern Show, Shannon detailed how she and friend Eugene Pack would scam talent agents to secure acting gigs.
"We called it the Mamet Scam," she explained, after acclaimed playwright David Mamet. Pack, now a producer and writer, had studied under Mamet, and knew that the playwright wasn't too involved in the ins and outs of Hollywood schmoozing. "We thought [of] it to get into agents' doors ...  We would call for one another, pretending to be one another's agents and we would call whatever agent we wanted to meet."
Shannon's character, Liz Stockwell, would pretend to call from David Mamet's office, piquing the interest of the unsuspecting agent. She would then sing the praises of a hot young talent in Mamet's latest play. Pack would reciprocate with his character, Arnold Katz. The pair wouldn't end the phone call until they had nailed down an audition. "It was like, 'Don't hang up the phone 'til you got the appointment in the books.'"
Apparently the scam worked well enough for Shannon to get a minor part in "Twin Peaks," but the ruse didn't fool everyone. Most notably, '80s icon Molly Ringwald saw through the scam. "We ran the Mamet Scam on her and set up a meeting," Shannon recalled in her memoir, "Hello Molly" (via The AV Club). "When I sat down for my appointment, she glared at me and said, 'I just wanted to see what a liar looked like in person.'"