The Cruel Summer Star You Likely Didn't Recognize From My Wife And Kids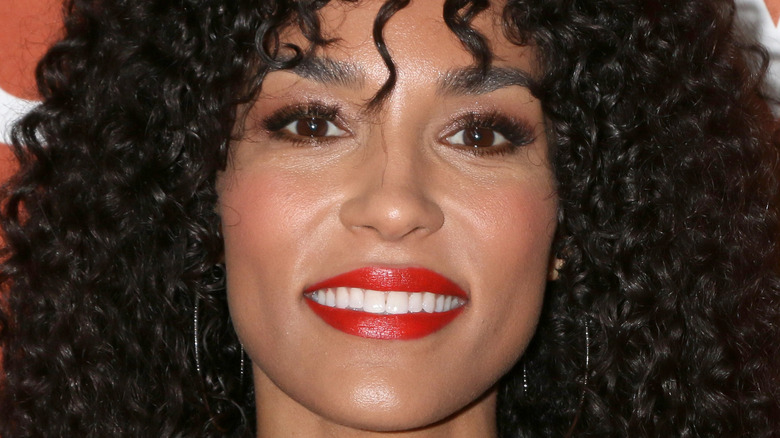 Kathy Hutchins/Shutterstock
Freeform's teen drama anthology series "Cruel Summer," created by Bert V. Royal, premiered its first season on April 20, 2021. Set in Skylin, Texas, in three timelines — 1993, 1994, and 1995 — the first season chronicles the mysterious disappearance of a popular teen girl, Kate Wallis (Olivia Holt). After she goes missing, awkward outcast Jeanette Turner (Chiara Aurelia), who had befriended Kate shortly before she disappeared, takes over Kate's place at school as the popular girl. Then, a year later, when Kate is found alive, she accuses Jeanette of being a witness to her kidnapping but not reporting it. What follows is a highly publicized string of lawsuits as the public — and the show's audience — try to figure out which girl is telling the truth.
Other important characters in "Cruel Summer" include Jamie Henson (Froy Gutierrez), the love interest to both Kate and Jeanette; Mallory Higgins (Harley Quinn Smith), Jeanette's friend from before she got popular; Martin Harris (Blake Lee), the school's vice principal and Kate's captor; Greg Turner (Michael Landes); and Angela Prescott (Brooklyn Sudano), Greg's new bar owner girlfriend.
The target demographic of "Cruel Summer" is, by and large, teens, so many viewers may not be aware that one of the stars of the series once starred on an early 2000s sitcom, "My Wife and Kids," which starred Damon Wayans (who also co-created the show with Don Reo). For those curious, here's which "Cruel Summer" star is a "My Wife and Kids" alum.
Angela-portrayer Brooklyn Sudano used to star in My Wife and Kids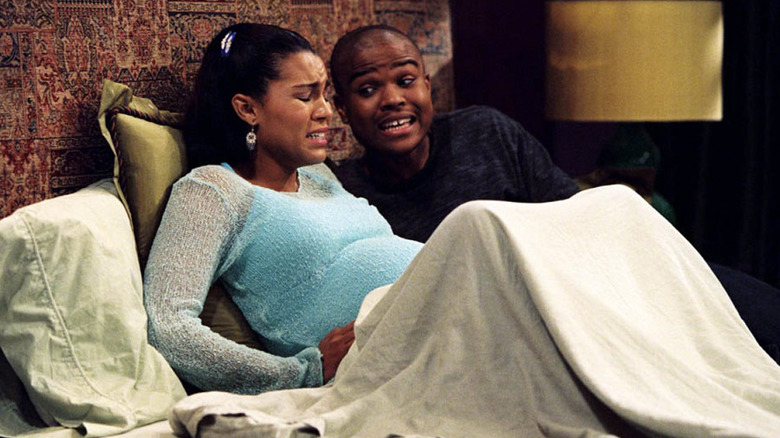 ABC
Before Brooklyn Sudano started playing bar owner Angela Prescott on "Cruel Summer," she had already racked up a string of acting credits under belt, including various other TV shows over the years. She even got her start as an actress on a TV series with her leading role in the sitcom "My Wife and Kids." The sitcom, which aired from 2001 to 2005, follows the everyday life of Michael Kyle (Damon Wayans) and wife Janet Marie "Jay" Kyle (Tisha Campbell-Martin), as well as their three kids — Michael, aka "Junior" (George O. Gore II), Claire (Jazz Raycole in Season 1, Jennifer Nicole Freeman in Seasons 2-5) and Kady (Parker McKenna Posey).
Sudano plays Vanessa Scott-Kyle, Junior's girlfriend-turned wife. Sudano comes into the mix in Season 4 and portrays Vanessa through the fifth and final season, having taken over the role from Meagan Good, who played Vanessa in Season 3. In the third season finale, the last episode of Good playing the part, Vanessa and Junior tell Michael and Jay that Vanessa has gotten pregnant and that they plan to keep the baby (a storyline that Sudano continues when Season 4 begins). The young couple's decision to keep their baby and become teen parents mirrors what happened to Michael and Jay when they got pregnant with their first child. Vanessa and Junior's son, naturally, goes by Junior, Jr.
Sudano thinks Cruel Summer is a gem of a show
In May of 2021, Sudano spoke with LRM Online for an interview all about "Cruel Summer." During the discussion, the interviewer asked Sudano why she thinks the show works (and has become such a hit) — in response, Sudano had nothing but ultra positive things to say about the Freeform drama.
After agreeing with the interviewer that the show is addictive, Sudano said, "I think that the writing and the storytelling, they give you just enough on every little beat in every scene to keep it moving forward and for you [to want] to know a little bit more." She then went on to praise the talented cast, noting that everyone gave it their all.
The actress continued, "I think between the writing and the just the story and the setup and the '90s and all of these things, you know, it really could've gone bad, but I think it all came together ... and so you've got this gem of 'Cruel Summer' that everybody's really kind of latched onto."
If you're looking to rewatch Season 1 of "Cruel Summer" while you're waiting for Season 2, it's currently available to stream on Hulu.