One Of The Early Scenes In She-Hulk: Attorney At Law Had Tatiana Maslany Laughing Uncontrollably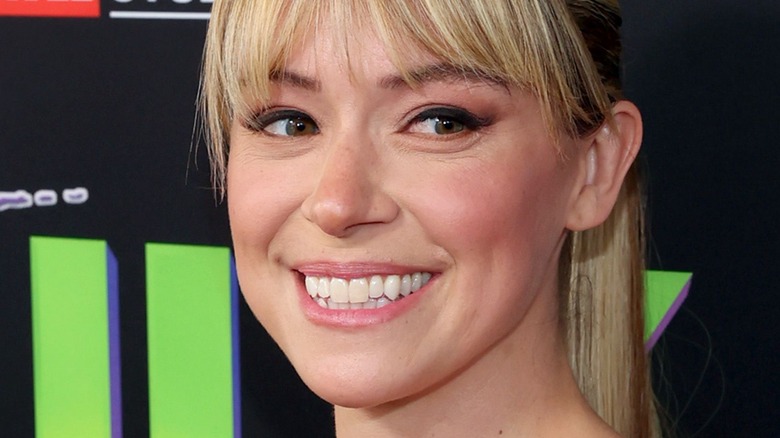 Jesse Grant/Getty Images
At long last, an immensely popular and recognizable member of Marvel Comics' hero roster has arrived in the Marvel Cinematic Universe. Skilled lawyer Jennifer Walters, better known as She-Hulk (Tatiana Maslany), is officially in the blockbuster franchise via her own Disney+ show, "She-Hulk: Attorney at Law." The series premiered on the streaming service on August 18, 2022, and for nine total installments will provide MCU fans with a multi-faceted program. For as much as it'll lean into intense superhero action, it'll also include plenty of action in the courtroom as well.
After a life-changing car accident that exposed her to the blood of her cousin, Bruce "Hulk" Banner (Mark Ruffalo), Walters has to contend with her own Hulk-like abilities. Of course, unlike Bruce, she doesn't plan on allowing her powers to control her. Rather, he gets right to work helping her to control them so that she can continue her duties as a lawyer — a profession that has paved the way for numerous exciting cameos. All in all, "She-Hulk" offers plenty of drama and comedy, but it wasn't a particular gag or joke that made Tatiana Maslany laugh so hard during filming.
According to Maslany herself, here's why she couldn't help but laugh during the shooting of this "She-Hulk: Attorney at Law" scene from the first episode.
Jennifer Walters' chat with Smart Hulk had Maslany cracking up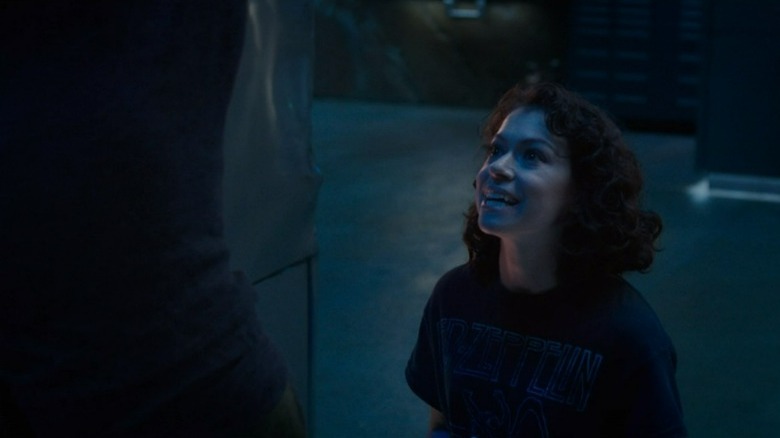 Marvel Studios/Disney+
In an interview with Variety, Tatiana Maslany revealed that one particular scene from the first "She-Hulk: Attorney at Law" episode wasn't easy to film without laughing. The moment in question features Hulk speaking with Jennifer Walters at his lab in Mexico, meaning that as a reference for the VFX artists, Mark Ruffalo had to wear a giant Hulk head — something that Maslany couldn't keep a straight face while talking to. "I couldn't stop — I was laughing the whole time. Like, the whole scene, is me shaking. I couldn't do it, because it is really destabilizing," she said, going on to explain the nuances of motion capture performances.
Considering he's played Hulk for a decade in the MCU, it should come as no surprise that Ruffalo himself has some intriguing thoughts on acting beneath a layer of CGI. In fact, in an interview with Metro, he noted how irritating it can be after a while. "Sometimes the technology starts to take the front seat when it should really be the performance and how we bring our humanity to that very austere environment," he told the publication. At the same time, since he's done it for so long, he's grown more accustomed to performing under such conditions despite its ever-changing nature.
"She-Hulk: Attorney at Law" is now streaming on Disney+, and you can rest assured that Mark Ruffalo and Tatiana Maslany, as well as the rest of the cast and crew behind it, put in the work to make it a reality.