The Big Team-Up Tatiana Maslany Hopes To See In She-Hulk's MCU Future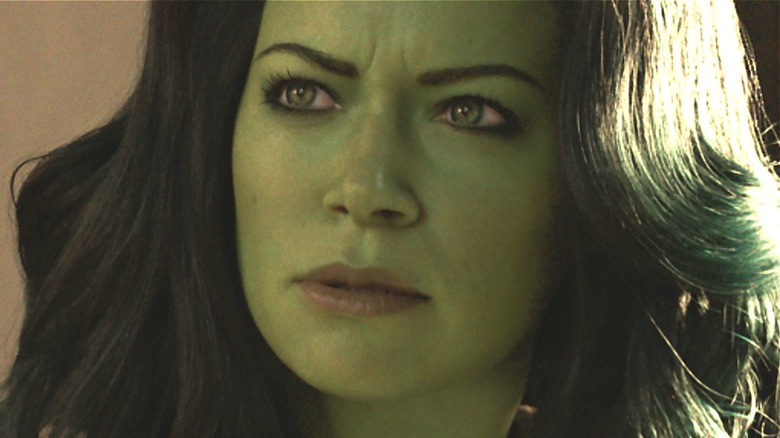 Marvel Studios/Disney+
Tatiana Maslany has smashed onto the Marvel Cinematic Universe scene as She-Hulk in the character's own self-titled series on Disney+. The show follows its titular protagonist as she works with her cousin Bruce Banner aka The Hulk (Mark Ruffalo) to learn what it takes to be a green-tinged hero with super strength while also juggling a fast-paced job as an attorney. Drawing from some of the earliest elements of the greater MCU (remember "The Incredible Hulk" much?), "She-Hulk" carves out an exciting origin story for a character who is sure to become one of the biggest faces of the franchise going forward.
Whereas some Disney+ MCU shows like "Moon Knight" have exhibited minimal overt connections to the greater universe, "She-Hulk" is littered with exciting easter eggs, cameos, and references to other properties. Benedict Wong's Sorcerer Supreme Wong and Charlie Cox's Daredevil are just a few of the fellow heroes that Jennifer Walters crosses paths with both in her superpowered life and in her legal career. However, there's another particular MCU hero that Maslany has a strong desire to see She-Hulk team up with in the future.
Maslany wants to meet Florence Pugh's Black Widow
As it turns out, one of the MCU leads that's at the top of Tatiana Maslany's list for a potential team-up is another relatively recent addition to the franchise's superpowered lineup. In an interview with SiriusXM, the "She-Hulk" star expressed her desire to see the super-strong heroine unite with the new Black Widow — Florence Pugh's Yelena Belova. "I think that duo would be bizarre, but that kind of would be fun," she said.
Maslany isn't the only MCU mainstay that has expressed a great interest in working with Pugh in the future. Hailee Steinfeld, whose character of Kate Bishop already met Yelena in "Hawkeye," told TV Line that she wants to see the pair team up again in a future outing. Additionally, Tom Holland, who stars across numerous films as the MCU's Spider-Man, said in an interview with Entertainment Tonight that he wants the wallcrawler to have a team-up film with Pugh's Black Widow.
Fortunately, Maslany will probably get the team-up she's been waiting for, as She-Hulk is a near-certain lock to join the Avengers in the upcoming 2025 ensemble films. Mark Ruffalo said to The Hollywood Reporter regarding the actress: "There's not going to be another 'Avengers' without her." Pugh's Black Widow will likely show up as well, carrying on her late sister's legacy as one of the original Avengers. Hopefully the pair can get a good few scenes with each other amid all the reality-altering action.
Jessica Gao wanted She-Hulk in Black Widow
Though Tatiana Maslany's She-Hulk made her entrance into the MCU in her titular Disney+ series, there was once a possibility that the character was not only going to show up sooner, but also cross over with Black Widow in her very first appearance.
In an interview with Variety, "She-Hulk" showrunner Jessica Gao revealed that before she began work on the Maslany-led series, she had submitted a pitch to Marvel Studios involving her idea for the 2021 "Black Widow" solo movie. Gao's version included the introduction of She-Hulk in what would have been much more than just a small "Black Widow" cameo. "At one point, I think it was [Marvel executive] Brad Winderbaum who said, 'It kind of feels like you're pitching us She-Hulk movie with Black Widow in it,'" Gao said.
As Gao revealed in an interview with Slash Film, she also pitched for 2021's "Shang-Chi and Legend of the Ten Rings" but that idea was also rejected. "I really do believe that all of that was for a reason, because ultimately, at the end of the day, the thing that I really wanted was 'She-Hulk' and those other projects weren't 'She-Hulk,'" the creative said in the interview. "So I think everything worked out the way it was supposed to."