The Real Reason This Rumored Cameo Didn't Happen In Black Widow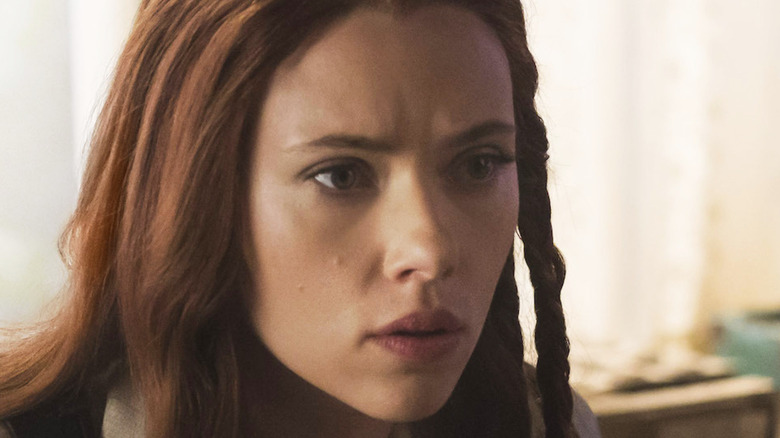 Jay Maidment/Marvel Studios/Disney
Contains mild spoilers for "Black Widow"
Since her first appearance in the Marvel Cinematic Universe in the 2010 movie "Iron Man 2," Black Widow has been a fan favorite and one of the most important characters in the franchise. However, despite appearing in numerous subsequent MCU entries, from 2014's "Captain America: The Winter Soldier" to 2019's "Avengers: Endgame," the character had yet to receive a film focused solely on her exploits. This changed with the release of "Black Widow," which sees Scarlett Johansson reprise the role of Natasha Romanoff and act alongside franchise newcomers Florence Pugh (who plays Yelena Belova), Rachel Weisz (who portrays Melina Vostokoff), and David Harbour (who embodies Alexei Shostakov, aka the Red Guardian).
With the film chronologically taking place between 2016's "Captain America: Civil War" and 2018's "Avengers: Infinity War," many rumors emerged about which other characters from the franchise might appear in the film. One rumored cameo that stood out amongst all others was that of Robert Downey Jr.'s Tony Stark, aka Iron Man, gaining traction after Deadline mentioned in a September 2019 report that Downey Jr. would play Iron Man "one more time ... in the Marvel prequel 'Black Widow.'" However, this rumored cameo didn't happen, and this is the real reason why.
Cate Shortland and Kevin Feige made the decision together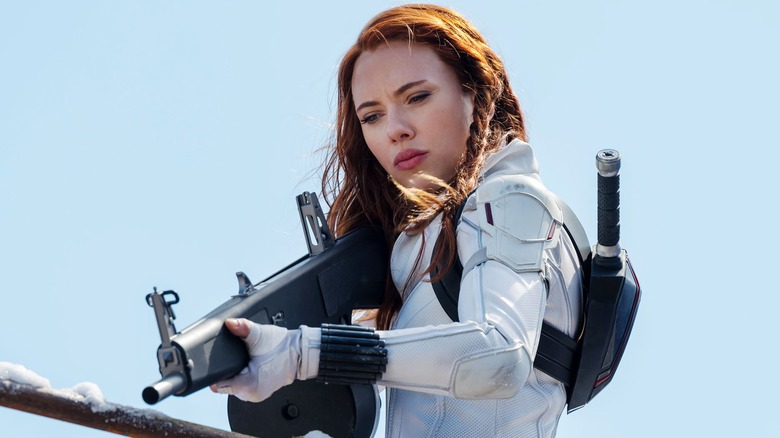 Jay Maidment/Marvel Studios/Disney
As "Black Widow" director Cate Shortland revealed to GamesRadar+ and Total Film, she and Marvel Studios president Kevin Feige did actually have conversations about which characters from the rest of the MCU would appear in the film. However, Shortland and Feige came to a decision together that this was Natasha's movie, and to have any of the other pre-existing Avengers make an appearance would only distract from that.
"We didn't want it to feel like she needs the support. We want her to stand alone," Shortland explained. And thus, contrary to the rumor mill, a decision was made to not have any big-name Marvel heroes appear in the film, including Tony Stark.
While Stark's legacy loomed large over "Spider-Man: Far From Home," the first MCU movie to be released after "Avengers: Endgame," he didn't make an appearance there either. With Peter Parker (Tom Holland) and Natasha Romanoff being two of the characters who were closest to Tony, it seems Robert Downey Jr.'s time with the MCU is truly at an end following Iron Man's death in "Endgame." As subsequent movies and series continue to move further forward in time and focus on characters who weren't necessarily in Stark's orbit, the chances of another surprise appearance by Iron Man become increasingly dimmer.
"Black Widow" is currently out in theaters and available to stream on Disney+ with Premier Access.