The Hilarious She-Hulk Prop That Tatiana Maslany Called Super Spooky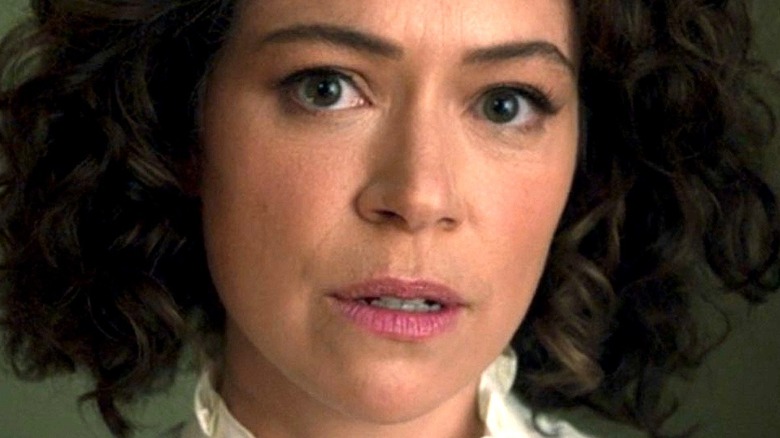 Marvel Studios
Tatiana Maslany is probably intimately familiar with creepy props due to her time in "Orphan Black," playing multiple iterations of herself. Still, it seems as if turning green and angry isn't enough to save one from bizarre special effect aids. Maslany stars as Jennifer Walters in Disney's "She-Hulk: Attorney at Law," where she is given the extraordinary powers of the gamma-irradiated Hulk by her cousin Bruce Banner (Mark Ruffalo). She gains these powers because of an unfortunate accident, and she almost appears to have an even greater aptitude for "hulking out" than her cousin.
Since Walters' transformation is heavily based on computer-generated images, there is a lot of behind-the-scenes effort to create an effective character. When the trailers first dropped for "She-Hulk," many were quick to attack what appeared to be unfinished graphics, which had Disney and Marvel trying to win fans back with a new image. However, it seems as if there was a prop involved in this process of creating "She-Hulk" that unnerved Maslany, but what could be considered spooky in a show about a super-powered lawyer?
Maslany was spooked by a She-Hulk bust
It seems as if Tatiana Maslany, who has seen different versions of herself killed in "Orphan Black," was spooked by a prop used in the creation of She-Hulk. Speaking with BBC 1 on Youtube, Maslany was asked about the technical aspects that went into making the character of She-Hulk. Her response was a perfect anecdote on the behind-the-scenes pratfalls of CGI characters.
Maslany said, "There was like a She-Hulk bust that would come out on set every now and again, but it was a perfect rendition of her with a full wig, and she is on this stick, and they would come out and turn her around in front of the camera to get, I don't know what, something about the shadows on her face." She continued, "But it was super spooky because it would come out of nowhere at the end of every take, kind of do its scene, and leave."
She then spoke about the other processes necessary to bring She-Hulk to life, such as that there was a ghost-like She-Hulk visage on top of Maslany's head for many scenes and a 6 foot 7 woman who helped Maslany figure out how a person who is that tall would move through their environment or sit in chairs. Considering the amount of work that went into crafting the character, it appears that a disembodied She-Hulk bust proved to be a little much for Maslany.