Was She-Hulk's Cheeto Fingers Scene An Homage To Another MCU Star?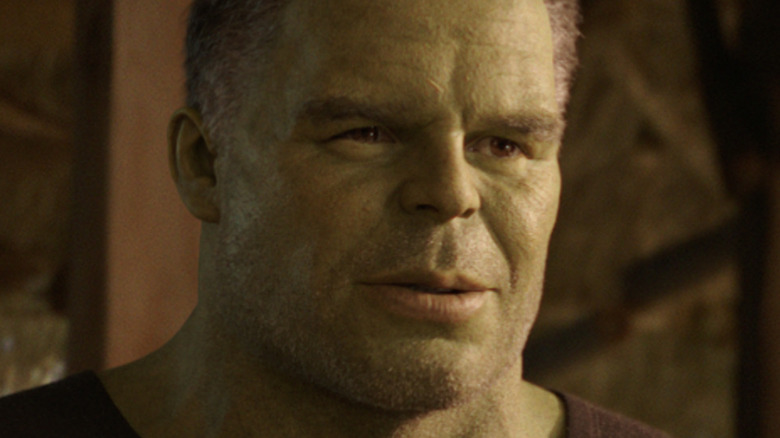 Marvel Studios/Disney+
The premiere of "She-Hulk: Attorney at Law" is finally here, and with it comes easter eggs, cameos, and new details about former MCU storylines (ahem, Steve Rogers). After swerving to avoid a spacecraft, Jennifer Walters (Tatiana Maslany) and her cousin Bruce Banner (Mark Ruffalo) crash their car, leaving both with open wounds. Here, Bruce's blood gets into Jennifer's cut, and the She-Hulk is born. The comedy series follows the quick-witted lawyer adapting to her new powers and learning to control her Hulked-out state.
Episode 1 comically depicts Bruce teaching Jen how to be a Hulk following in his unique and enormous footsteps. The bickering cousins train on his Mexico paradise built by fallen comrade Tony Stark (Robert Downey Jr.) until they inevitably fight in a sibling-like Hulk match. Before this, in a sweet bonding moment, an odd feature stands out in a scene that recalls the actions of another famous MCU star.   
Tatiana Maslany has thoughts on Cheetos chopsticks
One of the more playful moments in "She-Hulk" Episode 1 comes when Bruce pokes fun at Jennifer for eating Cheetos with chopsticks. Jen reveals it's a tactic she's picked up to avoid getting Cheeto dust on her fingers while chowing down on the popular snack.
Tatiana Maslany chatted with HeyUGuys and suggested the idea came from head writer Jessica Gao. Maslany laughs affectionally, saying, "She's crafty and enjoys good food." The actress then admitted the idea might have come from a fellow MCU star. "Someone said there's a picture of Oscar Issac doing that," Maslany noted, referring to a viral photo from 2016 of the actor. She went on to suggest the chopsticks schtick might be a meta easter egg she wasn't privy to at the time of filming.
"Moon Knight" star Oscar Issac was asked about the hilarious Cheetos-chopsticks photo when appearing on "Jimmy Kimmel Live!" in 2018. "I'm a sophisticated gentleman, so I didn't want to get the powder on my fingers, and I went for the chopsticks." Who knew that silly photo moment would turn into a very clever easter egg on "She-Hulk: Attorney at Law."