Are Robert Redford And Jane Fonda Friends In Real Life?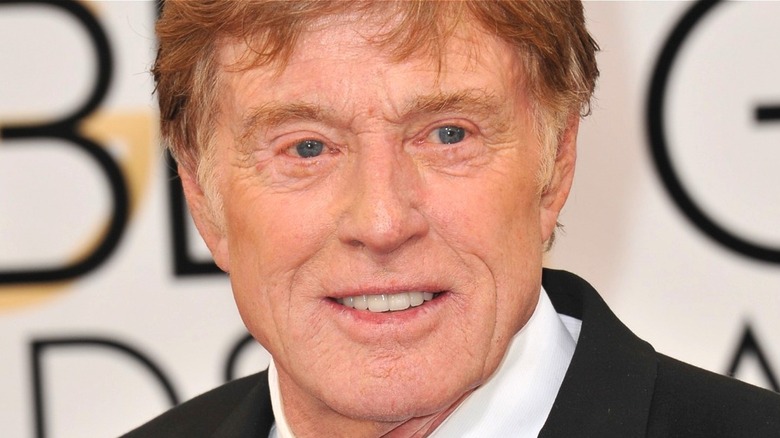 Featureflash Photo Agency/Shutterstock
Robert Redford and Jane Fonda are two of Hollywood's most revered veteran actors, with both in the business for over half a century. Redford, who had his first role in 1960 on the TV series "Maverick," is best known for roles such as "Inside Daisy Clover," "Butch Cassidy and the Sundance Kid," and "All the President's Men" (via IMDb). Most recently, Redford starred in "The Old Man & the Gun" and appeared as Alexander Pierce in "Avengers: Endgame."
Coincidentally, Fonda had her acting debut the same year that Redford did, in 1960, with the romantic comedy "Tall Story," in which she starred opposite Anthony Perkins (via IMDb). Some of Fonda's notable roles include "Sunday in New York," "Klute," and "9 to 5."
Along with having long and successful careers, Redford and Fonda have starred together on screen several times. In their first collaboration, the two actors played love interests in the 1966 drama film "The Chase." Then, the following year, they reunited to play young newlyweds in the romantic comedy "Barefoot in the Park." In 1979, they again played love interests in the western dramedy "The Electric Horses." Finally, many decades later, Redford and Fonda reunited to star in the 2017 Netflix romantic drama film, "Our Souls at Night."
With such a long history, you might wonder if these frequent co-stars are friends in real life.
Redford and Fonda are good friends in real life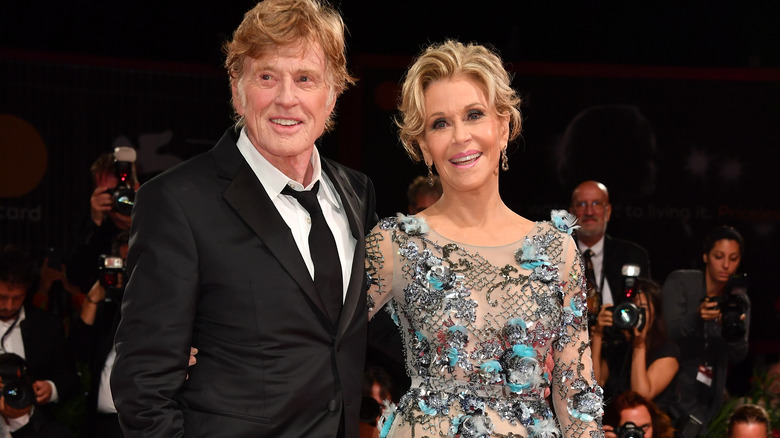 Pascal Le Segretain/Getty Images
In 2017, while promoting "Our Souls at Night," Robert Redford and Jane Fonda spoke with People about their decades-long off-screen friendship. Fonda began by noting that she and Redford have been working together since their 20s. Redford added, "And we've had a film relationship and a friendship that has gone almost 50 years."
Fonda then noted that their fourth film together, "Our Souls at Night" — which chronicles the story of two widows who begin sleeping in the same bed to combat their loneliness, only to fall in love — will mean a lot to their fans, as well as having major significance for the two of them. Fonda said, "People who know my history with Bob, and most popularly 'Barefoot in the Park,' are very fond of the idea of the two of us together again."
Redford summed up their relationship, saying, "There's the relationship in the films, and then there's the personal one behind that. It just turns out that we've been friends all these years, but we've also been film partners."
Redford and Fonda have nothing but praise and love for one another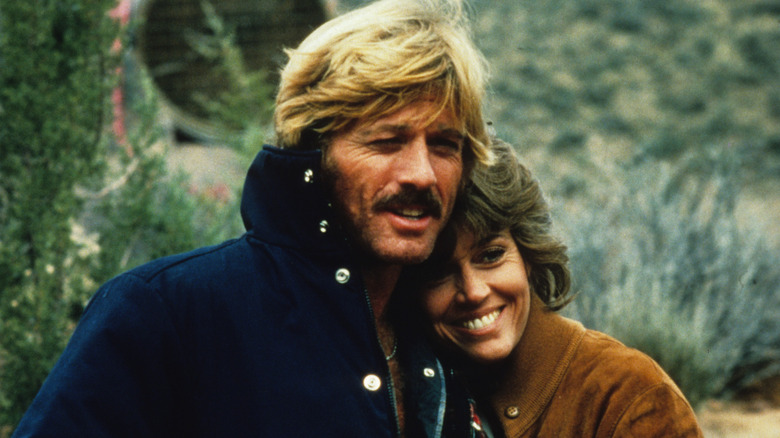 Anwar Hussein/Getty Images
During the press tour for "Our Souls at Night," Redford and Fonda spent much time praising each other and discussing their close friendship. While on Today, Fonda explained that it was an easy decision to say yes because she loved the story and the idea of working with Redford again. The actor bought the rights to the book, worked as a producer on the film, and asked Fonda to star alongside him in it. Fonda said, "It just makes a lot of sense, the two of us together in a movie like this."
The "Grace & Frankie" star then elaborated on why their relationship translated so well on screen for "Our Souls at Night" — and, in doing so, gave Redford a slew of compliments. She said, "Well, there's something about him, I mean, besides the gorgeousness. He's smart, he's funny, we have a lot in common. The movie needed us to feel like hands going into comfortable gloves. It felt that way, very, very comfortable."
Meanwhile, in Redford's appearance on Today, he also sang his co-star's praises. Redford revealed that asking Fonda to be in the film was an easy choice, noting that things just fell into place. In a 2017 profile on Fonda for Town & Country Magazine, Redford elaborated on what he finds compelling about Fonda, stating, "Jane is a force, no other way to put it. She's always looking forward, and I think that has allowed her to live without too many scars."