Are Zendaya And Hunter Schafer From Euphoria Friends In Real Life?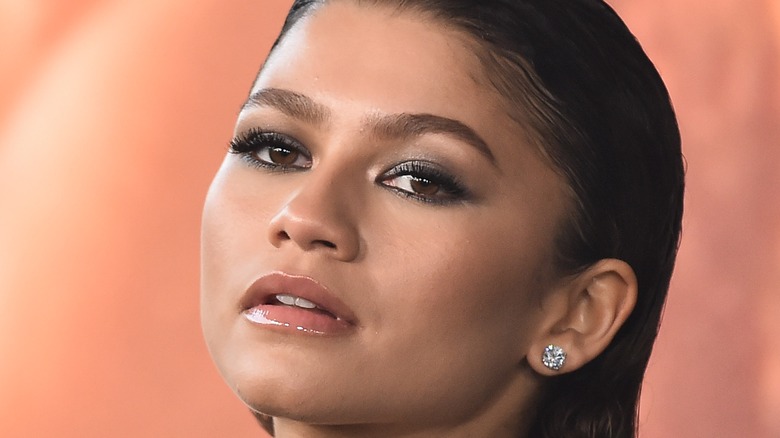 DFree/Shutterstock
The actors on "Euphoria" don't seem very much like the troubled characters they play on the hit HBO drama. For some, like Jacob Elordi, who plays the malevolent, traumatized jock Nate, this must be a blessing, though Hunter Schafer acknowledged through Harpers Bazaar that Jules isn't far from her real self: "There's a lot of me in Jules. I do think blurred lines between an actor and a character make a deeper character."
However, like the teens on the show, the cast members have struck up friendships as well as dated one another. Elordi and Zendaya, who stars on the show as Rue, were rumored to be in a relationship in 2019 (via Elle), which may have even affected Elordi's friendship with Schafer. And Zendaya is also extremely close with Storm Reid, who plays Rue's sister Gia, even declaring, "We're real life sisters, I believe that" (via E!).
Rue and Jules have a tumultuous relationship but share strong chemistry on the show. This has led fans to wonder if Zendaya and Hunter Schafer are also friends offscreen.
Zendaya and Hunter Schafer are besties
Rue and Jules feel a very real connection to each other, but they eventually break up in Season 2 of "Euphoria" after Jules tells Rue's mother, Leslie (Nika King), about her relapse. However, in reality, the two have a strong friendship partly because of how closely they work together. Schafer told W Magazine that while shooting Season 1 of the show, both actresses "formed a really special bond over the past eight months that I'm so thankful for." Schafer even gave Zendaya the nickname "Z" (via Harpers Bazaar).
Zendaya, meanwhile, has said in HBO interviews that at this point, Schafer "has seen me in every form, the worst, the best, and vice versa. There's no judgment; it's all love." And while Zendaya has more acting experience, the actress also has nothing but praise for Schafer's acting, too: "She just took whatever pain she had, and she translated it into such a beautiful performance" (via Harpers Bazaar). 
The two of them also frequently show up on each other's social media posts, with Zendaya even sharing a celebratory Instagram story for Schafer's 23rd birthday in 2021 (via Insider). They ultimately seem like close, supportive friends as well as collaborators.