Prey Director Reveals Nauseating Details About Those Messy Mud Scenes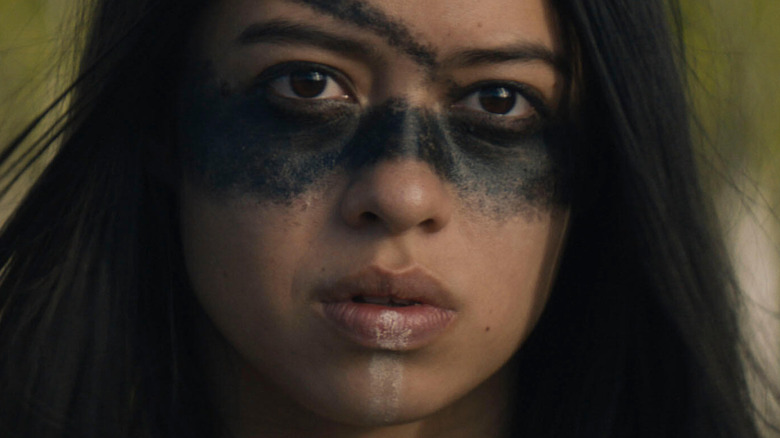 20th Century Studios
If it bleeds, you can kill it. That said, after seemingly bleeding out for years thanks to some ill-fated sequels, the "Predator" franchise has hung in there and survived. Fortunately, the patience paid off as the latest installment, "Prey," has been hailed as a return to form for the action-packed sci-fi horror franchise, as evidenced by its 93% fresh score on Rotten Tomatoes.
"Prey" boasts a number of positive elements that deserve praise. However, the simple and effective survival story at the heart of it all is one of its greatest strengths. The tale centers around Naru (Amber Midthunder), a young Comanche warrior who wants to prove herself as a valiant fighter, only to unexpectedly encounter an alien that hunts humans for sport. During her travels in the vast wilderness, she must also contend with bears and predatorial humans who seek to do harm.
While all the effort paid off in the end, "Prey" wasn't a comfortable movie to shoot — in fact, Amber Midthunder has been open about her suffering. Bringing the project to life required the cast and crew to get their hands dirty, so the experience wasn't always pleasant in a traditional sense.
The mud in Prey produced a horrible stench
Defeating the Yautja is no easy feat. It requires skill, cunning, luck, and puddles of mud — lots and lots of mud. Unfortunately, the "Prey" filmmakers couldn't use a soundstage for bringing their muddy swamp sequences to life, so they had to create them the old-fashioned way, causing everyone involved to feel nauseated as a result.
"We dug a ditch and built a mud pit in nature," Dan Trachtenberg told The Big Picture podcast (via The Ringer). "I will say the interesting thing is that, you wouldn't know it was there when we show up in the morning to shoot, you know just walking around, but as soon as a person entered it, as soon as human flesh interacted with whatever was in there, the most horrible stench you could ever smell erupted from it."
Trachtenberg also revealed that cleaning up was difficult after shooting the mud sequences, so the scenes in question took almost one week to complete. He said that the cast couldn't spend a lot of time in the mud, so the process took some time.