The Sesame Street Character You Likely Didn't Know Raul Julia Played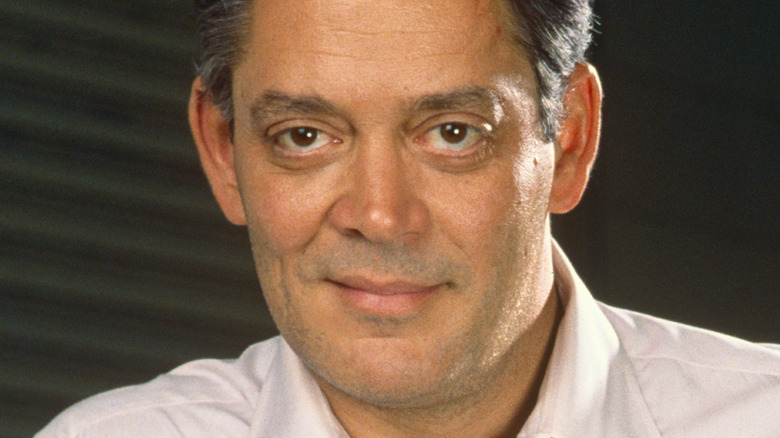 George Rose/Getty Images
Despite the fact that Raul Julia only spent around two decades working in Hollywood before his untimely death in 1994, the legendary Puerto Rican actor left behind a legacy that rivals some of the greatest stars in history. Julia was already a prolific stage performer before his entrance into film with the 1971 drama "The Panic in Needle Park." Throughout the '80s and early '90s, he starred in a slew of projects that established him as one of the preeminent actors in Hollywood and on Broadway.
During this time, he starred in films such as "Tempest," "Tequila Sunrise," and "Frankenstein Unbound," though there's no question that the role he is most well known for is that of Gomez Addams in 1991's "The Addams Family" and its sequel "Addams Family Values." Raul Julia helped to define the iconic character for an entire generation of moviegoers, and regardless of how many times they decide to reboot or adapt Charles Addams' legendary comic series, including Netflix's "Wednesday," to many fans, Julia will always and forever be the definitive Gomez Addams.
Although some of these longtime fans of Julia's work might know that 1971 marked his first foray into film, many might not be aware that he also appeared on a prominent television series that same year. He played a minor character in the beloved children's show "Sesame Street."
Raul Julia played Rafael the repairman in Sesame Street
From 1971 to 1972, Raul Julia appeared in "Sesame Street" as a character named Rafael (via IMDB) –- a repairman who worked at the Fix-It Shop alongside Luis (Emilio Delgado). First appearing in Season 3, Episode 1, "Big Bird meets Snuffleupagus," Rafael the repairman would go on to be featured in 11 episodes of "Sesame Street," sometimes addressing the camera to teach the audience about Spanish.
Indeed, in one appearance (which is available on YouTube), Rafael and Susan Robinson (Loretta Long) sit on one of the show's iconic stoops and explain how to say several English phrases in Spanish. It's certainly interesting to see the young actor (who at this point was already an accomplished star on Broadway) grabbing his earlobes to explain what "uno" and "dos" mean. It's also rather hilarious knowing that around the time he was teaching little kids Spanish on TV, he had a film role that saw him acting alongside Al Pacino in a story about heroin addiction (hence the title "Panic in Needle Park").
In any case, watching a young Gomez Addams interact with the series' iconic cast of muppets is a nostalgic trip down memory lane for all those who grew up watching both "The Addams Family" and "Sesame Street." And it's one that marked an important stepping stone in the career of the legendary Raul Julia.