Keanu Reeves Was Completely Unrecognizable In This Forgotten Sci-Fi Role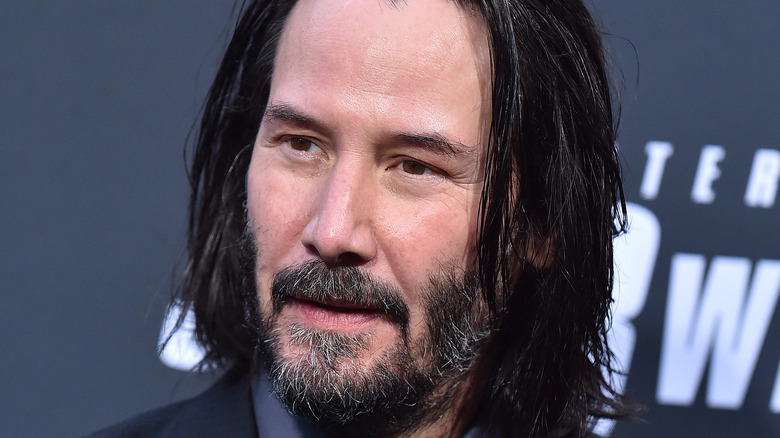 DFree/Shutterstock
For an actor who has often been mocked for his intense line deliveries and "wooden" style (via Today), Keanu Reeves has actually displayed serious range over his several decades in Hollywood. After playing a teenage goofball in the "Bill & Ted" movies, Reeves was a male street hustler armed with Shakespeare quotes in "My Own Private Idaho," and he then became a solid young action hero in "Point Break" and "Speed" (per IMDb).
The "John Wick" star also tends to choose challenging, versatile roles in the aftermath of more crowd-pleasing hits. According to GQ, Reeves turned down "Speed 2: Cruise Control" to star in a Winnipeg stage production of "Hamlet," though this was a good choice considering the sequel's poor reputation (via Uproxx). And a year after the 1999 phenomenon "The Matrix" made Reeves a cyberpunk kung-fu messiah, he chose a supporting role as an abusive, menacing husband in "The Gift," according to IMDb.
Reeves clearly doesn't like to be pigeonholed as an actor, which is why he agreed to appear in this underseen sci-fi flick earlier in his career. 
Reeves is . . . Ortiz The Dog Boy?
1993's "Freaked" was actually a labor of love for Alex Winter (via IMDb), Reeves' co-star in the "Bill & Ted" movies. Winter co-directed, co-wrote, and starred in the bizarro black comedy, where he plays a former child star, Ricky Coogin, who encounters a sideshow run by Elijah C. Skuggs (Randy Quaid). Coogin is mutated by Skuggs' toxic fertilizer and is forced to join the other freaks at the park. This includes Sockhead (Bobcat Goldthwait), arthropod Worm (Derek McGrath), and Ortiz the Dog Boy, played by an uncredited Reeves.
If you're wondering why you have somehow never heard of a movie where Reeves, at one of his peaks as a star, is playing a dog boy while in heavy makeup, it's because "Freaked" got buried by the studio. The head of Fox, Joe Roth, had championed the film, but after he left the company, the executives had no interest in giving the film a proper release (per Indiewire).
The movie got a great reception at festival screenings, but Winter and co-director Tom Stern essentially had to distribute it by themselves. Still, Winter isn't so sure that the divisive comedy would have been successful anyway: "It's hard to say if it would have done any better if it had been released normally or if its history would have really been any different" (via Indiewire). At least you can watch the film on YouTube.