Kit Harington Managed To Snag These Keepsakes From Game Of Thrones' Set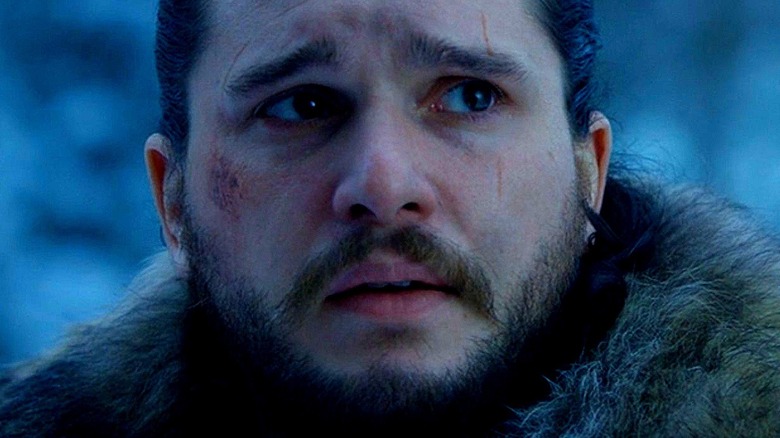 HBO
If fans know one thing about Kit Harington, it is that he knows how to keep a secret. The actor portrayed the honorable though ultimately tragic character of Jon Snow on "Game of Thrones" for eight years and did it with an admirable amount of deception. After Jon's assassination by his own Night's Watch brothers in Season 5, it seemed that really may be the end of the character. But due to Harington's refusal to give the game away, not many people knew that Jon Snow would be revived in the Season 6 twist. Harington had been spotted on set following his graphic death and still had to keep quiet about his character's fate (via This Morning).
But following the end of "Game of Thrones," Harington no longer had to keep secrets close to the vest. In fact, he even revealed in one interview that he took some precious treasures from the set of the series, never to be seen again.
Harington's theft was small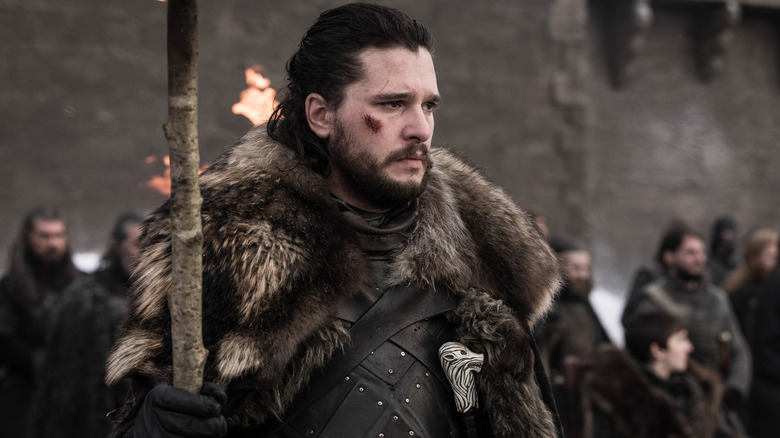 Helen Sloan/HBO
Just like Kit Harington's character, the actor is considerably humble. While some performers may try to make off with a sword or — in Sophie Turner's case — a dire wolf, Harington only wanted a small keepsake to remember Jon Snow by (via Country Telegraph). Harington spoke to Men's Journal ahead of the final season to explain what he took with him.
"I actually didn't take anything too crazy," Harington admitted. "I kept some of the armor that I use for Jon Snow's outfit, like the wrist protectors I'll wear in his costume." The "Eternals" actor sure had some use of them in the final season. Though even some of the actors were frustrated by the ending of "Game of Thrones," the final battles were an impressive feat. With dragons, Unsullied, and Night Kings fighting to the death, most of the season had to find a resolution in The Seven Kingdoms.
No news if the "Game of Thrones" production is demanding Jon Snow's armor back, but they may not have to. If the reported Jon Snow spin-off ever gets off the ground, viewers will be seeing much more of him in the future. And perhaps even more battles. The last we saw of Jon, he was spending time with Tormund (Kristofer Hivju) beyond The Wall, but there is always trouble that those two could get up to. Wrist protectors and all.