Lucifer's Tom Ellis Often Had To Put Up A Fight When It Came To This One Part Of The Show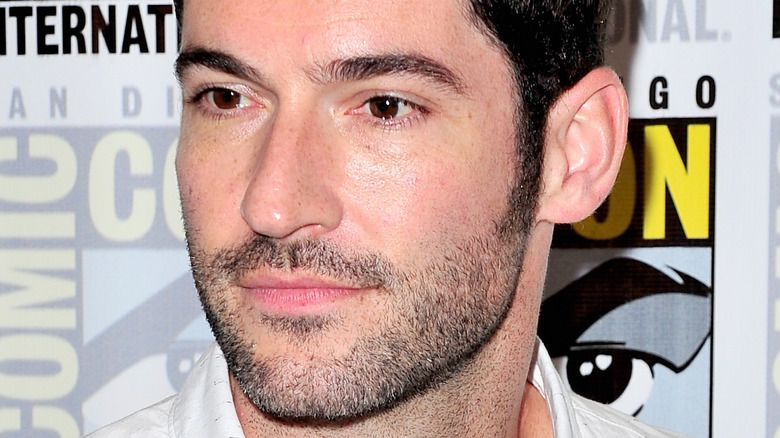 Jerod Harris/Getty Images
Considering its initial cancellation after Season 3, it's a truly amazing feat that such an underrated show like "Lucifer" lasted for three more seasons on Netflix before coming to a natural conclusion. It was clearly a show that the cast and crew had a lot of fun working on over the years, especially star Tom Ellis, who portrayed the eponymous character. Ellis said as much during an interview with Gold Derby, revealing how heartbroken he was when the show was initially axed by Fox, and how grateful he felt when the fan campaign led to Netflix reviving it, explaining "it is amazing, because we feel so vindicated now."
Still, not every element of a show's production is going to be smooth sailing for everyone, and this includes Ellis. Disagreements happen, big or small, even on big Hollywood sets. In fact, when it came to one specific part of "Lucifer," the star would often have to put up a fight with producers on the show that really added a certain element to his character.
Tom Ellis often fought to drive Lucifer's car
During an interview with Collider, "Lucifer" star Tom Ellis revealed that he was a big fan of actually driving his character's car in the show. However, he often had to put up a fight with producers due to the natural safety concerns that come with working in Hollywood. "I had to fight to drive the car in the actual show, from time to time," Ellis said. "They were like, 'We've got stunt drivers.' And I was like, 'Please, let me drive it.'" It seems as if Ellis won this battle more than he lost it, but it's hard to say for certain.
While it's easy to see both sides of this argument, Ellis's obsession with the car makes sense, since it was the one prop from "Lucifer" that he would have loved to keep. Still, while he wanted to drive the car and absolutely wanted to keep it after the show ended, he also admitted to Collider that driving the vehicle was extremely difficult. "One thing I will say about it is that it looks amazing, but it's an absolute beast to drive. It's like doing a workout." So perhaps the producers were on to something when they tried to keep him from driving the Devil's personal car.