The Last Movie Mae West Was In Before She Died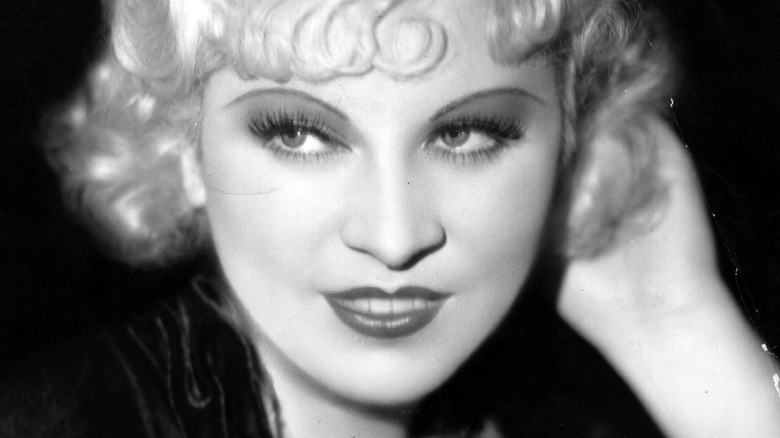 Keystone/Getty Images
Hollywood movie icon Mae West constructed an utterly unique persona that was larger than life during her career and remained culturally pervasive long after she died. Snarky before the term was invented, with an unabashedly ironic-sultry-proto-feminist take on the character she both created and seemed to inhabit full-time, West started her meteoric career as an East Coast vaudeville circuit performer and Broadway actress, writer, and producer. Then in the early 1930s, she headed to Hollywood and proceeded to take Tinseltown and the entire film industry by storm (per Biography.com).
West's debut on the big screen arrived with a small role in "Night After Night" with gangster movie regular George Raft. Even though a newcomer to the industry, West boldly protested the size of her part in the film and apparently displayed sufficient pluck to be allowed to rewrite some of her dialogue to fit her style and attitude. In 1933, her role opposite Cary Grant in "She Done Him Wrong" gave her the opportunity to coin her archetypal, often misquoted, catchphrase: "Why don't you come up sometime and see me?" By 1935, Mae West's phenomenal on-screen appeal had made her not only the highest-paid star in Hollywood, male or female, but also the second-highest paid person in all of America, second only to newspaper mogul and inspiration behind the classic film "Citizen Kane," William Randolph Hearst. So, with her storied, one-of-a-kind career in mind, what's the last motion picture appearance for fabled Hollywood legend Mae West?
Mae West's final film role finds her basically playing herself
Despite her extraordinary early success at the box office, Mae West's film career took a serious nose-dive after her heyday in the 1930s, with her roles in the 1940s falling to just two films — "My Little Chickadee" and "The Heat's On" (via IMDb). The '60s don't improve things much for the actress, as she makes guest appearances in two TV series, the talking-horse sitcom "Mr. Ed" and "The Red Skelton Hour" (per IMDb).
In the next decade, however, West staged a modest comeback, lending her by-now caricature-of-a-character to a pair of movies (via The Hollywood Reporter). In 1970, West was tapped to appear alongside John Huston and Raquel Welch in the motion picture adaptation of Gore Vidal's raunchy sex comedy "Myra Breckinridge," featuring Welch in the titular role. Then, in 1977, the actress was brought aboard as the star of director Ken Hughes' sex farce, "Sextette," marketed with the tagline: "The Sin-sational Mae West." Starring as a very Mae-West-like movie sex idol called on to act as the unlikely arbiter of a global political dispute, West is joined in the comedy by "James Bond" star Timothy Dalton and comic icon Dom DeLuise. And, as it turns out, "Sextette" was, in fact, Mae West's final big-screen appearance, as the actress died in 1980 following a pair of strokes (via Biography.com).
But audiences wouldn't soon forget the bombshell who captivated the world.