Why She-Hulk's Ginger Gonzaga Wants Nikki To Hang With The MCU's Villains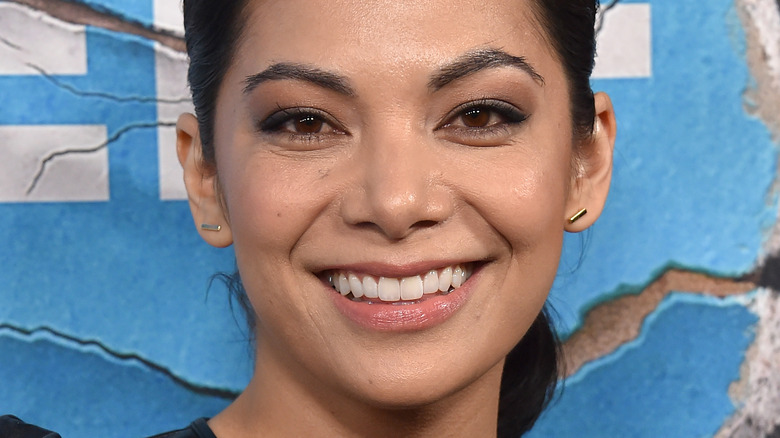 DFree/Shutterstock
Beginning on August 18, 2022, Marvel Cinematic Universe fans will get acquainted with a new addition to the franchise's hero roster: Jennifer Walters, better known as She-Hulk (Tatiana Maslany). The cousin of the Hulk himself, Bruce Banner (Mark Ruffalo), Walters will spend her show, "She-Hulk: Attorney at Law," trying to get the hang of her newly-acquired superhuman abilities while going about her usual duties as a lawyer. As one could imagine, balancing these two aspects of her life won't be easy, and for better or worse, she won't do so alone.
In addition to Bruce, who wants to show her what it takes to be a hulk, Walters' life is full of other interesting characters. There's her fellow metahuman lawyer, Matt "Daredevil" Murdock (Charlie Cox), the egotistical social media influencer Titania (Jameela Jamil), and even MCU mainstay Emil Blonsky, better known as Abomination (Tim Roth, who had a bit of trouble returning to the MCU). Walters will also spend some time with her good friend and co-worker Nikki Ramos (Ginger Gonzaga): a paralegal who encourages her to embrace every side of herself — especially her muscular, green one.
"She-Hulk: Attorney at Law" marks the MCU debut of Ramos, and Gonzaga already wants to see her do even more in the franchise. Specifically, she wants Ramos to hang out with some villains. Here's why.
Gonzaga feels Nikki Ramos can use her social skills as a tool
Mere days ahead of the "She-Hulk: Attorney at Law" premiere, Ginger Gonzaga spoke with Screen Rant about the Nikki Ramos character, highlighting her second-to-none social skills. According to her, Ramos has the ability to befriend just about anyone she'd like, even those who've been branded villains for one reason or another. "I feel like she could hang with villains, become their friends, and then get some secrets from them — or help them get some therapy and convince them that they gotta maybe come to the right side," she explained, going on to tout Ramos' natural charm and how she can use it as a tool.
We'll have to wait and see if Gonzaga gets her wish down the road, not unlike how we'll have to wait and see if Mark Ruffalo's She-Hulk prediction comes true, too. In an interview with The Hollywood Reporter, the Bruce Banner actor made a bold statement about the future of Jennifer Walters and, therefore, Tatiana Maslany in the MCU. "There's not going to be another 'Avengers' without her," he jokingly said, prompting a confused and somewhat surprised response from Maslany. Time will tell if this becomes a reality, to one extent or another, down the line, but surely many MCU fans out there wouldn't be opposed to She-Hulk joining the Avengers' ranks.
"She-Hulk: Attorney at Law" will run for nine episodes on Disney+, so we'll spend plenty of time with Walters and Ramos in the coming weeks. It'll be interesting to see where the two characters end up once this batch of installments concludes.