Bob Odenkirk Shares A Touching Message Following Better Call Saul Finale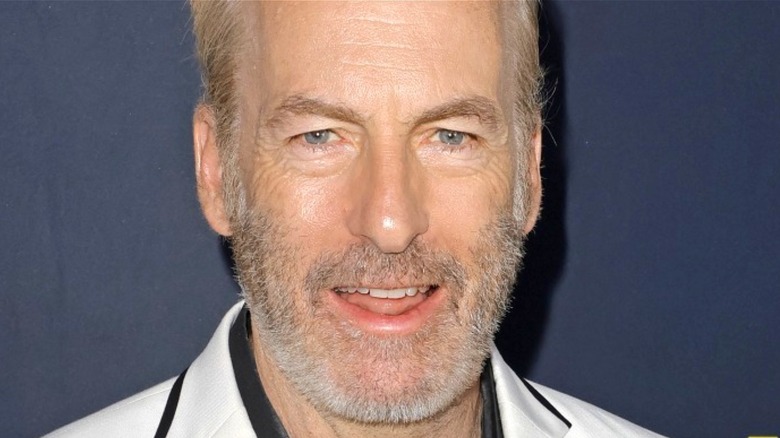 Kevin Winter/Getty Images
The end of "Better Call Saul" is finally here, with the very last episode of the series airing on August 15, wrapping up more than a decade in front of the camera for Bob Odenkirk as the irrevocable but always entertaining Jimmy McGill aka Saul Goodman. And with the character now officially in his rear view (for now), it's time for Odenkirk to publicly say goodbye, which he did in a heartfelt video on Twitter.
"Everybody's been asking me how I feel...and I'm not good at answering the question because it's frankly hard for me to look at that experience, and even at that character, too closely," Odenkirk explained in the video, which he sent out late Monday night after the "Better Call Saul" Season 6, Vol. 2 finale aired on AMC. "It's too many moving parts, and they fit together too beautifully, and it's a mystery to me how it even happened."
Back in 2015, "Breaking Bad" creator Vince Gilligan and Odenkirk first joined forces to put out what was conceived as a simple spin-off/prequel to Gilligan's award-winning and iconic parent drama, which ended two years earlier. Nobody — not even Gilligan or co-creator Peter Gould — could have imagined the impact that "Better Call Saul" wound up having on television viewers and the "Breaking Bad" franchise as a whole, with many people propping it up as being even better than the series that inspired it. 
Odenkirk has previously called the beginning of "Better Call Saul" his blank slate, one that allowed him to learn more not just about Saul Goodman as a character, but also about himself as time went on. So it's easy to understand the difficulty of having to finally say goodbye to both him and TV viewers after so much growth and self-discovery.
'Thanks for giving us a chance'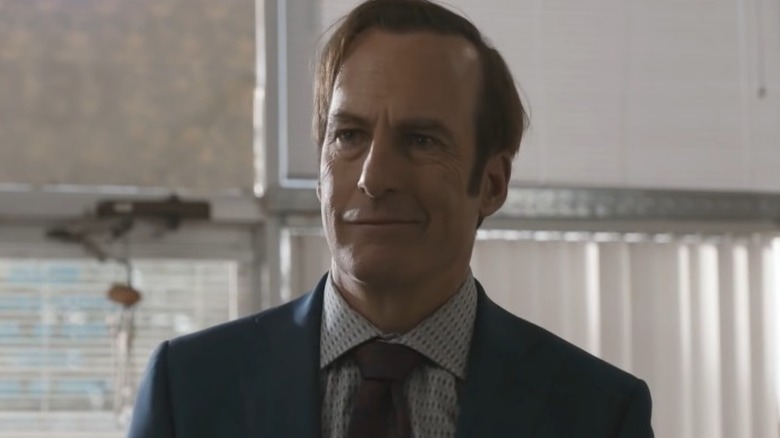 Sony Pictures Television/YouTube
Speaking to viewers on social media, Bob Odenkirk expressed his deep-found appreciation for the "Better Call Saul" and "Breaking Bad" fanbase for allowing him and the showrunners to peel back all the layers of the Saul Goodman onion over the past six seasons. 
"Thanks for giving us a chance," Odenkirk uttered softly, staring directly at the camera. "We came out of maybe a lot of people's most favorite show ever [Breaking Bad] and we could have been hated for simply trying to do a [spin-off] show. But we weren't. We were given a chance, and hopefully, we made the most of it. Thank you for staying with us." Odenkirk went on to describe the overall gist of "Better Call Saul" perfectly,  saying: "A closely observed, idiosyncratic story about a very unique guy — a little slow at times, but in the end, if you paid attention, it was about big, big things inside people." 
Those who watched the "Better Call Saul" finale on August 15 already know that things aren't looking too good for Odenkirk's Goodman aka McGill following the conclusion of the emotionally-charged episode. There was an alternate ending that was shot as well, which would have left the story a little more open-ended for the criminal lawyer, but it wound up getting scrapped by the showrunners. "It felt like maybe there was more story there in a weird way," said co-creator Peter Gould in an interview with Entertainment Weekly. 
Meanwhile, Odenkirk has previously said that he is excited about what the future holds for him as an actor and ultimately wants to leave Saul Goodman in his past. "I'm looking to do something different," he told reporters in early August (via Pop Culture). "I'm excited to do something tonally different and then something totally tonally different than that."