The Real Reason Kate McKinnon Says SNL Is So Grueling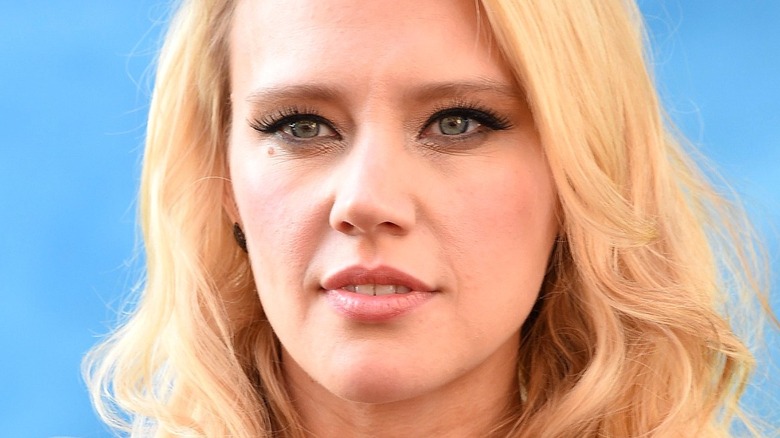 DFree/Shutterstock
Few things are harder for celebrities to communicate in an effective, tonally conscientious way than the potentially strenuous nature of their position. One wrong word and the only message that the general population will hear is one of another famous person complaining about the struggles of being rich. Despite this, some are able to find that balance and come across as genuinely grateful while expressing their discomfort or misgivings about a situation. In this way, Kate McKinnon, who is responsible for many iconic "Saturday Night Live" moments, recently spoke as to why she ultimately exited the legendary live variety show that rocketed her into the public eye. 
The comedian and actor made headlines earlier this year when she, along with other notable "SNL" stars like Aidy Bryant and Pete Davidson, announced that the 47th season of "SNL" would be her final one. According to McKinnon, the production's notoriously tough schedule was a major factor in her career change. Let's take a closer look as to why. 
McKinnon was ready to leave behind the long, exhausting hours required to produce SNL
During an interview with Vulture's Good One podcast (as reported by IndieWire), Kate McKinnon revealed she knew for some time that she would be leaving "Saturday Night Live." As to why, McKinnon said, "Leaving was in the back of my mind for a while, because it's just a grueling schedule. I mean, I could do it for the rest of my life, happily, if the schedule were not so grueling and if I was not naturally a person who liked to wake up at 8 a.m. and go to bed at midnight ... I was having trouble staying up until 1 a.m. And I was like, 'OK, I have to go. As scared as I am and as sad as I am, it's time.'"
So, it seems that the long workdays that bled into the night were ultimately not compatible with McKinnon. Sure, the argument can certainly be made that such a high-profile position is worth gratuitous hours. However, it sounds as if McKinnon understands that the strenuous schedule comes with the territory, but that the time had come for her to follow a different path. 
McKinnon went on to say how hard it was for her to bring the subject up to Lorne Michaels, the man behind "SNL," but that after ten years, she was simply too worn out to continue. Eventually, everyone has to step back and take care of themself.