Cobra Kai Fans Have An Eyebrow-Raising Theory About Sam Switching Sides In Season 5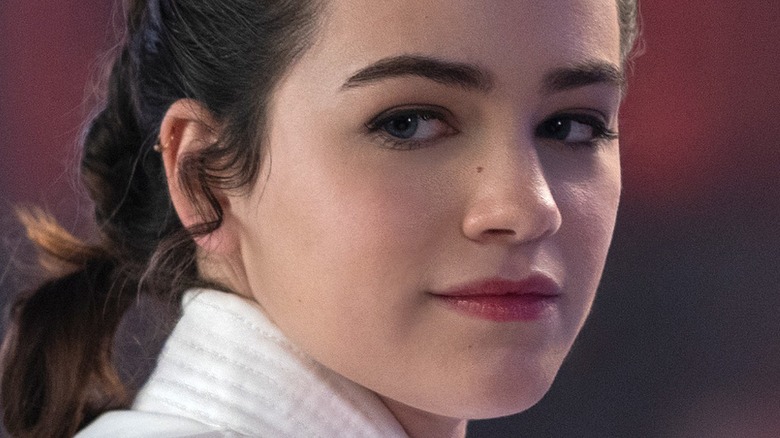 Curtis Bonds Baker/Netflix
Since the very beginning of "Cobra Kai," Miyagi-Do pupil Samantha LaRusso (Mary Mouser) has been a mainstay of the series –- and for good reason. As the daughter of "The Karate Kid" protagonist and current Miyagi-Do leader Daniel LaRusso (Ralph Macchio), much of Sam's story over the past four seasons has been devoted to her bitter rivalry with Cobra Kai's Tory Nichols (Peyton List).
The ongoing feud between the two girls mirrors the rivalry between Cobra Kai student Johnny Lawrence (William Zabka) and Daniel LaRusso throughout the original "Karate Kid," to the point where (like their counterparts from the film) both are frequently fighting over the same shared love interests –- Miguel Diaz (Xolo Maridueña) and Robby Keene (Tanner Buchanan). The duo has fought several times throughout the series (including a particularly brutal fight at West Valley High School), and their feud came to a head at the ending of Season 4 –- in which Tory defeats Sam at the All Valley Karate Tournament.
Unfortunately, it's revealed later that Tory's victory was actually bought by Cobra Kai's Terry Silver (Thomas Ian Griffin), and as such, it seems likely that the rivalry between Tory and Sam is far from over. That said, there are some "Cobra Kai" fans who theorize that Sam might actually put aside her differences with Tory and possibly even join the eponymous dojo herself.
Fans think Sam's dissatisfaction with Miyagi-Do could lead her to switch sides
Netflix
Several months back, Reddit user u/AntElectronic9170 made a post regarding a theory about how Sam might end up switching sides in "Cobra Kai" Season 5. The theory essentially states that Terry Silver will manipulate Miyagi-Do ally and sensei Chozen Toguchi (Yuji Okumoto) into doing something reckless or violent, which would show Sam that Miyagi-Do's teachings of "finding balance" never truly work, and violence is the only answer. As a result, Sam would believe that Cobra Kai has been right all along, and she would switch over to what she believes is the correct side.
Users in the comments were extremely divided about this theory, though some did begrudgingly admit that (as much as they dislike it) Sam may switch sides. "She's growing dissatisfied with her father and his teachings, she's pissed her mom is 'siding' with Tory, both of her boys are likely on her s*** list," explained u/Furies03. "If Tory leaves [Cobra Kai], Sam actually joining will become more likely."
As shocking as it might be to see Sam fully betray her father's dojo and join Cobra Kai, Mary Mouser herself has made it clear that Sam is in a pretty complicated headspace following the end of Season 4. "I feel like she's not lost hope because of it, but it's almost like, finally taking a step back and seeing what the bigger picture was ... 'I got this small victory, but I lost the war,'" Mouser explained during an interview with Collider. Despite how unlikely it might be for Sam to forsake her father's dojo, it's still entirely possible that her dissatisfaction with Miyagi-Do might just lead her to switch sides.