Better Call Saul's Subtle Post-Credit Scene Gives Fans A Peek Into Jimmy's Future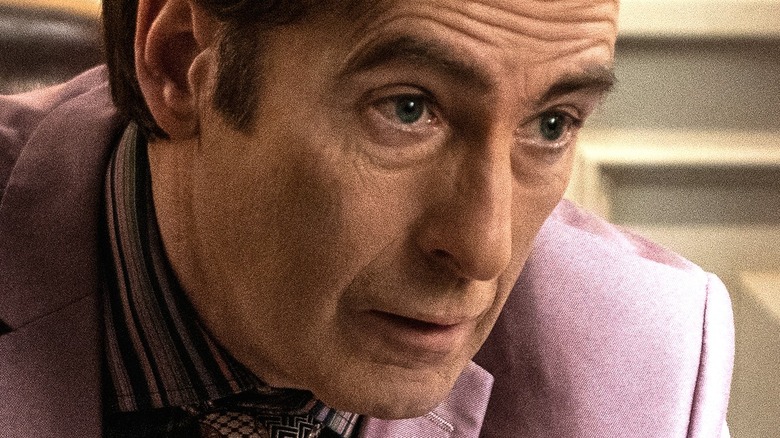 Greg Lewis/AMC/Sony Pictures Television
After nearly a decade and a half, the end of the "Breaking Bad" universe has arrived. Vince Gilligan took prestige television by storm when he created the sociopathic chemistry teacher Walter White (Bryan Cranston), who was looking to save himself from cancer. Lasting for five seasons, the ending of "Breaking Bad" lent itself to a stand-alone film and the spin-off, "Better Call Saul," which just aired its final episode.
The "Breaking Bad" prequel covers all the different flavors of Saul (Bob Odenkirk), from Jimmy McGill to Gene Takavic. Just as we learned in "Breaking Bad," "Better Call Saul" ends with the lesson that crime truly does not pay. After a rigorous trial — and many surprise cameos! — Jimmy ends up in ADX Montrose with a sentence of 86 years. He and Kim (Rhea Seehorn) may have come to terms, but it is certainly bittersweet. Prison is prison, no matter how many batches of bread you bake. But for eagle-eyed fans of Jimmy, there is at least some hope for the character. The final post-credit scene gave a clue into what may be in store.
The post-credit scene of the Better Call Saul finale episode is up for interpretation
The final shot of the series is Kim walking away from Jimmy, looking back one last time as he disappears around the corner. There have been many shots of him in the ADX Montrose prison jumpsuit, clearly indicating where he ended up. But stay long enough after the credits, and you may see a bonus article of clothing in his closet that fans on Reddit were quick to discuss.
"The jumpsuit at the end of the rack says 'BCDC,' which stands for Bernalillo County Detention Center (county where Albuquerque is)," posted u/TheMeanJellyBelly. "This means that he was able to get transferred to a lower level prison because he was on good behavior," the Redditor further explained. Though this is a decent assumption, other fans weren't so sure that was the implication.
"I'm not sure why they put BCDC instead of ADX Montrose but there's no scenario where he would be transferred to there," noted u/ArtlessOne, "a detention center is meant to temporarily house people before they go to trial." Perhaps this is just a nod to the fans who remember Jimmy spent the night in jail at BCDC in Season 3. Or it could be something more. Some viewers in the "Better Call Saul" subreddit post concluded that he may be put there if he is going to trial for a lesser sentence. Whatever the case may be, it is a send-off befitting the character that fans have been with for so long.