We Finally Have A First Look At The Addams Family From Tim Burton's Wednesday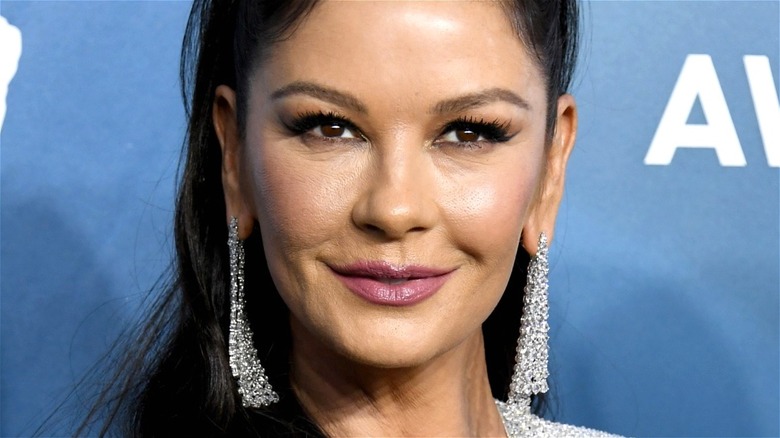 Jon Kopaloff/Getty
Fans of Tim Burton's upcoming "The Addams Family" series "Wednesday" will be thrilled to know that the series is definitely racing toward its fall 2022 debut with zest and aplomb. 
The show will cover Wednesday Addams' (Jenna Ortega) teen years; per Variety, that means following the girl as she attends a special school for the magically gifted called Nevermore Academy. Wednesday, graced with emerging psychic abilities, subsequently finds herself trying to stop a monster from murdering nearby townsfolk while solving an ancient Addams-related mystery involving both of her parents. On top of these two mysteries and her thus-far uncontrolled psychic abilities, Wednesday has to navigate matters both social and romantic at her new school. It's a recipe for humor, horror, and the usual sort of outside observations that "Addams Family" projects usually entail.
Viewers were already treated to a teaser earlier this summer featuring Jenna Ortega in character as the gloomy titular miss, complete with braids and Thing sitting upon her shoulder. This promotional clip delighted fans of the Addams clan everywhere. And now they're going to learn how the entire family will look in the series.
The whole family's together again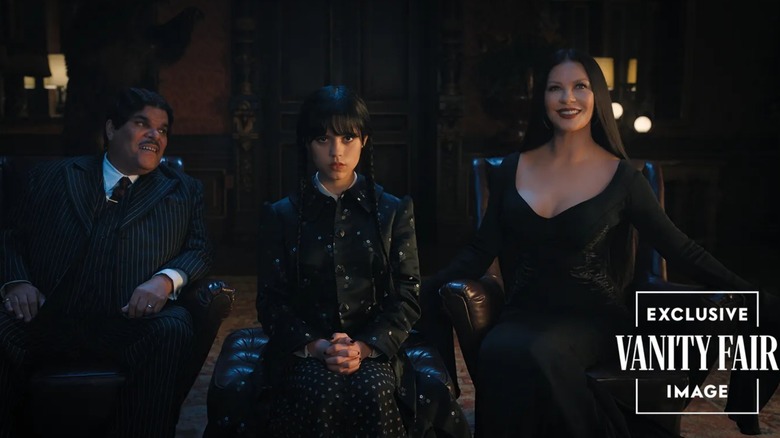 Netflix/Vanity Fair
Vanity Fair got an exclusive first peek at the altogether ooky Addams clan who will populate the world of "Wednesday." Aside from Jenna Ortega, the portrait features Luis Guzmán as Gomez Addams and Catherine Zeta-Jones as Morticia. Isaac Ordonez appears in other photos featured on Vanity Fair as Pugsley Addams. It appears that Pugsley too has been aged up slightly for the series from roughly 10 to somewhere around 13 or so. Zeta-Jones and Guzmán are both definitely on-model as their shapely and portly alter egos, respectively, complete with a silhouetted black gown and a pinstriped suit. 
Netflix has also released a solo portrait of Zeta-Jones and Guzmán together to Vanity Fair. There's also a still of Pugsley getting tied up in a locker with Wednesday looking on although it's unclear if she's saving him or if she's the one who put him in there in the first place. 
Fans won't have to wait too much longer to find out if they click with "Wednesday." All eight episodes of the series will drop on the streamer sometime during the fall or winter of 2022.