What Was Really Going On During Better Call Saul's Convict Scene?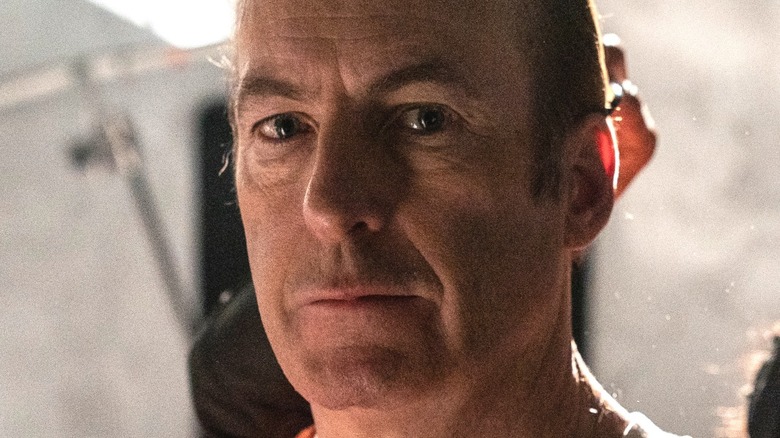 Greg Lewis/AMC/Sony Pictures Television
This article contains spoilers for "Better Call Saul" Season 6, Episode 13
"Better Call Saul," the "Breaking Bad" prequel series created by Vince Gilligan and Peter Gould, came to an end on August 15 with its series finale, "Saul Gone." Throughout the show's six-season run, viewers watched as Jimmy McGill (Bob Odenkirk) transformed into Saul Goodman — and then, into Gene Takovic.
In "Saul Gone," Jimmy finally faces the consequences of his actions as Saul Goodman during the events of "Breaking Bad" — as he puts it himself, Walter White (Bryan Cranston) couldn't have done it without him. After being caught by the police in Nebraska, Jimmy is put on trial and hires his former colleague, Bill Oakley (Peter Diseth), to represent him. Jimmy manages to make a deal that lessens his sentence to just over seven years by telling a sob story about how he was a victim of Walt, only working with him because he was scared for his life (and not for his real motivator: the money). But then, Jimmy has a change of heart. While in court, with Kim (Rhea Seehorn) watching from the stands, Jimmy gives the real version of events and owns up to all of his mistakes, including his role in Howard's (Patrick Fabian) and Chuck's (Michael McKean) deaths, as well as everything he did to abet Walt's crimes.
Thus, Jimmy accepts his fate of most likely spending the rest of his life in prison. In one of the more memorable scenes from the episode, Jimmy is recognized as Saul Goodman by one of his fellow inmates, who then leads the others in chanting his old slogan: "Better Call Saul." Here's what series co-creator Gould had to say about what that moment means for Jimmy. 
Jimmy will never be able to get rid of the Saul Goodman notoriety
In an interview with Variety, "Better Call Saul" co-creator and showrunner Peter Gould (who also wrote and directed the final episode), broke down each detail of "Saul Gone" — including the scene in which the prisoners all chant "Better Call Saul."
Gould explained that there are two meanings behind the scene. Firstly, there's the fact that, as much as Jimmy wants to leave that persona behind him, he'll always be Saul Goodman in the public's eye. This works as both a positive and a negative for Jimmy. Gould explained, "Because on the one hand, he's going to be protected a little bit from the worst the prison can offer ... But it also means to some extent he's going to be playing a role for the rest of his life ... He's a little bit like an actor who gets so identified with a role that people assume that it's the real guy. And that's something he's going to have to live with. And maybe that's part of his ultimate punishment." Gould then added that there's one person who still sees him as Jimmy: Kim, who greets him as such when she comes to visit him in prison.
Secondly, though, Gould wanted to showcase the reality of Jimmy's life in prison. He explained, "We wanted to give a feel for what he's actually going to experience and the suffering he's in for is pretty much the suffering he deserves."
Odenkirk thinks Jimmy uses Saul's skills throughout his sentence
Bob Odenkirk spoke with Entertainment Weekly about the series finale, and while he didn't directly address the chanting scene, he did reveal what he thinks Jimmy's life in prison, amongst his fellow inmates, looks like. When asked if he thinks that Kim continues to visit him, Odenkirk enthusiastically responded that he believes that she does and added that he thinks Jimmy is able to make a fulfilling life out of his sentence.
Odenkirk explained, "I think he helps a bunch of guys in prison to get out who are innocent, or he helps shorten their sentences. He gets treated really well. And I don't think he gets out early ... But I think he's kind of the king of the prison because he's a really, really good lawyer and a great lawyer for the kind of people in there. And he puts that to good use, probably even does some good work, like, genuinely good work."
Viewers get a glimpse of Jimmy's life in prison when, just before Kim shows up to visit, we see him and his fellow inmates making bread together (with Jimmy getting to use the skills he learned during his Cinnabon days). He looks to be getting along swimmingly with the other inmates, so it's easy to see Odenkirk's prediction for Jimmy's future coming to fruition.
The "Better Call Saul" finale, "Saul Gone," is currently streaming on AMC+.