One Of Better Call Saul's Final Scenes Was A Major Callback To The Very First Episode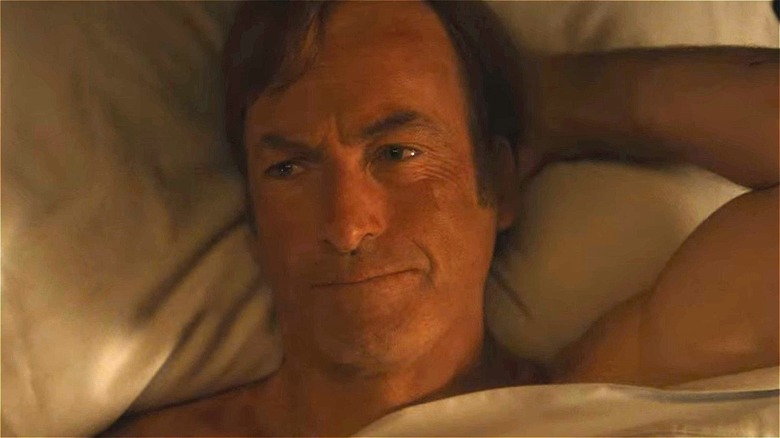 AMC
The interaction and relationship between Jimmy McGill (Bob Odenkirk) and Kim Wexler (Rhea Seehorn) is definitely one of the plot lines around which "Better Call Saul" is based. Although "Better Call Saul" is essentially a prequel to "Breaking Bad," its final season features flash-forwards that show events that took place after the end of its predecessor show. As such, viewers get a chance to see characters like Jimmy (AKA Saul Goodman) go through a full story arc that straddles two different shows.
Both Kim and Jimmy start off in the first season of "Better Call Saul" as low-level employees of the law firm Hamlin, Hamlin, and McGill. While Kim is an aspiring student of the law, Jimmy is known as a con-man, and his brother Chuck McGill (Michael McKean) hopes that his job at the law firm will afford him a chance to clean up his act, but alas, fans of "Breaking Bad" know that isn't what happens. Now that the final episode of "Better Call Saul" has aired, aficionados of the series may have noticed a certain amount of symmetry between the first and last episodes of the show. One of the first scenes shared between Kim and Jimmy involve sharing a cigarette, and oddly enough, one of their last scenes together echo this early moment.
The series creators wanted Kim and Jimmy's first and last scene to reflect their journey
Speaking with Variety, it was brought up to series co-creator Peter Gould that the interactions between Jimmy and Kim form almost a perfect plot circle. When asked about the logic behind that decision, Gould answered, "Having the two of them against the wall, smoking, passing that cigarette back and forth, felt very much like a way to say that they've reached an agreement. They see each other and they're relating to each other. And there's an honesty there, and even love, I think, still there." 
The scene in question involves Kim using her non-expiring lawyer license to see Jimmy in prison, and most of their conversation relates to Jimmy finally accepting responsibility for his actions, which turns his rather cozy seven-year sentence into one that spanned multiple decades. Another callback involves Kim leaving the prison, and in the last moments, she turns and sees Jimmy against a fence, and he makes a finger gun motion. This flourish of the hands is yet another callback to when Kim made the same motion in a previous episode, when Jimmy said that ruining the life of Howard Hamlin (Patrick Fabian) would be an impossible task. Either way, there was a poetic symmetry in the final episode of "Better Call Saul."