The Benedict Cumberbatch Role Once Played By The Orville's Mark Jackson - Exclusive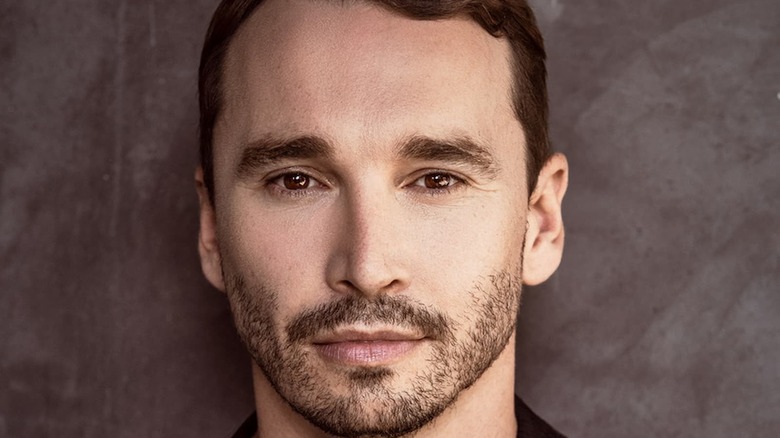 Nicholas Bates
To hear Mark Jackson talk about it today, it's still a bit of a surprise that he's played a series regular role on "The Orville" for a whole three seasons. While reflecting on the audition process that earned him the part of Isaac on the science fiction series, Jackson said, "I was like, 'This is never going to happen.'" That shouldn't be misconstrued as a lack of confidence on Jackson's part. It's just not exactly where he always expected his career to go.
Although Jackson first appeared on stage at the age of 12 in a production of "Oliver!," he admits he wasn't always quick to embrace acting at a young age. In fact, at one point, he considered careers in everything from microbiology to fish farming. However, after accepting a dare from a girlfriend to audition for a school play, Jackson quickly realized that he was enthralled with the process. In the years that followed, Jackson trained as an actor at the Bristol Old Vic Theatre School, where he graduated in 2006 (via Winterbourne). 
"I left drama school thinking, 'I'm going to do Shakespeare all my life. I'm that kind of actor,' and then I never did one," Jackson said with a smile. Instead, Jackson noted, his largely stage-focused career has led him to play a "succession of weirdos." This sort of niche casting includes everything from an artificial intelligence in "The Orville" to an 87-year-old waiter who repeatedly falls down the stairs in "One Man, Two Guvnors."
In an exclusive interview with Looper, Mark Jackson talked about the plethora of theatre roles he took on before appearing in "The Orville." Notably, Jackson's long list of live performances includes quite a bit of time spent in a role made famous by "Star Trek Into Darkness" star Benedict Cumberbatch.
Mark Jackson played Captain Stewart in the National Theatre's War Horse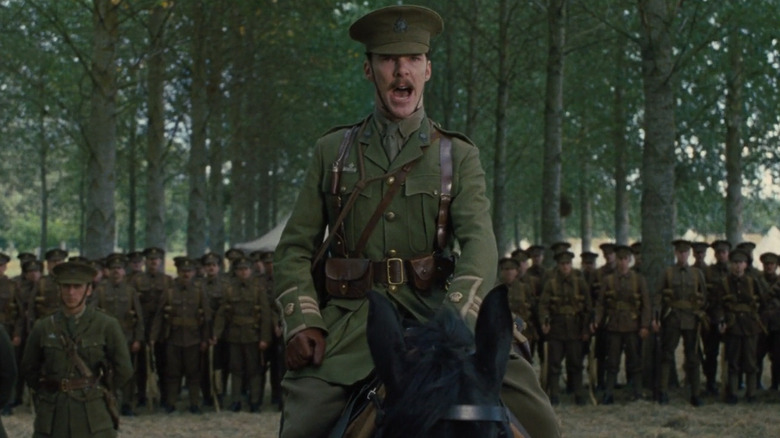 Walt Disney Studios Motion Pictures
In many American film and television projects, it isn't at all irregular to see actors in small roles later become the stars of productions involving significantly larger budgets. However, according to Mark Jackson, the normal trajectory of British actors can be a bit of a different story. "In the UK, most actors are theatre actors who do a bit of telly or movies on the side," Jackson explained. As such, the vast majority of his roles before "The Orville" took place on stages.
In 2015, Jackson began playing the role of Captain Stewart in the National Theatre's production of "War Horse" on the West End of London (via BroadwayWorld). Although every role in a stage production is likely a beast of its own making, this particular part actually came with a literal beast of its own. Jackson said, "I got to ride one of the horses every night." As the name implies, much of the story is centered on a very special quadruped named Joey. However, rather than trouble with real horses, the production makes use of life-size puppets, each of which is maneuvered by several performers throughout the play.
The "War Horse" play was first adapted from Michael Morpurgo's 1982 novel of the same name in 2007. Those unfamiliar with the stage production might be more familiar with Steven Spielberg's "War Horse" film adaptation. The 2011 movie earned positive reviews from critics and audiences alike, who praised the emotional journey at the heart of the story (via Rotten Tomatoes). In Spielberg's take on the story, Stewart is portrayed by future "Doctor Strange" actor Benedict Cumberbatch.
You can catch all three seasons of "The Orville" on Hulu and Disney+.