Bryce Dallas Howard Showcased This Unique Talent While Making Jurassic World Dominion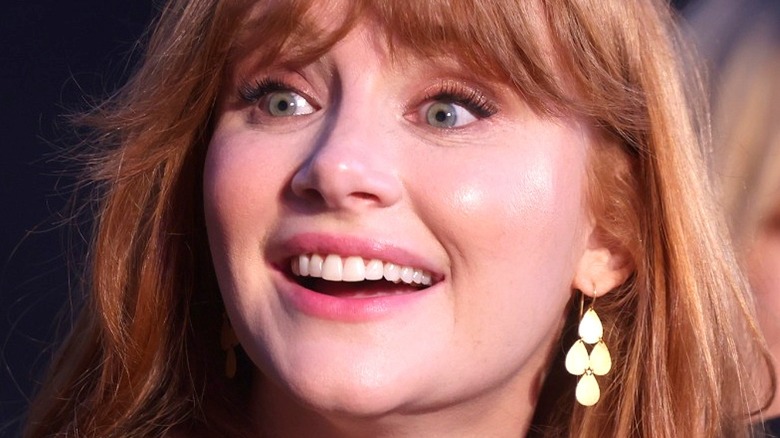 Roger Kisby/Getty Images
Although "Jurassic World Dominion" got mixed reviews from critics, the film is notable for reintroducing characters from the original franchise into the current narrative. Dr. Alan Grant (Sam Neill), Dr. Ellie Sattler (Laura Dern), and Dr. Ian Malcolm (Jeff Goldblum) team up with Claire Dearing (Bryce Dallas Howard) and Owen Grady (Chris Pratt) to deal with the threat of expanding dinosaur populations across the globe. Despite the film's numerous plot holes, it's great to see all the characters sharing the screen. The practiced chemistry between the cast and the inevitable and action-packed dinosaur sequences do wonders to compensate for the story's inconsistent tone.
Behind the scenes, making the film took a lot of work. After the coronavirus pandemic delayed production, Universal Studios doled out millions of dollars for an array of safety measures so that filming could resume (via Deadline). According to Entertainment Weekly, the cast and their loved ones were even quarantined together at the same hotel for months as an added precaution. The lockdown allowed the actors to bond while spending time with their families, which is how Goldblum found out about Howard's secret talent.
Bryce Dallas Howard is an amateur barber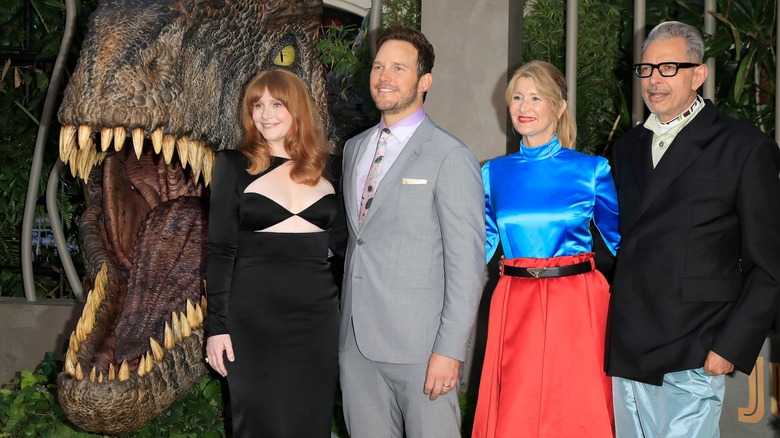 Joe Seer/Shutterstock
Aside from her role as Claire Dearing, Bryce Dallas Howard is known for her performances in films like "The Village" and "The Twilight Saga" franchise, as well as her directorial work on "The Mandalorian" and "The Book of Boba Fett," not to mention the fact that she's the daughter of director Ron Howard. However, in a cast interview with SiriusXM, Jeff Goldblum revealed that the young Howard's many talents extend far beyond the entertainment industry. Apparently, the actress would make a decent barber if her acting career falls through. While the cast, crew, and their families were isolating during the production of "Jurassic World Dominion," Howard acted as a de facto hair stylist (via Entertainment Weekly).
"I was like, 'Sit down everyone.' Because honestly what's so amazing is that in order for us to go back to filming, we all needed to agree to live together in a hotel. And when I say we, this is not just the actors, these are our families," Howard elaborated to her co-stars' amusement (via YouTube). "And so the folks who weren't actors and going to set and getting their hair trimmed for five months literally didn't have a haircut. So those were the folks whose hair I cut."
Howard's co-stars appeared to recall the memory fondly, so it looks like she's got a steady hand with the scissors. If she was botching haircuts left and right, they probably wouldn't have laughed.