Bryce Dallas Howard Took Home A Jurassic World Dominion Prop You'll Never See Onscreen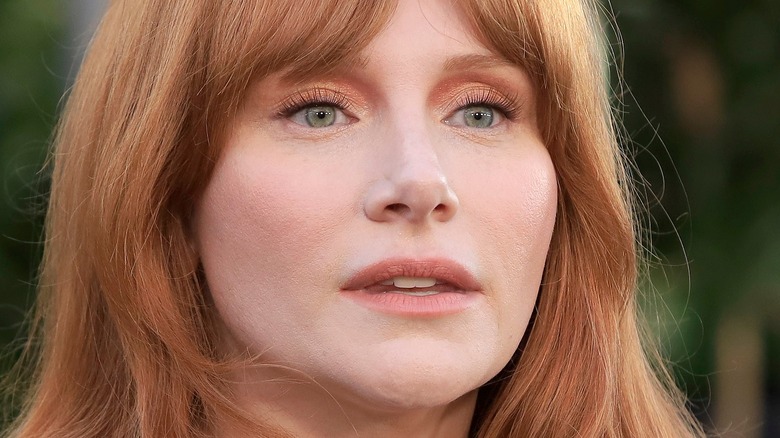 Joe Seer/Shutterstock
The "Jurassic World" trilogy came to an explosive end earlier this year in "Jurassic World Dominion." Directed and co-written by Colin Trevorrow, the long-awaited blockbuster film received largely negative reviews from critics when it was released in early June, which has led to it currently holding only a disappointing 30% Tomatometer score on Rotten Tomatoes. That said, the film's negative critical reception didn't stop it from performing well at the box office. To date, the "Jurassic World: Fallen Kingdom" sequel has raked in nearly $1 billion worldwide (via BoxOfficeMojo).
The film is also notable for featuring appearances from Jeff Goldblum, Laura Dern, and Sam Neill, the lead stars of 1993's "Jurassic Park." However, to its credit, "Jurassic World Dominion" doesn't just bring back the original trio of the "Jurassic Park" franchise. Instead, the film brings Neill, Goldblum, and Dern together on-screen for the first time with "Jurassic World" stars Chris Pratt and Bryce Dallas Howard. 
Unfortunately for the latter pair, "Jurassic World Dominion" also serves as the conclusion to the "Jurassic Park" franchise's Pratt and Howard-led sequel trilogy, which means that fans may never again get to see the two actors reprise their roles as Claire Dearing and Owen Grady, respectively. For now, at least, neither Pratt nor Howard seem to have plans to return to the franchise after "Dominion."
The good news is that it sounds like Howard did try to make the most out of her experience filming "Jurassic World Dominion." As a matter of fact, the actor and director recently revealed that she actually managed to keep one prop from the "Jurassic World" sequel that most fans of the franchise likely didn't even know existed.
Bryce Dallas Howard got to keep a hidden piece of jewelry from Jurassic World Dominion
During a recent interview with Screen Rant, "Jurassic World Dominion" stars Bryce Dallas Howard and Chris Pratt opened up about which props they took from the film's set before it wrapped. For her part, Howard initially responded by jokingly saying, "I took nothing, because I'm not a criminal." However, the actor went on to reveal that she did actually take home a prop from "Jurassic World Dominion," but not one that any fans of the blockbuster series likely knew about.
"I should say — you don't actually see it. There was no screen time, so this was why I was allowed to take this with me, but I had a little anklet that I would wear on the last movie that had a 'C' on it," Howard said. The actor further revealed that she actually created a fictional backstory for the anklet in question, adding, "I pretended that Owen gave [it] to Claire. I got to keep that, which is nice."
In other words, it turns out that Howard managed to keep a souvenir from the "Jurassic World Dominion" set that likely feels even more personal to her than many of the film's more high-profile props. Taking that into account, while this anecdote doesn't clear up any of the biggest unanswered questions in "Jurassic World Dominion," it does add an extra layer of sweetness to the relationship that is depicted in the film between Howard's Claire and Pratt's Owen.