Netflix Drops A First-Look Spot For Guillermo Del Toro's Cabinet Of Curiosities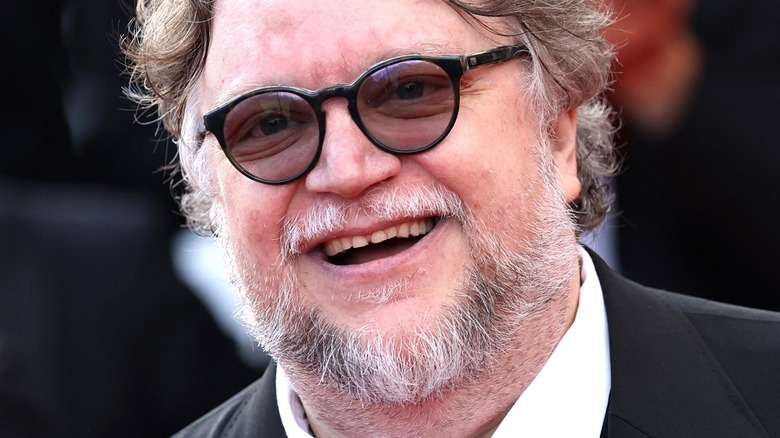 Vittorio Zunino Celotto/Getty
On the heels of his 2021 film "Nightmare Alley," Guillermo del Toro is currently on the precipice of releasing a string of projects for Netflix after signing a deal with the streaming service in August of 2020 (via The Hollywood Reporter). Announced first was del Toro's anti-fascist take on "Pinocchio," which is slated to premiere later this year. Del Toro fans can take solace in the fact that another project, titled "Cabinet of Curiosities," is also in the works for the streaming service concurrently with his next feature film.
Unlike virtually all of his most notable prior releases, Netflix's "Cabinet of Curiosities" is an anthology TV series. In the past, del Toro has worked on a number of TV shows in various capacities (via IMDb), but never as a creator, meaning that "Cabinet of Curiosities" will mark new territory for the acclaimed filmmaker. Some additional behind-the-scenes talent revealed prior to the show's premiere includes Jennifer Kent of "The Babadook" fame, "The Dark Knight" screenwriter David S. Goyer, and "A Girl Walks Home Alone at Night" director Ana Lily Amirpour. Meanwhile, some of its individual episodes will star Andrew Lincoln, Hannah Galway, F. Murray Abraham, and Crispin Glover, among others.
Fans excited to see what these notable talents will bring to "Cabinet of Curiosities" now have some idea of what to expect thanks to an early trailer Netflix shared in advance of the series' premiere.
Cabinet of Curiosities is a grab bag for horror fans
Instead of solely showcasing footage from the series proper — of which there is still plenty — the majority of this first "Cabinet of Curiosities" trailer consists of Guillermo del Toro behind a desk outlining the show's overarching philosophy. "In this anthology we gave ownership of each episode to the directors," he explains. "Each of the episodes has a whole world. They present you with different delights."
While it's still unclear exactly what sorts of horrors to expect on an episode-by-episode basis, the show appears to feature a wide range of largely supernatural frights based just on the variety showcased in this short trailer. Del Toro particularly emphasizes that its creatures are not digitally-rendered but brought to life with practical effects.
This first trailer also gradually reveals a list of every episode title and its director. In full, "Cabinet of Curiosities" will consist of "The Autopsy" directed by David Prior, "The Outside" directed by Ana Lily Amirpour, "The Viewing" directed by Panos Cosmatos, "Dreams in the Witch House" directed by Catherine Hardwicke, "Lot 36" directed by Guillermo Navarro, "Pickman's Model" directed by Keith Thomas, "Graveyard Rats" directed by Vincenzo Natali, and "The Murmuring" directed by Jennifer Kent.
Finally, text at the end of the trailer reveals that "Cabinet of Curiosities" will release in a matter of months — its first episode will premiere on October 25, and new episodes will then proceed to drop daily.