Rogue One Returning To IMAX Theaters With New Footage
Rereleasing movies isn't some new concept or recent innovation for the film industry. Smithsonian notes that Hollywood has been cutting, editing, or augmenting movies since the time of the silent era. In 2011, for example, Disney decided to retrofit the original "Lion King" in 3D, and in two weeks' time, the movie grossed over $60 million. Not too shabby at the time for a 17-year-old movie.
Now, "Rogue One: A Star Wars Story," which chronicles the means by which the Rebel Alliance comes into possession of the plans for the Death Star, will get its opportunity to do the same just six years later, after earning a staggering amount of money during its initial run, raking in over $1 billion worldwide (via Box Office Mojo). This time, however, there will be something extra for fans looking to see Jyn Erso (Felicity Jones) and Cassian Andor (Diego Luna) on the big screen again.
The rerelease of Rogue One will feature a sneak peak of an upcoming show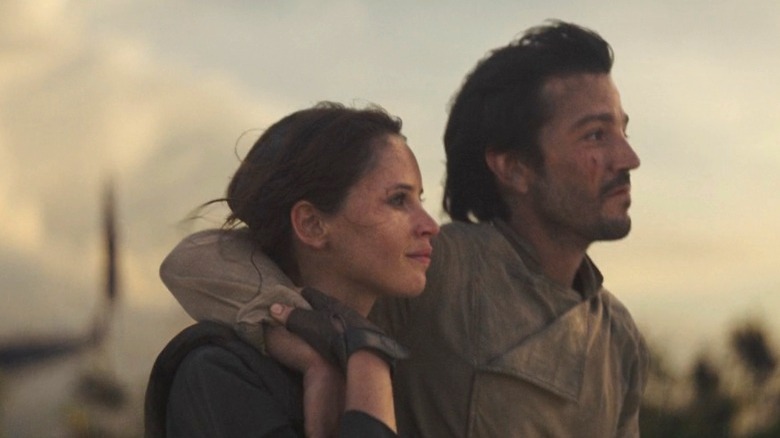 Lucasfilm/Walt Disney Studios Motion Pictures
As revealed on Fandango, "Rogue One" will be back in IMAX theaters on August 26 in preparation for the upcoming release of "Andor." Considering the main character of "Andor" is also one of the main characters of "Rogue One," it makes perfect sense to drive up some fan anticipation. However, "Rogue One" isn't the only footage being shown in theaters — this rerelease will feature an exclusive look at "Andor."
Season 1 of "Andor" will premiere on September 21, with the first three of twelve episodes available. As creator Tony Gilroy revealed to Vanity Fair in May, the series has also already been given the green light for a second and final season that leads directly into the events of "Rogue One."
Appearing on "Jimmy Kimmel Live!," Diego Luna argued, "It's nice to go into a story you already know the ending [of]. Then you can take care of the little nuances and all the layers, and I think it's fun to do something that is not just about getting to the end. In fact, it's about delaying that." Either way, fans will soon be seeing much more of the "Rogue One" character, and what better way to get excited about the upcoming show than seeing its inspiration in a movie theater beforehand?