The Cops Development Stalled, Animators Laid Off After Louis C.K. Revelations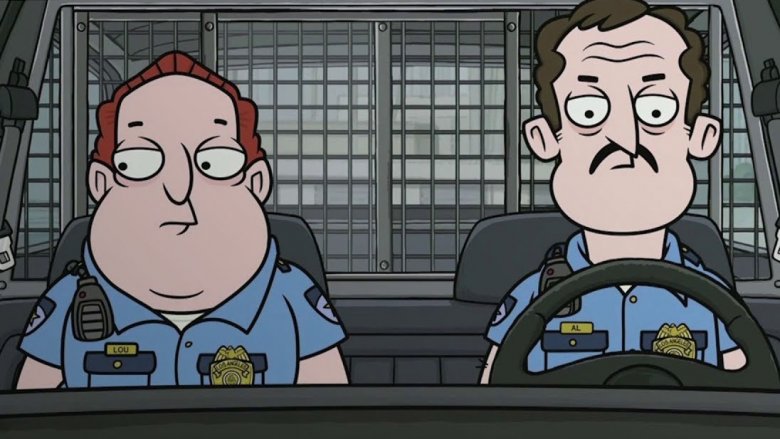 Louis C.K.'s unsettling feature film I Love You, Daddy isn't the only work from the disgraced comedian that's being shelved, perhaps never to see the light of day.
According to a report by Deadline, the animated series The Cops on TBS is the next work of C.K.'s that has been compromised as a result of revelations of a pattern of sexual misconduct on the part of the comedian. Those allegations, long-rumored, were first reported on with credible, on-the-record sources by the New York Times earlier this month.
C.K. later confirmed to the newspaper that the allegations from five women that the piece had listed were all factually accurate. "These stories are true," he said in a statement.
What started as a suspension of production of The Cops by TBS has now resulted in the layoff of its animation staff, casting the future of the series in serious doubt.
The network had previously ordered the show straight to series, commissioning 10 episodes with a premiere window set for January 2018. Considering the current situation, it's now highly unlikely it will make that air date—if any episodes of the series ever see release at all.
In response to his unceremonious firing, animator Francis Giglio wrote a heartbreakingly savage open letter to the comedian, written in marker on the side of a box in his now-empty office as he packed his things to leave.
"My name is Francis Giglio, and I am was the Art Director on your animated show The Cops," the letter began. He went on to praise "the amazingly talented crew" that are all now "out of a job right before the holidays", placing the blame for their plight solidly at CK's feet.
The Cops is a co-creation of C.K. and Albert Brooks, centering on two slovenly police officers named Lou and Al. Each character was meant to be voiced by their namesakes, which complicates the prospect of continuing development on the series without C.K.'s involvement. Like many of C.K.'s works, this animated series was intended to be colored by a personal touch. Now that his reputation is in tatters, that once-golden touch has considerably lost its appeal.
We'll have more on the situation with The Cops and C.K.'s other shows still on the air as news develops. In the meantime, if you happen to be in the position to be able to, perhaps consider hiring some animators from The Cops—they're going through pretty a rough patch right now, and not a one of them deserved it.