Ewan McGregor Shares Conflicted Comments Over The Idea Of Joining The MCU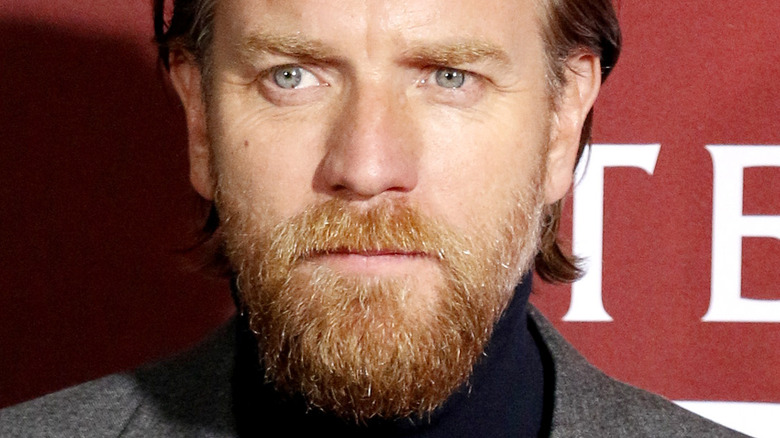 Tinseltown/Shutterstock
Ewan McGregor seems to have a positive working relationship with Disney at the moment. After all, he recently returned to the "Star Wars" franchise to reprise the role of the beloved titular Jedi on "Obi-Wan Kenobi," which premiered earlier this year to plenty of positive feedback. According to Nielsen, "Obi-Wan Kenobi" gave Disney+ its highest original premiere at the time of its release, which is rather impressive when you remember that the streaming service has showcased its fair share of tentpole projects.
Prior to returning to the galaxy far, far away, McGregor lent his talents to the DCEU when he starred as the evil Robin Sionis aka Black Mask in "Birds of Prey." So, when you factor in the actor's success at Disney, coupled with his history of starring in big superhero movies, the MCU seems like a no-brainer for the actor, right?
Unfortunately, it might be a while before McGregor considers bringing his dashing good looks and impressive acting talents to the MCU, should the opportunity present itself. For now, it appears that he isn't interested in expanding his presence in successful Disney franchises. At the same time, he hasn't ruled it out either.
Ewan McGregor has no immediate plans to join the MCU
Tinseltown/Shutterstock
During a recent appearance at Fan Expo Boston, a representative from Comicbook.com asked Ewan McGregor to share his thoughts on joining the MCU. However, the question seemed to take the Scottish actor by surprise, causing him to share some conflicting thoughts on the matter.
According to the "Trainspotting" star, he isn't looking to add another mega-franchise to his plate right now, mainly because he's interested in focusing on some smaller-scale projects moving forward. "I don't know. I don't know that I want to do that. Because I love doing all different kinds of work," he revealed. "It's true. I love to direct. I'd like to be in the theater again. I definitely want to do this again, you know, I'm in this Star Wars world. I feel like I don't need another... I'm not looking for that anyway.
Of course, one can never say never in the world of entertainment. As such, McGregor didn't completely dismiss the idea of joining Marvel's billion-dollar franchise at some point. "I feel like I shouldn't say I wouldn't do it because in two years time you'll be like, 'You said you were never going to do this!' But I'm not looking for it particularly," he added.