They/Them's Kevin Bacon On Why Horror Films Are His Favorite Performances - Exclusive
John Lamparski/Getty Images
Kevin Bacon is no stranger to horror, having appeared in over half a dozen films in the genre. He has played a memorably murdered camp counselor in the original "Friday the 13th," battled giant worm-like monsters in "Tremors," and experienced the hypnotized hell of "Stir of Echoes."
His latest frightening endeavor is the LGBTQ-focused slasher flick "They/Them" (pronounced as "They-Slash-Them"), in which he plays paradoxical gay conversion camp owner Owen Whistler, who comes across as welcoming at first but quickly shows his true colors. The film — penned by renowned screenwriter and first-time director John Logan — follows a disparate group of queer kids forced into the camp, where a team of counselors try to change their sexual orientation and gender identities while a killer runs amuck.
It's a role Bacon was excited to step into, calling it a "deeper" horror movie that comes with a "social point of view." But beyond that, the veteran actor just likes being part of the genre. In fact, during an exclusive interview with Looper, Bacon explained exactly why horror has elicited some of his favorite performances over the course of his career.
Bacon is 'not afraid of doing horrible things' while in character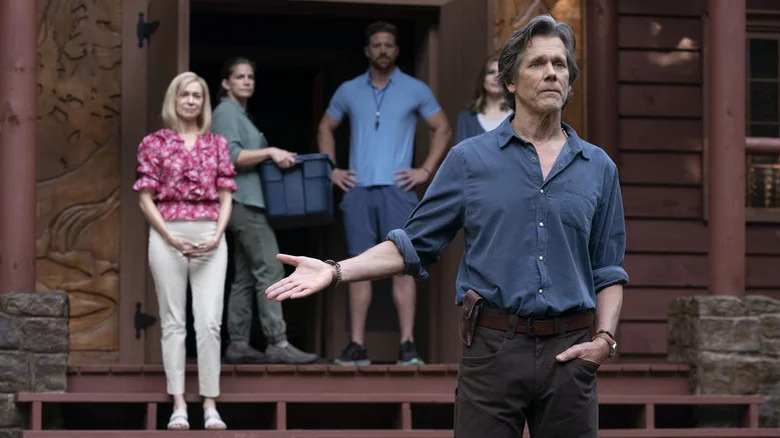 Peacock
When it comes to horror, Kevin Bacon doesn't necessarily care whether he plays the good guy or the bad guy — although the bad guy usually brings more potential to flex his acting muscles.
"I became an actor so that I could walk in a lot of different men's shoes," he said. "I'm not afraid of doing horrible things as a character. That's never been frightening to me. You can tell from the movies that I've done ... I've been pretty bad in a lot of things, but I've also played characters who were heroic and friendly and romantic and all kinds of other things."
As for why he keeps gravitating toward horror in his career, Bacon has a pretty straightforward viewpoint.
"First off, I like it," he explained. "I'm a fan myself. I'm a consumer of it. If a new horror film piques my interest, I'm front and center opening weekend ... I like the experience, because when I go to a movie as a ... consumer, I want to feel things. Whatever it is, I want to feel things deeply. You can feel sad. You can get tears coming out of your eyes. You can laugh hysterically. You can jump. You can get scared. You can get creeped out. You can walk out of the theater with an uneasy feeling. These are feelings, and I like that."
Plus, as an actor, horror offers something other genres don't necessarily possess, according to Bacon. "I like to do horror because the stakes are very high, and that means that there's good stuff to play," he said. "In life and death situations, those are good things to play."
Bacon's latest horror film, "They/Them," is now streaming exclusively on Peacock.