Sons Of Anarchy Fans Would Love To See This Character Get A Full Spin-Off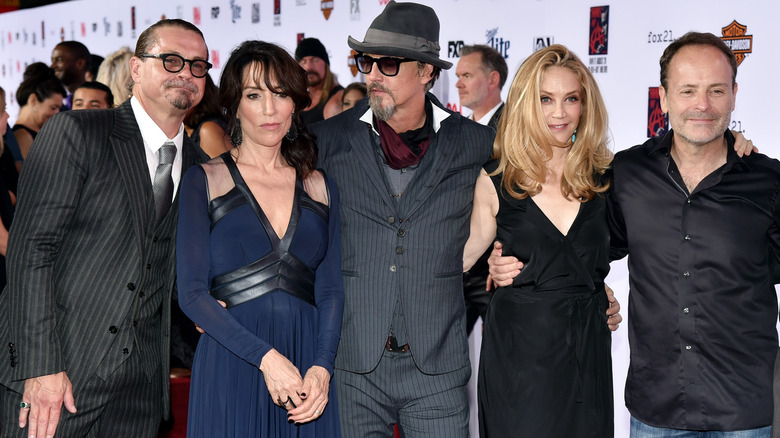 Kevin Winter/Getty Images
Prequels, sequels, and reboots are never a sure thing, and no matter how good they sound, there is no guarantee they'll ever see the light of day. When it comes to the popular FX series "Sons of Anarchy," there have been plenty of concepts for where the franchise should go next and what storylines could be explored in a potential spin-off situation.
"Sons of Anarchy" creator Kurt Sutter had been developing a prequel series that would follow the original members of SAMCRO, or "The First 9," as they are referred to on the original show, after returning from the Vietnam War to start their Redwood Original chapter. That spin-off never happened thanks to a change in ownership as well as issues behind the scenes.
But another attempt did make it to the small screen. "Mayans M.C." takes place after the events of "Sons of Anarchy" and follows Ezekiel "EZ" Reyes (J.D. Pardo) as he rises up the ranks in the titular motorcycle club that was once a rival to SAMCRO. Overall, the show has attained impressive scores on Rotten Tomatoes and has successfully expanded the "Sons of Anarchy" franchise.
There are still several options available regarding what narratives or side stories could be developed into something that both new and old followers could get behind. And some stand out more than others. After seven seasons of "Sons of Anarchy," some fans believe certain characters deserve their own spin-off series.
SOA Fans want to see a spin-off focusing on Chibs' backstory
Filip "Chibs" Telford (Tommy Flanagan) was one of the main characters on "Sons of Anarchy" for seven seasons who ended up replacing Jax Teller (Charlie Hunnam) as president in the series finale. But some people think there is spin-off potential regarding his past.
u/bodyfounder posted about Chibs on Reddit, saying, "his backstory is so cool it deserves a spin off or something." He made a compelling argument for the series by bringing up intriguing aspects of the character's history, like his time with the IRA. u/phantomheart agreed with the idea of seeing Chibs' backstory play out on the small screen. "Chibs was always my favorite of the bunch," they commented. "It was nice getting some of his backstory during SoA, but I definitely agree he could have used more!"
If the origin story of Chibs does happen on the small screen, it will probably be without Tommy Flanagan. Since the finale, Chibs has only appeared in Season 2 of "Mayans M.C." When asked by Deadline if he'd reprise the character again, he responded, "Nah." While it does seem like Flanagan has moved on from Chibs, he did give fans his thoughts on where the SAMCRO President ended up. "He's riding through the mountains with a smelly leather jacket on," he said. "God bless him."
It's nice to know in the actor's mind, the character has a happy ending. But there is still plenty to explore during his early days leading up to "Sons of Anarchy," leaving the door wide open for a Chibs spin-off.