The Story Behind Kanye West's Appearance On The Cleveland Show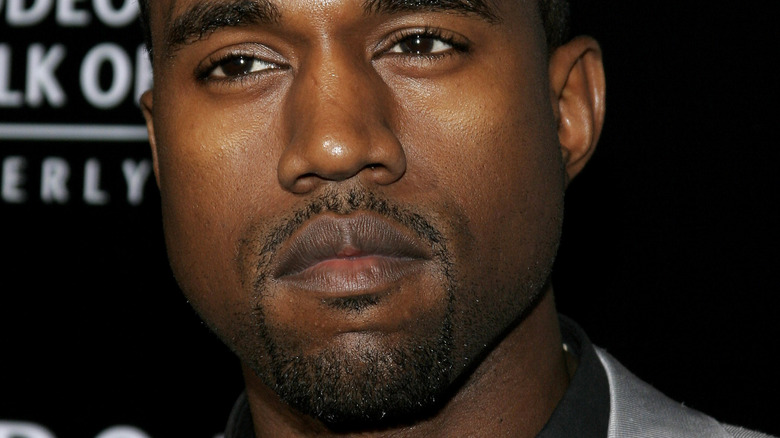 Tinseltown/Shutterstock
In 2009, following the success of "Family Guy" and "American Dad," Seth MacFarlane decided to add yet another animated series to the fold. Fans usually knew Cleveland Brown as one of Peter Griffin's longtime buddies, a man sadly incapable of having a soothing bath in his home. But Cleveland moved from Quahog, Massachusetts, down south to Stoolbend, Virginia, in "The Cleveland Show." Comedically, the spin-off series felt like a cross between its other animated siblings, but with the added touch of Cleveland and his family often highlighting and exploring their race versus the little spotlight they got in "Family Guy."
"The Cleveland Show" featured many notable celebrity guest roles, including Bryan Cranston, Krysten Ritter, and even Justin Timberlake. But the biggest surprise celebrity guest was music superstar and controversy magnet Kanye West. Thanks mainly to his reaction to an infamous "South Park" episode, at the time of his appearance on "The Cleveland Show," West's relationship with any comedic animated series seemed contentious at best. However, in the Season 1 episode "Brotherly Love," Kanye decided to lend his voice as the character Kenny West, a 19-year-old rapper who ends up challenging Cleveland Jr. to a rap battle. Fans may wonder how West got that appearance and how the recording process went. Fortunately, we've got those answers.
Kanye was easy to work with on The Cleveland Show
While Kanye West had no love for Trey Parker and Matt Stone, it seems he liked Seth MacFarlane's work. According to a 2010 interview in Entertainment Weekly, "The Cleveland Show" co-creator Rich Appel noted West was a fan of "Family Guy." So when the show's writers reached out to him about voicing a character they'd written for him, the artist was entirely on board. For those that have had the chance to work with him creatively, it appears that no two Kanye West collaborations are the same. While other artists such as Big Sean (via Million Dollaz Worth of Game) have called out West for being challenging to work with, you'd probably never hear that from anyone on "The Cleveland Show."
Again, while speaking with EW, Appel said that not only did Kanye appear at table readings, but he was extremely accommodating in recording his lines, even going so far as to interrupt his work on his music willingly. It's little wonder why the character of Kenny West appears multiple times on the show. In fact, Appel had high expectations for the character's repeat appearances. Appel further said in the EW interview, "We're excited because his character has become a recurring character in our universe...He'll become our Sideshow Bob!" 
In retrospect, it's up for debate from fans if West is considered the Kelsey Grammer of "The Cleveland Show," especially as Fox abruptly canceled the series after Season 4. But the artist did appear in every season of the series, and his last appearance before its cancellation was honestly one of the show's best.
Kanye brought the hip-hop Illuminati with him in Season 4.
Kenny West had one of the most intriguing story arcs for such a recurring guest character. The aptly titled Season 2 Episode "Harder, Better, Faster, Browner" focuses on Kenny's financial struggles while trying to raise his daughter. By the end of the episode, Kenny achieves success with a hit song, and all seems well. It is until we see him return in Season 4's "Menace II Secret Society." At this point, Kenny becomes so famous that he winds up joining the Hip-Hop Illuminati, a world-controlling group comprised of the genre's biggest stars. The episode's story is a clever and humorous way to parody a conspiracy that some people have actually linked to Kanye. The artist has even publicly denied involvement in any Illuminati-type group (via Entertainment Tonight).
Still, what makes the episode stand out from previous guest appearances from West on "The Cleveland Show" is that he didn't come alone. The episode also features the voices of Nicki Minaj, Will.i.am., Questlove, and Bruno Mars (via IMDb). It's a stacked powerhouse of some of the genre's most prominent and respected artists. And it proves that each of them has a sense of humor, as they're playing exaggerated versions of themselves. Sure, "The Cleveland Show" pulled a lot of stellar celebrity guests, but we have to wonder if this episode would have been possible if Kanye had never voiced Kenny.