The Boys' Karl Urban Pitched A Season 1 Scene That He Botched On Camera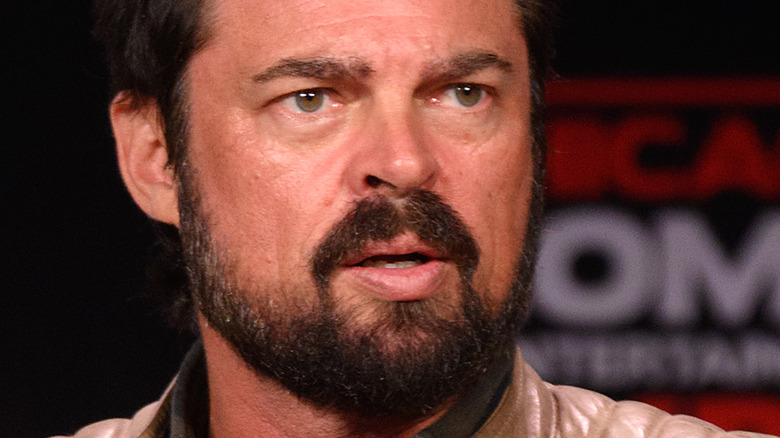 Daniel Boczarski/Getty Images
Amazon Prime's satirical anti-superhero show "The Boys" has been one of the streaming service's major success stories, having been hailed by critics as a brutal examination of what happens when great power is wielded by those with no sense of the great responsibility accompanying it. The titular Boys are led by Billy Butcher, a British war veteran with a personal vendetta against the so-called Supes who is played by Karl Urban.
Urban brings a sense of swagger and simmering masculinity to the role (the toxicity of which does not go unchallenged by the series), serving as a cunning but volatile foil for do-gooder Hughie Campbell (Jack Quaid). With his sweeping, black trench coats and signature beard, Butcher is a driving force behind much of the hyperviolent drama "The Boys" is known for. That being said, his shoot-first approach to problem-solving often puts the group in more danger than is probably necessary.
According to a recent career retrospective interview Urban did with GQ, one of the things that has made working on "The Boys" such a good experience is the willingness of showrunner Eric Kripke to take ideas pitched by the cast and put them into the show. And the star described one such moment that he pitched but ultimately fumbled on camera, which nevertheless made it into the episode.
Karl Urban couldn't remember which pill was which when Butcher references The Matrix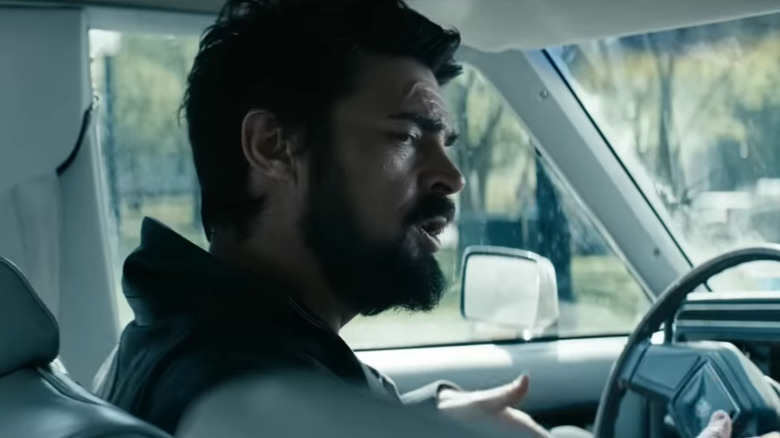 Amazon Studios
In his interview with GQ, "The Boys" star Karl Urban described pitching a moment for Billy Butcher that actually ended up being enhanced when he botched it on camera during the first take. The scene comes in Season 1 when Butcher is trying to convince Hughie to plant a listening device inside Vought, the corrupt company that controls the Supes.
According to Urban, he thought the scene was reminiscent of the famous moment in "The Matrix" where Morpheus (Lawrence Fishburne) asks Neo (Keanu Reeves) to choose between the red or blue pill, so he pitched Kripke on the idea of Butcher referencing that scene. Kripke was game, and Urban says, "We shot that, and that's the one they ended up using." But there was one major curveball when the cameras were rolling: Urban couldn't remember which pill did what and bungled the dialogue.
"I stuffed it up," Urban recalls with a grin. "I got the pills confused, which was an absolute accident. In the moment, it just ended up being comedy genius ... It's very Butcher." Indeed, the scene that made it to air is hilarious. Trying to needle Hughie into planting the bug, Butcher tells him, "Or you can take the blue pill ... or is it the red pill? Anyway, take the other pill ..." For his part, Quaid seems to have quickly used his scene partner's mistake to enhance the moment, with Hughie frantically responding, "Which pill do you want me to take?"