How Harrison Ford Helped To Save Anne Heche's Career After It Took A Major Hit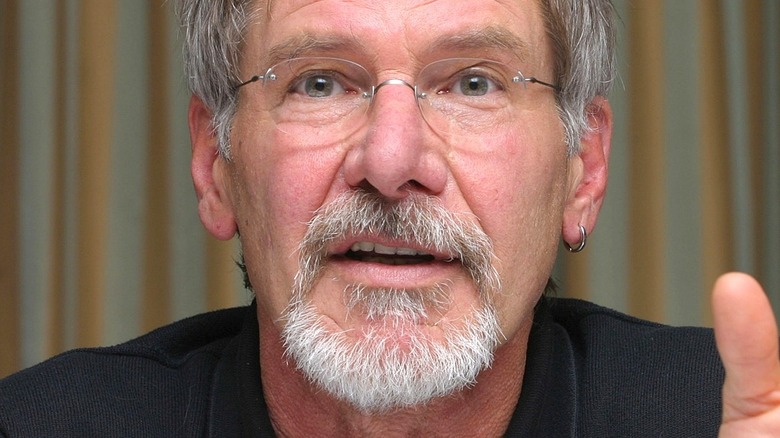 Fotos International/Getty
Anne Heche died at the age of 53 on August 12 after a week in a coma following a car accident. She left behind an impressive legacy of work that has everything from TV series to independent dramas.
Heche made her acting debut on "Another World" in 1984 and appeared in 73 episodes of the legendary soap as twins Vicky and Marley Carson. Heche would go on to star in "Donnie Brasco," "Volcano," and "Wag the Dog" and recently had recurring roles on "Chicago P.D." and "Aftermath" (via IMDb). However, she may be best known for starring alongside Harrison Ford in "Six Days, Seven Nights" in 1997.
She clearly had a lot of admiration for her old co-star, as she told Entertainment Tonight in 2020, "[Harrison Ford is] one of my heroes. He fought a battle for me, and I would be on any desert island with him any day. He's an extraordinary human being." But exactly what did Ford do to earn such massive praise?
Harrison Ford backed Anne Heche up after public backlash to her coming out
When Anne Heche brought her then-partner Ellen DeGeneres to the "Volcano" premiere in 1997, they were one of the first publicly out LGBTQIA+ couples in Hollywood, and not everyone reacted with kindness and acceptance. Heche told Entertainment Tonight, "They said I wasn't gonna get it because I took Ellen to the ['Volcano'] premiere, and Harrison Ford, he was a hero. He said, 'Frankly my dear, I don't give a damn who you're sleeping with. We're gonna make the best romantic comedy there is, and I'll see ya on the set.'"
Heche would go on to star alongside Vince Vaughn in the remake of "Psycho" the following year and had a seven-episode arc on "Ally McBeal" in 2001. Still, her movie career definitely suffered after she and Ellen went public. Heche told ET, "The stigma attached to that relationship was so bad that I was fired from my multi-million dollar picture deal, and I did not work in a studio picture for 10 years." 
Heche and DeGeneres were together until 2000, and the sacrifice Heche made helped pave the way for others in and out of Hollywood to be more open about their relationships. Despite the damage to her career and a painful breakup, she appreciated her time with DeGeneres. Heche told Mr. Warburton Magazine, "I was a part of a revolution that created social change, and I could not have done that without falling in love with her."