The 15 Best Episodes Of NewsRadio, Ranked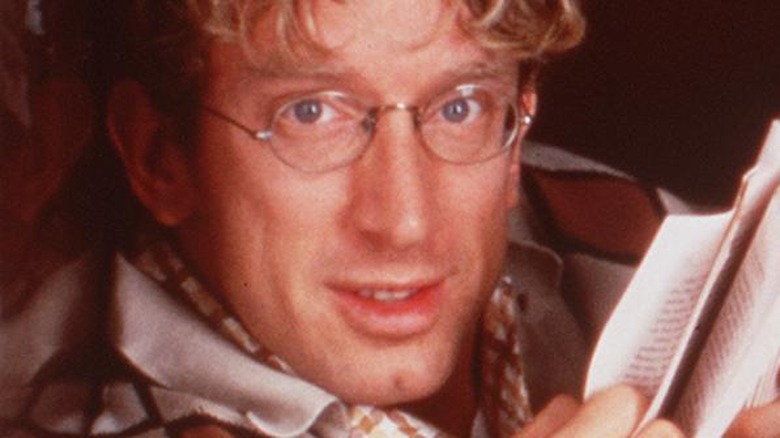 Getty Images/Getty Images
In the 1990s, NBC produced a slew of hit sitcoms as part of their "Must See TV" primetime lineup. Some of the biggest shows of the era, like "Seinfeld" and "Friends," have gained new generations of fans thanks to streaming platforms, but many others have languished in the memories of Gen-Xers and geriatric millennials due to incomplete or inconsistent streaming availability. One of the best of those semi-forgotten shows was "NewsRadio," which ran on NBC for five seasons from 1995 to 1999.
Chronicling the wacky adventures of a New York City AM radio station, "NewsRadio" was both old-fashioned and ahead of its time, using cinematic techniques that would become the norm with the rise of single-camera comedies in the following decade while also thriving on screwball comedy rhythms and the energy of a live studio audience. However, despite critical acclaim, the show was neither a popular hit nor an awards magnet like "Seinfeld," and NBC constantly shuffled it around the weeknight schedule. That lack of institutional support frustrated creator Paul Simms, who vented to Rolling Stone in a bracingly honest 1997 interview – which was then turned into a storyline for the show. 
Since its 1999 cancellation, the show aired in syndication and was released on DVD, but had never had all five seasons available to stream at the same time until 2022. Now available in its entirety on Amazon Prime and the Roku Channel, let's take a look at the best 15 episodes of this hidden '90s gem.
15. Chock (Season 4, Episode 11)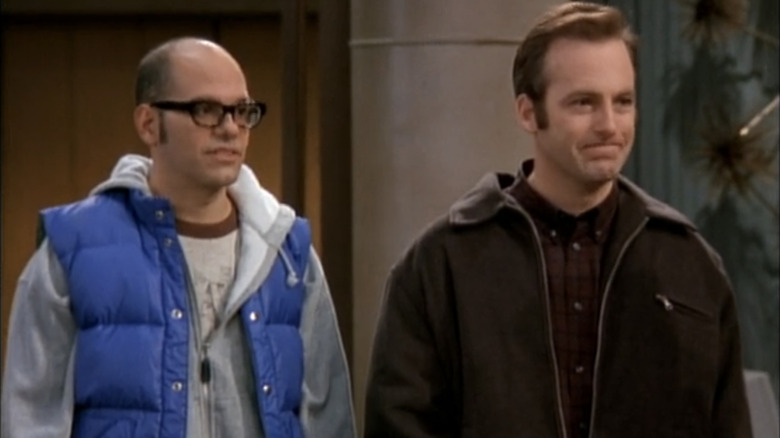 NBC
On his birthday, put-upon news director Dave Nelson (Dave Foley) is visited by his old Wisconsin college buddies played by the late '90s comedy dream team of David Cross, Bob Odenkirk, and Brian Posehn. While there, the trio tries to convince Dave to quit his job and rejoin their a cappella quartet, Chock Full O' Notes, for one last shot at the big time. Meanwhile, Dave's occasional love interest and office rival Lisa Miller (Maura Tierney), who at this point in the season has been given Dave's news director position, faces a managerial challenge when her criticism of office klutz Matthew (Andy Dick) makes him cry.
"NewsRadio" hosted a number of guest stars from the world of '90s stand-up and alt-comedy over the years, including Janeane Garofalo, Patton Oswalt, Mary Lynn Rajskub, and Jon Stewart. Cross, Odenkirk, and Posehn, who at the time would have been best known for the groundbreaking HBO sketch series "Mr. Show," had all appeared on the show before as different characters. Here, they mine big laughs from the fact that they are all well aware of how unpopular all-male a cappella music is as a genre but are unwilling on principle to give up on the dream or each other. Beyond that, the presence of Odenkirk as a hammy lawyer has earned the episode a semi-canonical place in the "Breaking Bad" and "Better Call Saul" universe.
14. Rat Funeral (Season 2, Episode 3)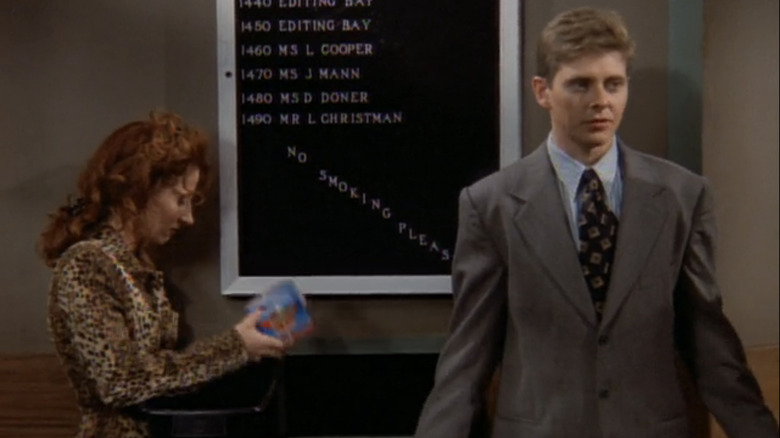 NBC
One wonders if NBC might have been more supportive of the show had creator Paul Simms not thumbed his nose at every network suggestion. Case in point — in 1995, NBC dedicated a night of shows to a "Four Weddings and a Funeral" theme, promoting the broadcast premiere of the Hugh Grant comedy hit. According to the episode's DVD commentary, the "NewsRadio" writing staff bristled at the network mandate and dedicated its "funeral" slot to the story of Mike, WNYX's previously-unmentioned unofficial pet rat. When the building installs new rat traps in the office, Mike quickly falls victim to one, and the entire staff is devastated — everyone except the stoic midwesterner Dave, that is.
The conflict of the episode is less about Mike the Rat and more about the ways Dave still feels like an outsider to the rest of the staff. He is genuinely hurt when blowhard broadcaster Bill McNeal (the late, great Phil Hartman) accuses him of being heartless, but that lack of sentimental attachment to Mike soon comes in handy. It turns out that "Mike" wasn't just one friendly rat but likely dozens of rats that had infested the office. Character actor Mike Starr appears as the building superintendent and ends the episode with an all-time classic twist.
13. Halloween (Season 3, Episode 5)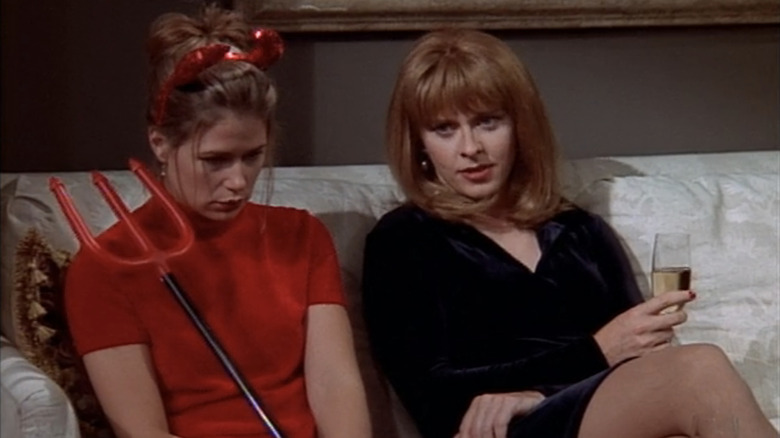 NBC
It's spooky season at WNYX in Season 3's "Halloween," but instead of ghosts and goblins, the scariest thing the staff has to deal with is not getting invited to the corporate Halloween party thrown by the station's eccentric billionaire owner Jimmy James (Stephen Root). As Jimmy gears up for the giant bash, Dave and Lisa learn that WNYX has been disinvited on account of being "too cool for school" when it comes to their costumes. For instance, station handyman Joe (Joe Rogan) came to last year's party on his tiptoes as "Joe's Taller Brother." To inspire the staff to bring their Halloween A-game, Lisa announces that Dave, the most uptight person in the office, will show up the whole office with the most outrageous costume of the night.
Much of the humor on "NewsRadio" is rooted in wordplay, rhythms, and physicality that are relatively timeless, but there is a strain of of-its-era homophobia that runs through the show and this episode in particular. This is seen perhaps most clearly in the bit with Matthew inadvertently dressing as gay stereotypes every year. Further, the big reveal of Dave's "outrageous" costume — Dave in drag wearing one of Lisa's dresses — only really works as a callback to Foley's "Kids in the Hall" days. It's a hard pill to swallow in what is otherwise a standout episode, particularly when Bill goes into an existential crisis after the party's fortune teller predicts that he will die soon.
12. Catherine Moves On (Season 4, Episode 7)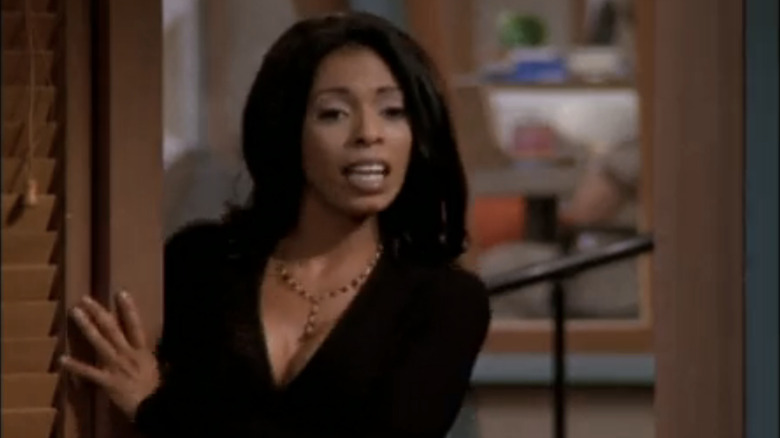 NBC
Khandi Alexander played broadcaster Catherine Duke starting in the series' second episode, taking over for Ella Joyce, who had originated the role. Alexander started as a dancer and choreographer in the 1980s before branching out into acting, but after three seasons on "NewsRadio" she feared that her status as a sitcom actress was keeping her from being considered for more substantial roles (via Reuters), and made the decision to leave.
Alexander's farewell came in Season 4's "Catherine Moves On." At the morning meeting, Catherine announces she is leaving WNYX immediately, leaving the staff stunned. As Jimmy tries to figure out what might have caused Catherine to quit, the episode takes on a "Rashomon" structure, with everyone's theories revealing more about themselves than Catherine. Dave blames Bill's chewing, Lisa blames her failures as a news director, Joe blames his constant flirting, and Matthew naturally thinks it has something to do with a Hamburglar-like gremlin who only he can see. 
The truth, of course, has nothing to do with any of that. Catherine has accepted a job overseas and Alexander gets a quiet, graceful, and funny exit from the show. In the decades since, Alexander has made good on her desire to not get pigeonholed, with acclaimed stints on "ER," "CSI: Miami," and the David Simon series "The Corner" and "Treme." In 2021 she even reunited with Paul Simms on an episode of FX's "What We Do in the Shadows," where he serves as showrunner.
11. Daydream (Season 3, Episode 7)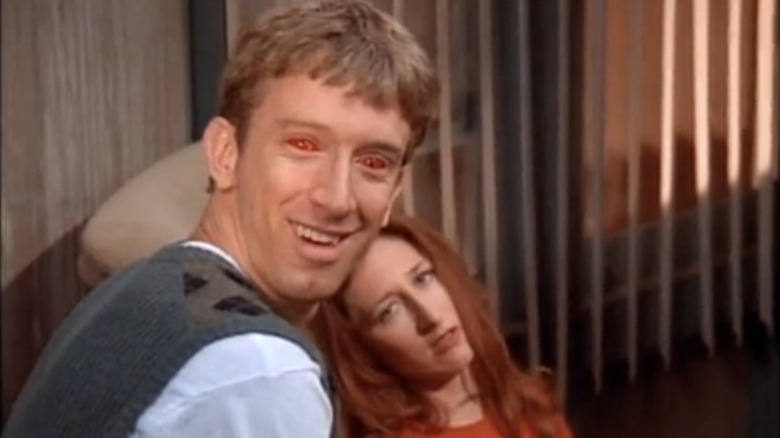 NBC
Like "Catherine Moves On," Season 3's "Daydream" uses fantasy sequences in a way that would be common on single-camera comedies like "Scrubs" a decade later but was not the sort of thing that multi-camera sitcoms did regularly in the '90s. In the episode, it's summer, and the air conditioner is broken at the station, leaving everyone prone to heat-induced fantasies. 
Lisa stews over losing an argument to Dave and imagines delivering a perfect, devastating retort. Joe wishes he could turn everyone into robots, while Dave just wishes that any of his employees would come prepared to a meeting. Bill daydreams of every woman in the office falling into his arms, and Dave's secretary Beth (Vicki Lewis), who spent the previous night watching scary movies, finds herself in scenarios inspired by "Child's Play" and "Alien," among others.
Most of the daydreams are harmless goofs (though Matthew's glowing red eyes are surprisingly disturbing), but one scene takes dead aim at the racial makeup of NBC's lineup in the mid-'90s. Catherine sits down to lunch in the breakroom and is joined by a group of Black and Asian co-workers. As they laugh and remark about how refreshing it is to work at an office with so many employees of color, Catherine flashes back to reality, surrounded by her all-white office mates who can't wait to talk about the latest episode of "Friends."
10. Jumper (Season 4, Episode 1)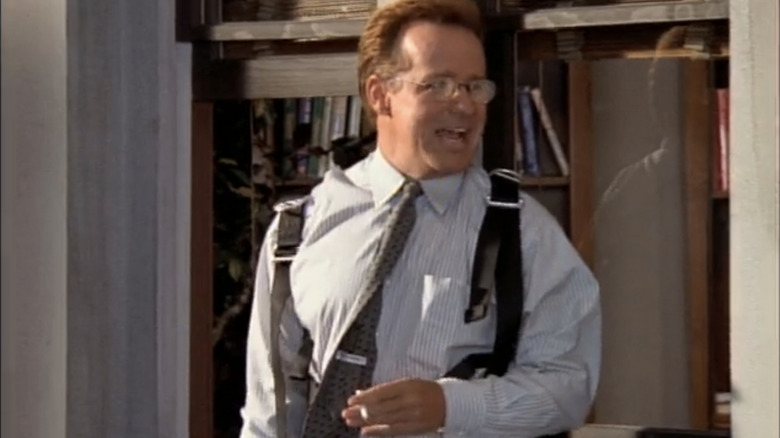 NBC
A man is standing on the ledge outside WNYX and threatening to jump in the Season 4 premiere "Jumper," and Bill McNeal has the scoop. As a media circus develops around the story, WNYX's coverage hits a snag when it turns out that the jumper (Jon Lovitz) is an aggrieved former employee of a company owned by Jimmy. 
This is a big episode by "NewsRadio" standards, with special effects shots, on-location filming in Manhattan, and a reunion of "Saturday Night Live" all-stars Hartman and Lovitz, who spend the episode harnessed together high above New York City. It's also a very cynical episode, even for "NewsRadio," with nearly everyone concerned more with the prestige (Bill), the adventure (Joe), the ratings (Lisa), and the publicity (Jimmy) of the situation than the human lives at stake.
Lovitz had appeared on the show in the previous season's "Our Fiftieth Episode," playing a fellow patient when Bill's outburst over a parking ticket lands him in a mental hospital. He would join the cast permanently in Season 5 as Max Lewis, WNYX's new broadcaster after the tragic death of Phil Hartman was written into the show. Sadly, he never had the same crackerjack energy with the rest of the cast as he has here with Hartman.
9. Movie Star (Season 3, Episode 8)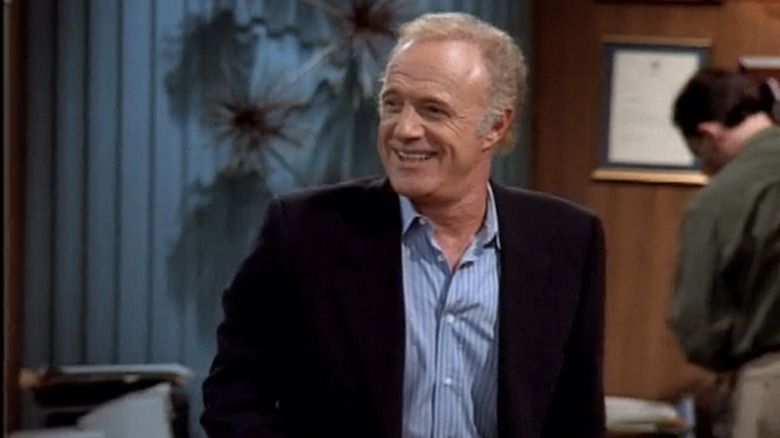 NBC
Bill's already inflated ego takes off into the stratosphere in Season 3's "Movie Star" when actor James Caan visits the station to research an upcoming role, only to come crashing down to earth when Caan becomes obsessed with Matthew's utter strangeness. Hartman and Dick are at the top of their game here, as Bill puts on an affected 1950s newsman voice and throws his weight around the office, while Matthew gets so nervous around Caan that he spills coffee all over his shoes and forgets his own name. Caan smartly stays out of their way, underplaying even as he gets drawn further and further into Matthew's insanity.
Likewise, the rest of the cast stays out of the way as the script sends them on their own Caan-less adventures. Joe subjects Beth and Catherine to a deeply lopsided basketball trivia game to see which of them will accompany Jimmy to the Knicks game that night, drilling Catherine's encyclopedic knowledge of roundball stats while asking Beth how many players are on a team. Dave and Lisa, meanwhile, leave the station entirely and hit up a local electronics store, where Dave hopes to convince Lisa to finally buy a television. 
Both subplots are feather-light, though Dave and Lisa's story ends on a rare note of domestic bliss for the two, as they sit in the store watching "Green Acres" and C-SPAN together.
8. The Cane (Season 2, Episode 9)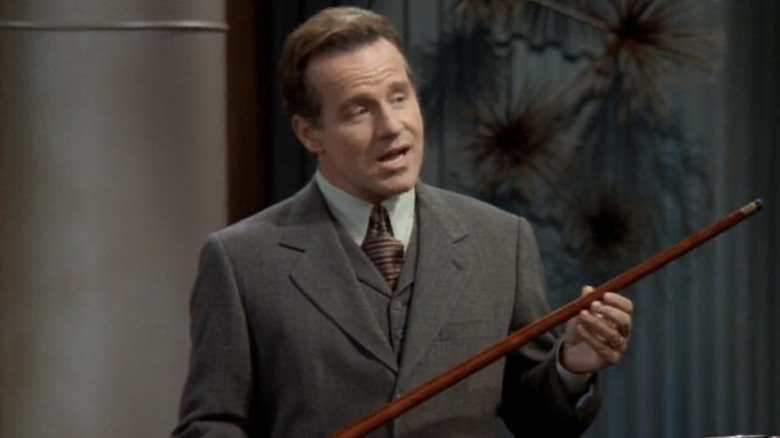 NBC
One of the show's most reliable sources of comedy is the way in which Bill becomes fixated on some new activity or object, annoying Dave to the point of madness. This sort of dynamic plays out in the next three episodes on this list, starting with Season 2's "The Cane," in which Bill buys an antique cane at lunch and struts around the office with it. Dave is put off by Bill's affectation of walking around with a cane he doesn't need, but his annoyance turns into hostility between the two when the cane mysteriously goes missing.
Despite being the episode's namesake, Bill's cane isn't actually the main plotline, which concerns the way a professional clash between Dave and Lisa affects their personal relationship. However, the plot itself is fairly straightforward and unmemorable. What sets the episode apart are individual scenes like Bill using his cane as a conductor's baton when giving directions, the staff messing with a post-fight Dave and Lisa by making them open increasingly ridiculous items in the breakroom ("What does Matthew need with two tins of beans?"), and, of course, the final scene in which Dave and Bill's cane conflict comes to a head. The timing alone of Dave plopping down on his office couch at the exact moment that Bill barges in shows the craft and energy the show had at its best moments.
7. The Public Domain (Season 4, Episode 3)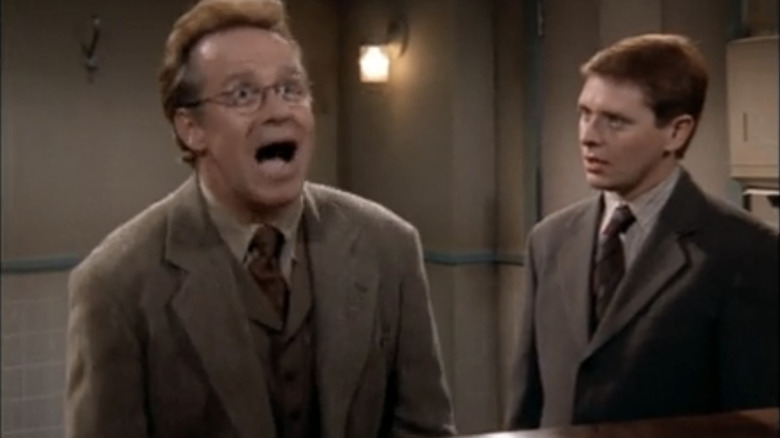 NBC
In Season 4's "The Public Domain," Bill's muse has taken him from canes to an upright piano, but this time Dave's irritation is a little more justified. Jimmy has hired Andrea, an efficiency expert played by a pre-"Gilmore Girls" Lauren Graham to find ways to improve the station, which she does by immediately firing Matthew in the previous episode. Now, she has brought in a corporate stooge (Paul Gleason) to take over half of Dave's news director duties. Dave obviously bristles at the notion that he can't handle his job on his own but has trouble proving that because today is the day Bill has decided to become a musical satirist a la Mark Russell.
On the DVD commentary for this episode, Paul Simms notes that this plotline was born out of the writers' own distaste for Russell's brand of toothless political satire, expressed via Bill's uniformly terrible lyrics set to public domain melodies like "Skip to My Lou," "America the Beautiful," and "Silent Night." As Dave scrambles to keep Andrea unaware of Bill's musical activities, Bill in turn becomes more and more brazen, at one point setting up a piano lounge (complete with tip jar) in the elevator. It's a great bit of escalating farce and perhaps the show's best duel between Foley and Hartman.
6. Arcade (Season 3, Episode 4)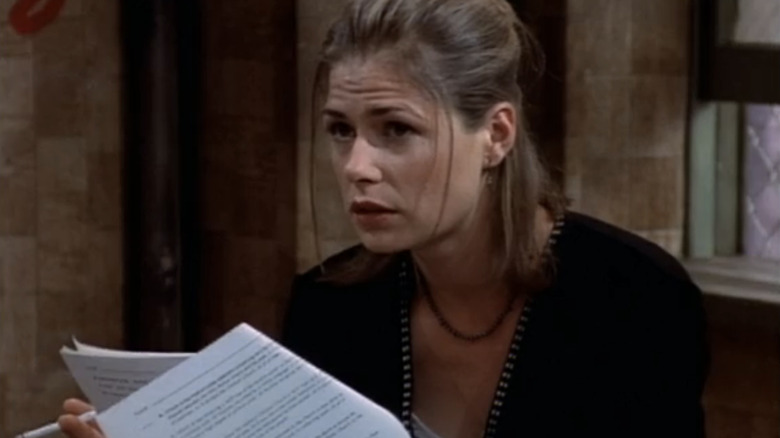 NBC
However, Dave isn't always the reasonable one driven to madness by everyone else — sometimes he has obsessions of his own, as in Season 3's "Arcade." Beth has the office's old sandwich machine replaced by the 1980s arcade game Stargate Defender, which puts both Dave and Bill into a panic. Bill is distraught because the moldy, stale sandwiches from the vending machine remind him of the ones his mother used to make (Bill's fond remembrances of an abusive childhood are a dark running joke throughout the series), and Dave because he was addicted to playing Stargate Defender as a teenager. "Stargate Defender kept me out of Stanford," he rues to Lisa.
Lisa, meanwhile, has a fixation of her own. When she's unable to solve the newspaper jumble she fears that she is losing her intelligence and decides to take the SATs over again, dragging Dave along, and her intensity over the importance of the test traumatizes a high school student played by Leelee Sobieski. While her SAT score remains the same excellent one she got in high school, Dave bombs his test after playing Stargate Defender all night — just as he did as a teenager. 
The episode is full of great sight gags, from a disheveled Jimmy who becomes obsessed with the game as well to a gray-haired Bill who claims that his body is rapidly aging without the preservative-filled vending machine sandwiches.
5. Complaint Box (Season 3, Episode 14)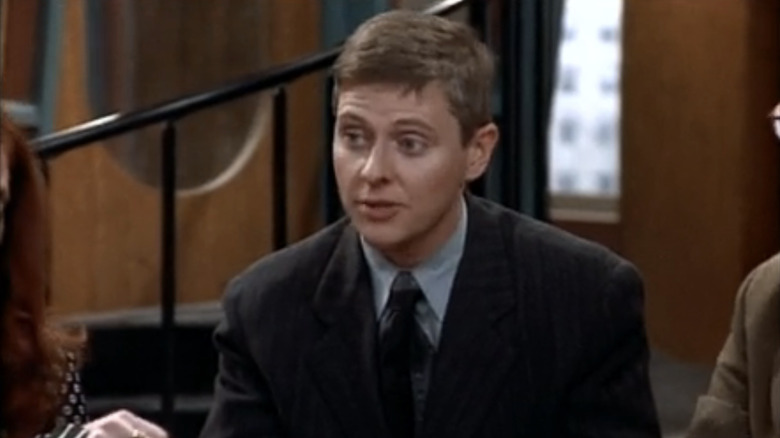 NBC
Sometimes a beep is all you need to make comic gold, though a robot buddy helps too. That is the case in Season 3's "Complaint Box," when the station's new corporate harassment policy requires the installation of a box where employees can lodge anonymous complaints. It takes less than a day for the staff to abuse the box into irrelevance, signified by an electric beep every time a new card is added. This leads to the episode's centerpiece bit, as Dave reads aloud the increasingly ridiculous complaint cards to the staff. "Who's a black private dick who's a sex machine to all the chicks?" reads one card; "Shaft!" everyone answers. However, when Dave tells everyone that the complaint box isn't for "petty b***hing," a complaint is filed against him for use of the word "b***h."
Meanwhile, Jimmy is out in the country on his annual fishing retreat but still connected to the office via a bulky two-way radio invented by Joe, a great sight gag that culminates in Beth sweetly rocking the radio to sleep at the end of the day. Workplace harassment was a relatively new topic in the mid-'90s, but the company's solution to complaint box abuse — making the complaint process discouragingly complex — retains its satirical bite more than 25 years later, as corporations continue to struggle with how to manage abuse complaints and whistleblowing.
4. B***h Session (Season 2, Episode 12)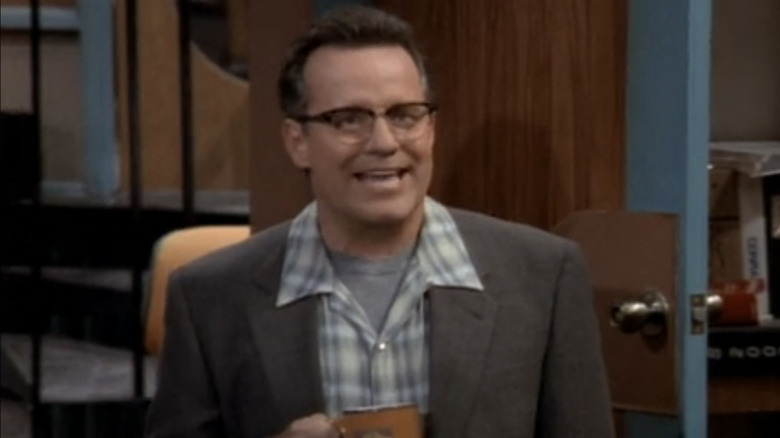 NBC
"NewsRadio" rarely got sentimental. With one major exception, there were no "very special episodes." Still, the show that took its characters' feelings seriously, and "B***h Session" from Season 2 is a great example of that. As Dave fiddles with a broken phone cord under his desk, he accidentally overhears the staff, including Lisa, making fun of him. With hurt feelings, he turns first to his mother and then to Jimmy for a three-martini lunch to comfort him. However, when he returns to the station to confront them over what they said (mostly jokes about him being short and from Wisconsin), the staff turns on him for eavesdropping.
Later, Jimmy calls the staff together in his office and delivers the news — he's firing Dave. He's heard their complaints and will start looking for a new station director the next day. The staff, stunned, jumps to Dave's defense — literally, in Matthew's case. "Dave is quite simply the best news director I've ever worked with," Bill says in all sincerity. Jimmy relents and agrees to keep Dave on as long as the staff is more careful about where they hold their "b***h sessions." 
The whole thing, of course, is a ruse so that Dave, hiding behind a curtain, could hear what everyone really thought of him. Dave is heartened, but still hurt that Lisa made fun of him along with everyone else — much to the disappointment of Lisa, who is also hiding behind a curtain.
3. Smoking (Season 1, Episode 3)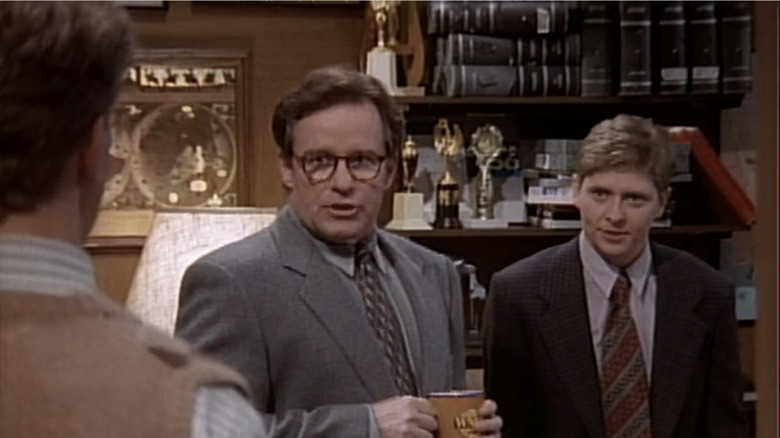 NBC
Very few sitcoms have a stellar first season, and Season 1 of "NewsRadio" is no exception. The balance of everything is just a little off. Matthew is a little too good at his job and less in thrall of Bill, while Jimmy is more of an intimidating master of the universe type. Still, a few things clicked into place from the very beginning. Dave and Lisa's lovers-and-rivals dynamic might actually work better in Season 1 than it does anywhere else, and Phil Hartman knew who Bill McNeal was immediately. The episode "Smoking" is not just a great example of Hartman (and Bill) at work, but also a fascinating time capsule from an era when you could still smoke inside office buildings.
When a state ordinance turns WNYX smoke-free, heavy smoker Bill first simply ignores it and lights up at his desk. As a compromise, Dave makes a pact to give up coffee if Bill will give up cigarettes, which leads to the scene in which both men, in the throes of withdrawal, unload their frustrations onto poor Matthew. Ultimately, neither man is stronger than his vice, as Dave returns to coffee and Joe turns the broadcast booth into a one-man smoking lounge for Bill, but the experience brings them together and, in a way, defines their contentious relationship for the rest of the series.
2. Bill Moves On (Season 5, Episode 1)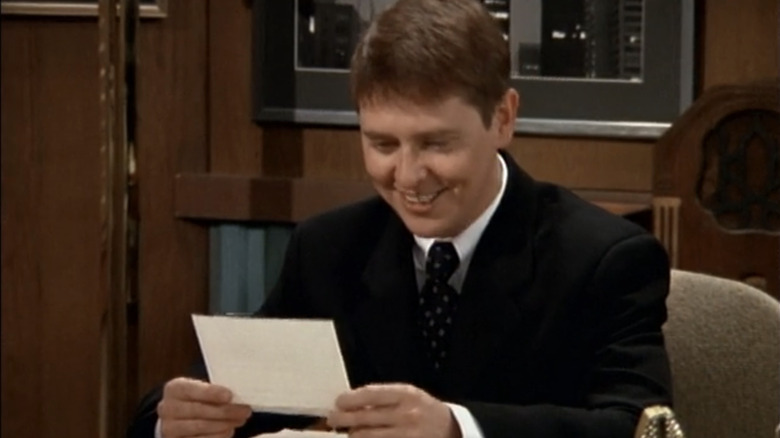 NBC
In May 1998, between the fourth and fifth seasons of "NewsRadio," Phil Hartman's wife Brynn shot him to death before turning the gun on herself, per Variety. It was an unspeakable tragedy for Hartman's family and friends, as well as for comedy fans the world over. Hartman was a singular talent and, in many ways, the heart of "NewsRadio." The Season 5 premiere "Bill Moves On" writes Hartman's death into the series, as the staff returns from the funeral of Bill McNeal, who suffered a heart attack. Each has been grieving in their own way: Dave delivered a rambling eulogy, Lisa has been drunk for a week, and Matthew clings to the belief that Bill faked his death.
Most of the episode takes place in Dave's office, as the staff (including Catherine) reads goodbye letters from Bill, giving Paul Simms and the writers one last chance to write in Bill's inimitable voice. The tears shed by the cast are obviously real as they mourn their friend, both in real life and in character, and the episode's few moments of humor are warm and cathartic. The show would struggle to find its voice in Season 5, which would be its last. Bringing in Jon Lovitz as a replacement was a nice gesture toward his and Hartman's real-life friendship but changed the show's dynamic. As Stephen Root put it in a 2015 oral history for Uproxx, "It was not really 'NewsRadio.' It was 'NewsRadio' with Jon Lovitz."
1. Super Karate Monkey Death Car (Season 4, Episode 4)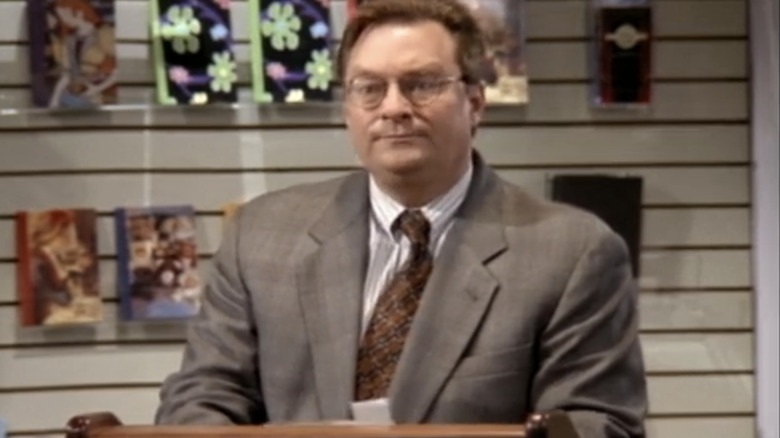 NBC
The main plot of Season 4's "Super Karate Monkey Death Car" concerns a polygraph test that efficiency expert Andrea subjects the staff to that is full of questions about any previous criminal activity or that of their co-workers. It's a fun sound-based comic game not unlike "Complaint Box" where the lie detector beeps any time someone lies. The plot also establishes for the first time Lisa's surprisingly larcenous backstory, as she spent time in juvie as a teen for various academic-based crimes like breaking into a library.
However, the storyline that gives the episode its title is the one people remember, the one that has been memed and remembered far beyond the rest of the episode — if not the rest of the series — is the story of Jimmy's doomed autobiography. Originally published in the U.S. as "Jimmy James: Capitalist Lion Tamer," the book tanked, but its Japanese translation became an unexpected hit. Jimmy does what seems like the sensible thing and has the Japanese translation translated back into English, but the result is a jumbled mess of nonsense titled "Jimmy James: Macho Business Donkey Wrestler." 
Seeing the finished translation for the first time at a public reading, Jimmy struggles to maintain his dignity amongst lines like "But Jimmy has fancy plans, and pants to match." Meanwhile, the audience (including Brian Posehn, who later appears in "Chock") asks him what he meant when he wrote, "Feel my skills donkey donkey donkey donkey donkey."