Diane Keaton Makes A Startling Admission About Her Role In The Godfather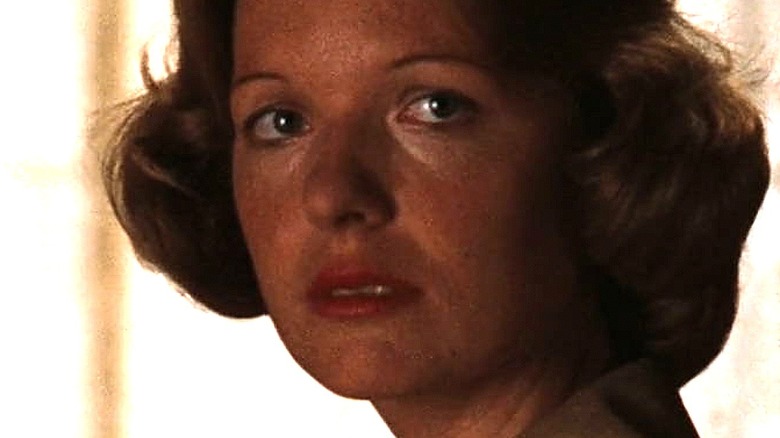 Paramount Pictures
"The Godfather" is one of the most celebrated films of all time. Francis Ford Coppola's adaptation of the crime novel by Mario Puzo is regularly found in lists of the greatest movies ever made. The film won best picture at the Oscars in 1973 and spawned a sequel that some movie lovers consider to be even better, which also won the Oscar for best picture in 1975 (via Medium).
The film follows the lives of the Corleone crime family in New York City. As Vito Corleone (Marlon Brando) ages past his prime and eldest brother Sonny Corleone (James Caan) gets gunned down in a brutal fashion, army veteran Michael Corleone (Al Pacino) finds himself pulled reluctantly into the criminal empire he's spent his life trying to avoid.
Diane Keaton also stars in "The Godfather" as Kay Adams-Corleone, Michael's wife. The part remains one of the most famous roles of her career, and Keaton would go on to play the character in both sequels of the beloved trilogy as well. Still, this makes a confession from the actor all the more surprising considering her success as Kay in the series.
Diane Keaton hadn't read the book when she auditioned
In a conversation with People, Diane Keaton admitted that she had never read "The Godfather" novel before auditioning for the movie. "I think the kindest thing that someone's ever done for me ... is that I got cast to be in 'The Godfather,' and I didn't even read it," Keaton recalled. "I didn't know a single thing; I just was going around auditioning. I think that was amazing for me. And then I had to kind of read the book."
Though "The Godfather" didn't have the kind of cache in the early 1970s that it has today, the book was still incredibly popular (via The Wall Street Journal). Still, as a young working actor, Keaton can certainly be forgiven for not staying on top of the New York Times Bestseller list while she was auditioning. Luckily, in order to capture the nuanced portrayal of Kay in the movie, she did eventually read the book.
"I think about how lucky I am. That's what I think," Keaton went on. "And the way I think about things, like I auditioned for 'The Godfather,' not having ever read 'The Godfather' or caring about 'The Godfather' or anything because all I was doing was auditioning," she continued. "I needed to get work. So I was there, and so he had me come back, and then he cast me and then Al Pacino." That last bit is especially impressive, as Pacino's role became arguably the most iconic performance of his career. Either way, you know your movie is a success when people are still talking about it a staggering 50 years later.