The Truth About Kevin James And Leah Remini's Arguments While Filming The King Of Queens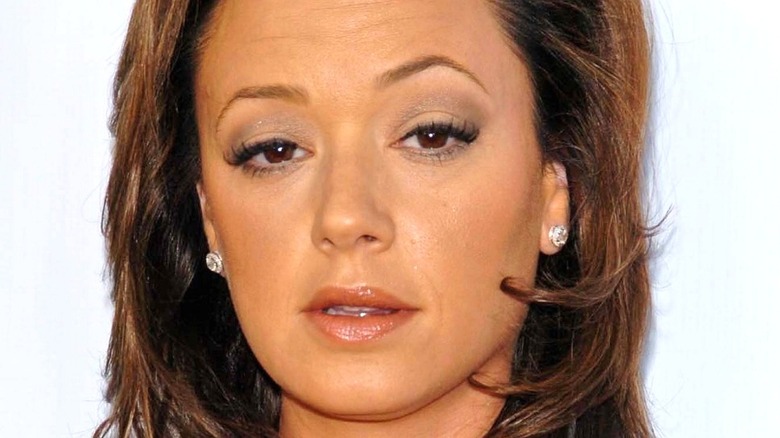 s_bukley/Shutterstock
Kevin James and Leah Remini played Doug and Carrie Heffernan, one of the great classic sitcom couples, for nine seasons on CBS' "The King of Queens." The chemistry between James and Remini was one of the core components of the show and one of the reasons it was so popular in its original run. These days, the show remains a favorite in reruns.
But just like with any real married couple, the dynamic between James and Remini couldn't be sunny and friendly all the time. Just as Doug and Carrie have occasional fights and disagreements, the same was true for the actors portraying them. And in a TV interview about her time on the show, the often outspoken Remini revealed the deeper reason behind these occasional pseudo-married spats.
Even though they never became an actual couple in real life, James and Remini had a close friendship that mirrored their on-screen marriage in some ways, and within that pairing, certain fights and disputes were pretty much inevitable. But it's still interesting to see Remini peel back the curtain on the classic sitcom and reveal just how uncomfortable things got when filming some of Doug and Carrie's scenes.
Remini spilled the truth in an interview with Oprah Winfrey
In 2015, Leah Remini was the subject of one of Oprah Winfrey's "Where Are They Now?" interviews. In it, Remini spoke about her TV marriage to Kevin James on "The King of Queens."
"We fought, like many married couples who were together every day for years," said Remini. "Yes, I treated Kevin just like I treated my husband, meaning I drove him crazy like any good wife would." That remark reveals that her attitude toward her longtime co-star is still fond, but in the heat of some of those arguments, the temperature between them could get downright icy. "There were times Kevin and I would argue about something stupid, and we had to kiss, but we'd make no eye contact," she continued.
Fortunately, that fondness seems to be mutual. At a 2021 reunion of the cast for Throw Back TV on YouTube, James and Remini still appeared to be very close, and James revealed that he felt an "instant connection" with his co-star from the moment they met.
Of course, that wasn't the first time James and Remini came together following the end of "The King of Queens." The iconic TV couple reunited a few years earlier in 2018 for James's follow-up series "Kevin Can Wait," and at the time, he spoke to CBS News about the reunion. "It's amazing because we worked together for nine years and then we're offered 10, and to be able to have that opportunity to work together again is a blessing," the comedian said.