The Orville's Mark Jackson Reveals His Second Favorite Hulu Show - Exclusive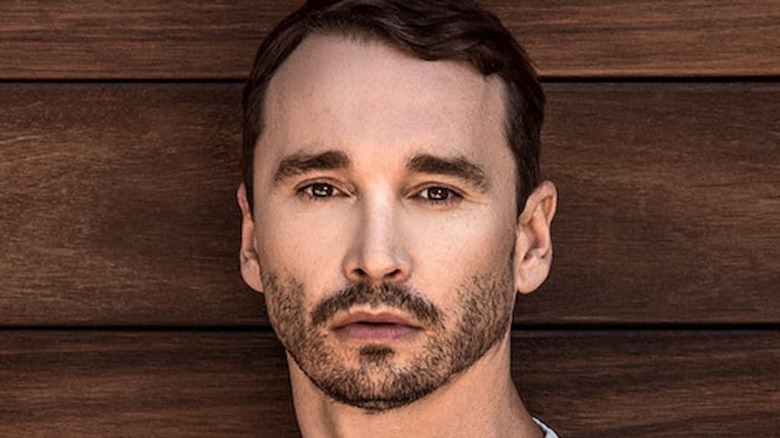 Nicholas Bates
In an exclusive interview with Looper, "The Orville" star Mark Jackson shared information about what he's been watching in the worlds of film and television. He wasn't shy about discussing an experience he liked during a recent trip to the movie theater. 
"I went to see 'Everything Everywhere All at Once' in the cinema about two months ago, and it was mind blowing," Jackson said, obviously still eager to get another viewing in sooner or later. The film tells the story of a Chinese immigrant (Michelle Yeoh) who discovers the key to the multiverse, taking audiences on a wild ride of imagination in the process. In addition to the aforementioned Yeoh, the film also stars James Hong, Jamie Lee Curtis, Stephanie Hsu, and Ke Huy Quan (via IMDb). 
"It was one of the best things I've seen for years. It's extraordinary," Jackson continued. "I didn't know anything about it before I went. I was like, 'What is this?,' and it was great." Evidently, a wide array of audiences agreed with Jackson's estimation. The A24 film set records for independent movies (via Variety) and saw numerous rave reviews from critics, quickly earning a "Certified Fresh" label on Rotten Tomatoes. Indeed, Looper's review for "Everything Everywhere All at Once" even referred to the film as "Multiversal Majesty."
Now that we know Jackson's favorite movie of late, let's take a look at where his focus is currently placed on the small screen. Given today's streaming environment, there are almost certainly more options available in this category than ever before. For reasons that should be obvious, it's also probably a safe bet that "The Orville" remains Jackson's favorite show on Hulu. But given his gushing review for another comedy-drama on the streamer, we think we may have determined Jackson's second favorite Hulu series.
Mark Jackson is a big fan of The Great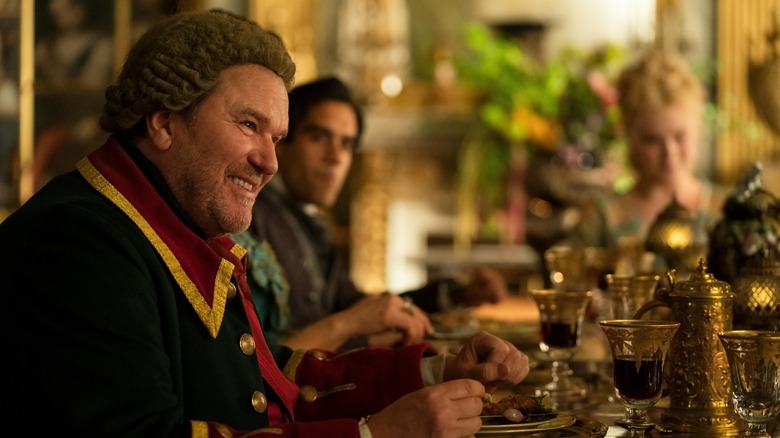 Gareth Gatrell/Hulu
As the saying goes, celebrities are just like us. Mark Jackson's profession might allow him the unique ability to appear on stages, television screens, and multiplexes around the world, but he's also certainly not immune to the thrill of discovering a great series to watch. We're not sure how a Kaylon like Isaac on "The Orville" would respond to the phenomenon of binge-watching, but that doesn't mean Jackson is a stranger to it.
"I've been enjoying 'The Great,' which is on Hulu as well, so that's Hulu promotion there for you," Jackson said, when asked to identify his favorite series on television. "That's one of the best shows I've ever seen, and Douglas Hodge's performance is wonderful, so that's great."
Hulu's "The Great" tells a largely fictionalized story of Catherine the Great (Elle Fanning), a real-life figure who ruled as Empress of Russia from 1762 to 1796 (via Smithsonian Magazine). Although many of the show's characters are loosely based on people who really lived, the drama series has been noted for taking considerable historical liberties since its premiere in May 2020. In fact, although the series was originally subtitled "An Occasionally True Story," it has since been relabeled "An Almost Entirely Untrue Story."
Douglas Hodge, the actor who Jackson specifically praised, plays General Velementov on the show. The regularly inebriated general is one of many characters you won't find in any history books. Although the show's departure from genuine history probably won't earn it many accolades from history professors, critics seem to have responded quite favorably to it. It currently holds a 94% critical rating on Rotten Tomatoes.
You can catch "The Orville" and "The Great" on Hulu. "The Orville" is also now streaming on Disney+.