Why Dr. Claire Finn From The Orville Looks So Familiar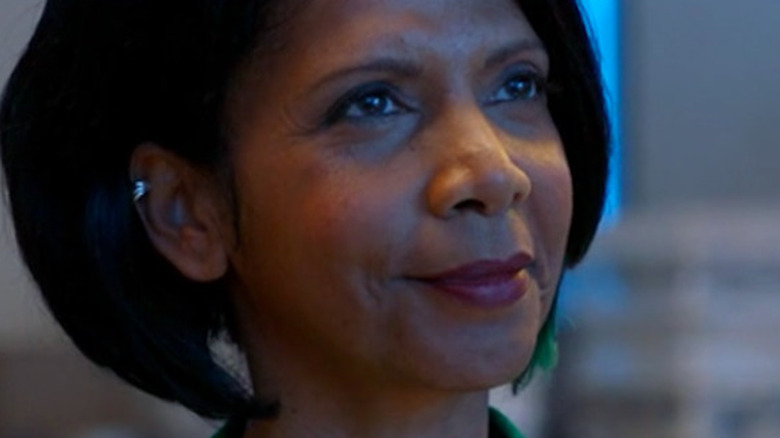 Hulu
Starring and created by Seth MacFarlane, "The Orville" — a workplace comedy that follows the commanding crew of the eponymous spaceship — is known for combining MacFarlane's signature brand of outlandish humor with a futuristic setting, and the series examines the nuances of humanity through the lens of a "Star Trek" parody that manages to be insightful without taking itself too seriously. The show features a talented ensemble cast, and one memorable character is Dr. Claire Finn, the ship's chief medical officer. Claire demonstrates proficiency in numerous scientific disciplines, skills that come in handy on many a misadventure.
When she's not busy working, Claire is a single mother devoted to raising her sons, Marcus (BJ Tanner) and Ty (Kai Wener), and enjoys getting to know her fellow crew members. The show also explores Claire's developing love life, including a pheromone-induced tryst with the gelatinous Lieutenant Yaphit (Norm Macdonald) and a surprising romance with the robotic science officer Isaac (Mark Jackson). 
Although the character is one of the most responsible people on the ship, the actress who plays her, Penny Johnson Jerald, Jerald does a great job of bringing out Claire's vulnerability and sense of humor. If you've ever caught yourself wondering why she looks so familiar, then you've come to the right place. Let's take a look at some of the notable roles in Penny Johnson Jerald's filmography.
Penny Johnson Jerald appeared as a nurse practitioner on ER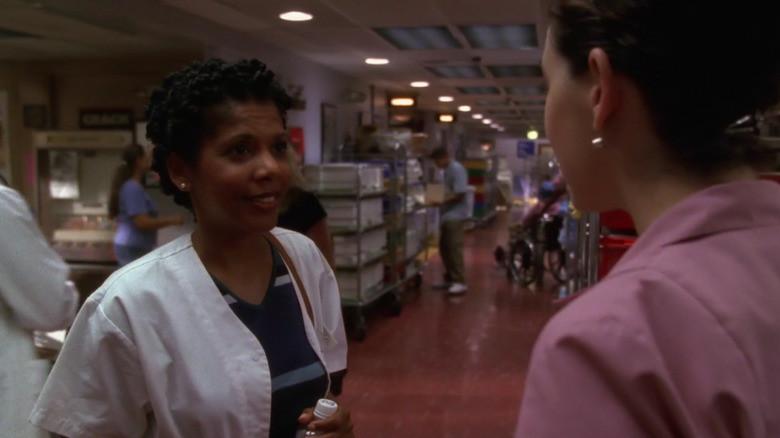 NBC
Penny Johnson Jerald appears throughout the fifth season of "ER" as a nurse practitioner named Lynette Evans. She primarily interacts with fellow nurse Carol Hathaway (Julianna Margulies), who hires Evans to work in the hospital's clinic. Right off the bat, Lynette proves herself to be professional, ambitious, and straiforward, qualities that Jerald portrays with a subtle warmth. Hathaway likes her so much that she hires Evans on the spot, though it's not always smooth sailing between them.
The pair work together amiably for a while, but they struggle to make compromises after Hathaway passes control of the clinic to Evans. Each character has their own opinions about patient care, giving way to some interesting discussions about the ethics of medicine. Gerald goes toe to toe with Margulies in every scene their characters share, giving weight to even the shortest of discussions. Even though Lynette Evans fades out of the narrative by the end of the season, Jerald manages to make the character memorable during her brief stint on the series.
Penny Johnson Jerald played a freighter captain on Star Trek: Deep Space Nine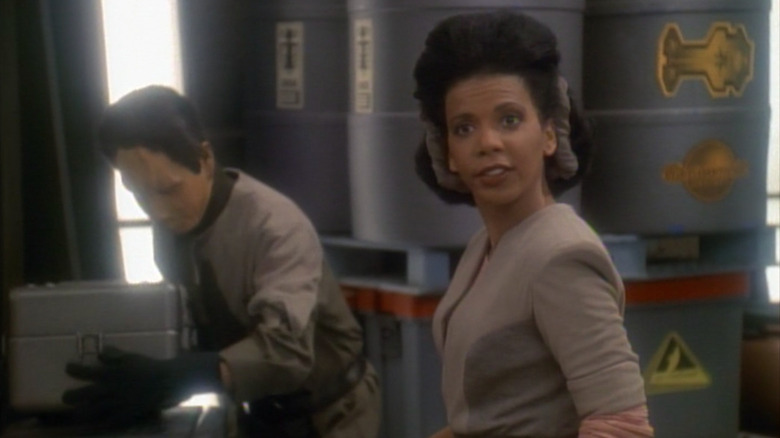 Paramount Domestic Television
As it turns out, "The Orville" is not Penny Johnson Jerald's first foray into the sci-fi genre. 
As one of the many shows in the extended "Star Trek" franchise, "Star Trek: Deep Space Nine" follows the lives of the humans and aliens in command of the titular space station. The central character is Captain Benjamin Sisko (Avery Brooks), a stalwart leader who endeavors to earn the respect of everyone under his command. While Sisko is an incredibly dedicated captain, he's even more committed to being a good father to his son, Jake (Cirroc Lofton). With his father under constant pressure, Jake eventually decides to play matchmaker.
Here enters Jerald as Kasidy Yates, a civilian freighter captain who specializes in private contracts. Although she sees right through Jake's setup, she agrees to a date with Sisko and the pair bond over their shared love of baseball. Yates is competent and dependable, though her relationship with Sisko is threatened when it's discovered that she unknowingly complied in a smuggling scheme. Even though Sisko gives her a chance to escape, Kasidy's unshakable sense of responsibility compels her to return and face punishment. Jerald exudes a focused authority as Yates, who serves as a welcome addition to Sisko's chaotic life.
You might recognize Penny Johnson Jerald as Sherry Palmer from 24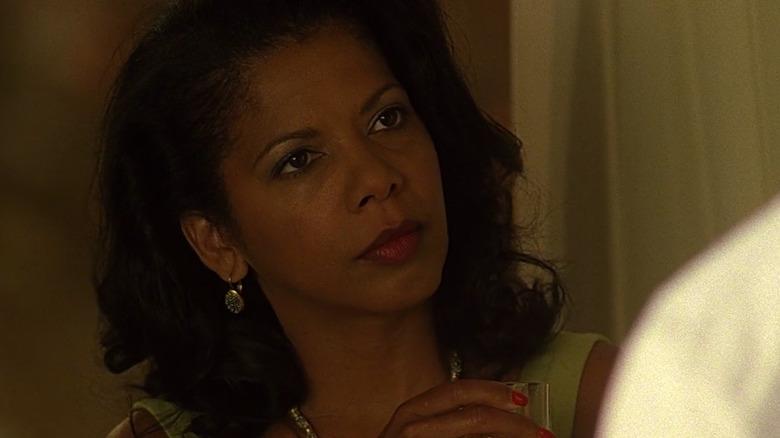 Fox
Starring Kiefer Sutherland as counter terrorism official Jack Bauer, "24" is unique because each season portrays a single day, with each episode playing out one hour in real time. The first season masterfully lays out the format, introducing viewers to Senator David Palmer (Dennis Haysbert), a presidential hopeful who's anxiously awaiting the results of the California presidential primary. The polls are in his favor and with his loving wife, Sherry (Penny Johnson Jerald), supporting him every step of the way, the future is looking bright. However, a lot can change in a day, and the Palmer family's life is quickly turned upside down.
Despite the fact that Bauer is desperately trying to stop an assassination attempt on the politician's life, there's already plenty of drama unfolding within the Palmer household. While Sherry appears to be a caring and devoted wife to David, it's slowly revealed that she is far more ambitious and calculating than she seems. In reality, Sherry has been working to further her husband's political career in order to strengthen her own influence and she's been covering up any secrets that might jeopardize his presidential candidacy. Gerald does a great job playing both sides of Sherry's personality and her grounded performance makes the character believable.
Penny Johnson Jerald played Captain Victoria Gates on Castle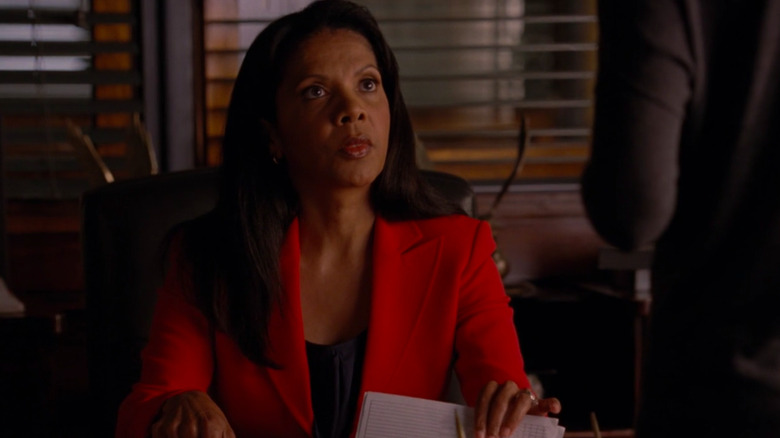 ABC
Penny Johnson Gerald makes her first appearance as Captain Victoria Gates in the dramatic Season 4 premiere of "Castle." Following Captain Roy Montgomery's (Ruben Santiago-Hudson) death and Detective Kate Beckett's (Stana Katic) shooting, Captain Gates steps in to take the reins at the 12th precinct. Unlike Montgomery's comforting familiarity, Gates does everything strictly by the book. Her reputation has earned her the nickname "Iron Gates" and she isn't keen on letting Castle (Nathan Fillion) continue his work with Beckett. Needless to say, Gates immediately clashes with the team, who view her as an outsider.
For a procedural that relies heavily on comedic elements and a character-driven narrative, Gerald's distinct performance allows Gates to slowly make a home for herself among the tight-knit cast of characters. Gates has big shoes to fill, a mission she embarks on with an observant eye and razor-sharp wit, characteristics that Jerald skillfully evokes. Although she initially finds Castle's wacky theorizing ridiculous, she eventually comes to see his investigative value. Whenever one of her detectives is in danger, Gates does everything in her power to ensure their safe return, ultimately earning the loyalty of Beckett and her team.