Chicago Med Fans Hold Nothing Back When Giving Their Opinions On Dr. Latham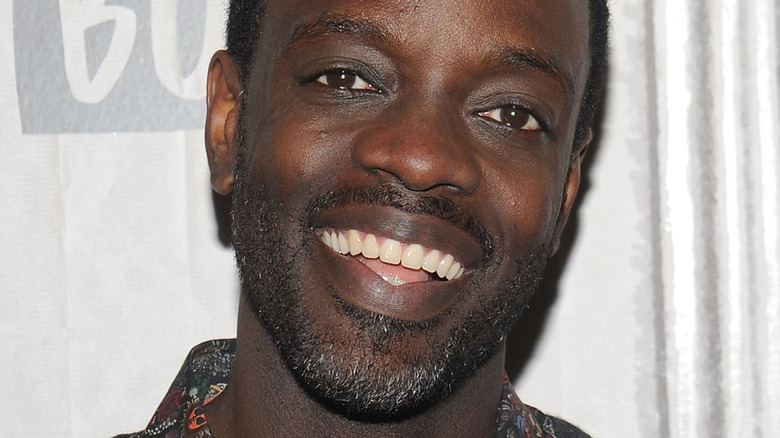 Brad Barket/Getty Images
As part of the One Chicago franchise, plenty of faces have come and gone on "Chicago Med" since the show first premiered, making way for new characters and storylines. Dr. Isidore Latham is one of the many doctors at Gaffney Chicago Medical Center. Played by Ato Essandoh, Dr. Latham is an attending cardiothoracic surgeon who acts as a mentor for Dr. Connor Rhodes (Colin Donnell). Although the pair get off to a rocky start, they develop a cohesive working relationship that evolves into a genuine friendship.
On the surface, these men seem pretty similar. Latham and Rhodes are intelligent, competent surgeons who work well under pressure. However, their differences make them such a compelling duo to watch. Dr. Latham is on the autism spectrum, which affects his ability to comprehend the emotions of his patients and coworkers. He's staunchly committed to his profession, though his bedside manner could use some work. Out of all the characters on the show, Dr. Latham is one of the few that hasn't had a scandal or a devastating breakup. He's all about medicine, though his friendship with Dr. Rhodes helps him realize the importance of making meaningful connections.
As a recurring character, Dr. Latham is the talk of the town. Fans got candid about what they thought about Dr. Latham and didn't hold back.
Dr. Latham deserves more screen time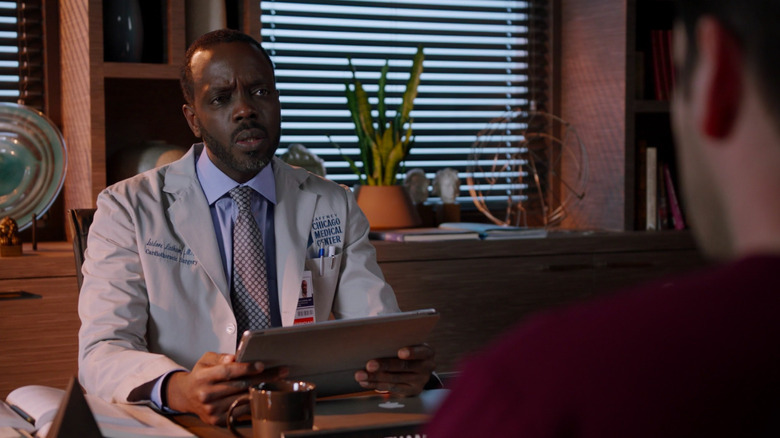 NBC
For a character that's only appeared in 33 episodes of "Chicago Med," Dr. Latham has undoubtedly impacted viewers (via IMDb). People applauded Dr. Latham's professionalism in a Reddit thread discussing what fans think of the character. While many doctors and nurses at the hospital get wrapped up in personal issues, occasionally letting their emotions affect patient care, Dr. Latham's sole focus is getting his work done. "He's just a doctor that does his job and isn't caught up in any drama/relationships, and I love that," writes u/madiwadison.
He's such a dynamic character that some viewers wish the narrative paid him more attention. "I wish they gave him more screen time; I would be interested to know more about his background," notes u/jessicachachacha. Dr. Latham arrived at the hospital following the death of Dr. David Downey (Gregg Henry), though we don't know what his life was like beforehand. Dr. Latham practices Judaism and has been shown to speak another language, hinting at a rich history yet to be examined.
Viewers also enjoy seeing Dr. Latham's interactions with Dr. Rhodes and the ill-fated Dr. Ava Bekker (Norma Kuhling). "He is very sweet, and I think he loves his job. He was a very good mentor to Connor and Ava," points out u/lorix154. Fans wouldn't mind if Dr. Latham became a more prominent character in future seasons.
Actor Ato Essandoh on Dr. Latham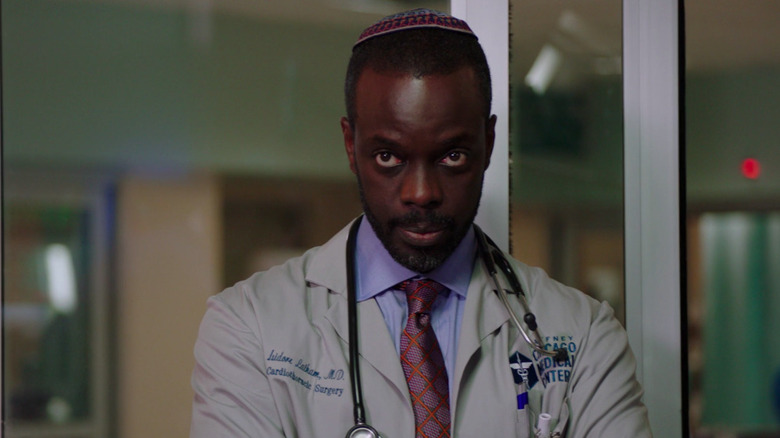 NBC
As it turns out, Ato Essandoh appreciates Dr. Latham just as much as fans do. The character has many admirable qualities, but he also has his faults. Those complexities make Latham so enjoyable, but his work ethic is what Essandoh likes best about the fictional doctor.
"The thing I like about Latham is he's an incredibly talented surgeon, and he really believes in what he's doing. He's a person who is about exactitude; it's about precision, it's about the number. It's about fixing this patient and getting onto the next one," the actor revealed in an interview with FanSided.
Dr. Latham's meticulous attitude makes him such a skilled medical professional, though that same diligence can rub his colleagues the wrong way from time to time. However, once Dr. Latham recognizes the areas he can improve, he immediately takes those steps. He makes an effort to build camaraderie with his team. He consults with Dr. Daniel Charles (Oliver Platt) to better understand body language to be more empathetic with his patients. Dr. Latham's backstory hasn't been explored much on the show, so there's plenty of room for him to make a comeback. Fans will have to wait and see if Dr. Latham makes an appearance when "Chicago Med" returns for Season 8 later this year.