Why Some Sons Of Anarchy Fans Are Confused About Gemma's Backstory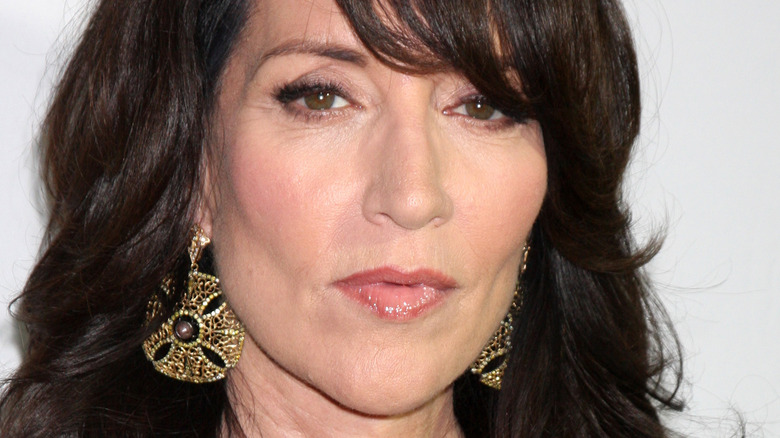 Kathy Hutchins/Shutterstock
FX's "Sons of Anarchy" may feature tough, male bikers participating in illegal gun running, murder, and other crimes, but behind the scenes, one fierce female is controlling much of SAMCRO's happenings.
Of course, we're talking about Gemma Teller Morrow (Katey Sagal), the overprotective mother of Jax Teller (Charlie Hunnam), and widow to SAMCRO founders Clay Morrow (Ron Perlman) and John Teller. Throughout the series, unbeknownst to most of the SAMCRO members, Gemma is stealthily pulling the strings of the outlaw organization.
A prime example is her secretive hand in John's demise. When John grows upset over the trajectory of SAMCRO, including its delve into illegal guns, Clay plots to have him killed. Around the same time, Gemma and John's son, Thomas Teller, is dying. When John travels away to Belfast rather than be with his family, an angry Gemma gives Clay the green light to tamper with John's bike and cause a crash. Gemma doesn't technically murder John, but she certainly advances the plan forward. 
It's clear that Gemma isn't your typical maternal figure. And some fans are the series are wondering exactly what caused her to be like this.
Fans want to know why Gemma gets so involved in SAMCRO
On Reddit, a thread created by u/Alwayswoke1 got into one of the questionable things about "Sons of Anarchy" that some fans ignore: the mystery of why Gemma acts the way she does. This user wanted to see an explanation for her actions, mainly why she keeps involving herself with and influencing SAMCRO happenings. Furthermore, they felt the show missed an opportunity for such a moment in the last minutes before Jax kills Gemma. "[A] part of me wished they had words exchanged and he actually asked her 'Why did you let me and Thomas grow up here? Why didn't you let JT fulfill his wishes of getting SAMCRO out of guns? Why did you interfere with my relationship with Tara??'" they wrote.
While Gemma's backstory is certainly lacking, some fans feel the reason behind Gemma's personality is rather straightforward — she likes power. As u/raperm put it, "She's all about being the number one Old Lady and queen of Charming. Anything that threatens that has to go, and anything she can do to make sure that continues she will nurture."
Commenter u/JesusClausIsReal added, "[S]he believes it is her divine calling to be so." In this user's opinion, Gemma feels it's her God-given duty to protect SAMCRO no matter what. Going with this theory, plotting to kill John and actually killing Tara (Maggie Siff) is all for the greater good. This user added, "She is misguided at best, I'd argue delusional, in her convictions but from her point of view I think her actions make sense."
Katey Sagal and series creator Kurt Sutter provide some insight on Gemma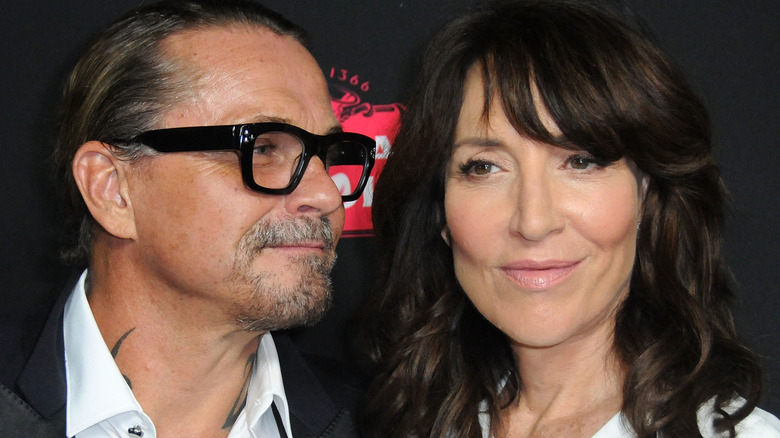 Barry King/Getty Images
After portraying Gemma Teller Morrow for seven seasons, Katey Sagal understands firsthand what makes the character tick. The answer isn't very intricate, nor does it involve a wild backstory. Gemma simply loves the lifestyle and does everything in her power to keep her son involved. If she lived, she'd likely be doing the same with her grandchildren.
In an interview with EW, Sagal said, "She's a person who likes living off the grid. She likes having her own little world. She's in total support of it. She would never want her grandchildren to do anything but that. I don't know if she's the kind of grandma who'd be like, 'Oh, sure, you want to be a doctor? Good.'"
Sagal's husband, "Sons of Anarchy" creator Kurt Sutter, has a similar viewpoint to the fans who believe Gemma is somewhat delusional in her convictions. He confirmed in an interview with The Rush, "Gemma would never see herself as a manipulator. In her mind, she's just doing what she needs to do to protect her family."
In fact, Sutter says of Gemma's influence, "I think that people are drawn to Gemma because she's strong and incredibly nurturing." When it comes to Gemma, those seemingly positive traits are manipulation tactics in and of themselves; they're traits that allow the troubled guys of SAMCRO to feel comfortable confiding in her. "There's things about all these guys that probably Gemma is the only one who knows," said Sutter.