The Witcher Fans Reveal How They Really Feel About Henry Cavill As Geralt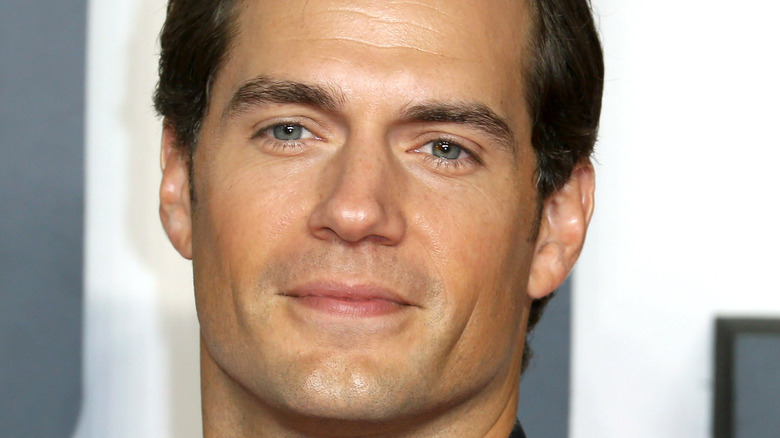 Cubankite/Shutterstock
In 2013, actor Henry Cavill made a name for himself on the big screen as Superman in "Man of Steel," a role he would reprise in subsequent films like 2016's "Batman v Superman: Dawn of Justice." Therefore, when Cavill was hired to take on the mystical character Geralt of Rivia in Netflix's "The Witcher," there was some pressure to succeed. Not only did Cavill have to live up to his ever-growing popularity, but he was also tasked with bringing author Andrzej Sapkowski's beloved fantasy novels to life.
For two seasons, the first of which dropped on the streaming platform in 2019, Cavill portrays the monster-hunting mutant. Whether he's taking on a Striga or Djinn, contemplating his feelings toward Yennefer (Anya Chalotra), or adventuring with Jaskier (Joey Batey), Geralt rarely enjoys a dull moment. But Cavill took on the role with excitement and even insisted on performing his own stunts. 
However, he wasn't necessarily showrunner Lauren Schmidt Hissrich's first pick for the job. In fact, she revealed to Gizmodo's io9 at San Diego Comic-Con that 207 actors were brought in to audition. There were many opportunities for Geralt to look much different, but in the end, Cavill was chosen to play the role. Let's take a look at how "The Witcher" fans feel about the decision to hire Cavill.
Fans can't imagine seeing anyone but Henry Cavill as Geralt
On Reddit, many fans of "The Witcher" shared the same opinion about Henry Cavill as Geralt of Rivia – he's the perfect actor to portray the character. A thread created by u/LoretiTV that praised Cavill's work, especially in Season 2, was met with overarching agreement. "Cavill has owned the role of Geralt from the beginning," this user said.
u/DoctorBeatMaker enjoyed how Cavill worked to expand the character in the 2nd season where he transitions from a moody man of few words to a fatherly figure toward Ciri (Freya Allan). This user said, "I know a good portion of that is Cavill's doing."
Though u/jcaashby wasn't a huge fan of Cavill in "Man of Steel," his performance in "The Witcher" won this user over. "Watching the show makes me feel like he was perfect for playing Geralt," they wrote. "When I see him I do not see Henry Cavill wearing a wig and leather. He is GERALT!!"
u/Demetrius96 compared Cavill to the likes of Robert Downey Jr. as Iron Man and Chris Evans as Captain America. Just as this user can't envision anyone else playing these iconic roles, they can't picture anyone but Cavill as Geralt.
Henry Cavill is a true fan of The Witcher
It's possible that Henry Cavill is more of a die-hard "The Witcher" fan than most viewers. He told The Hollywood Reporter that, before the show even existed, he could usually be found playing "The Witcher" video games, always challenging himself on the most difficult level. Therefore, when he got wind of the forthcoming Netflix show, he knew the role had to be his.
"I pursued, pursued, pursued," said Cavill. In fact, Lauren Schmidt Hissrich revealed at San Diego Comic-Con (via Gizmodo) that Cavill had his agents contact Netflix before "The Witcher" was even fleshed out. "Netflix was like, 'We don't have a show yet, there's nothing to be a part of!'" she said. Hissrich even described Cavill's pursuit of Geralt as "really annoying," as noted by Vulture, but eventually agreed that he was the right fit.
Between seasons, Cavill utilized his encyclopedic knowledge of "The Witcher" to enhance his character. Hissrich told The Hollywood Reporter that she received many emails from Cavill, all outlining his suggestions. She said, "Everybody came out of Season 1 laughing and loving Geralt's fuming. But Henry was saying that when you read the books, you spend a lot of time in Geralt's head. So how can we put that on the page?"
This very transformation was praised by fans in the Reddit thread, which shows that Cavill knows exactly what he's talking about. During a guest spot on "The Graham Norton Show," when the host joked with him about being a know-it-all on set, Cavill said with a laugh, "I am effusive about being loyal to the source material."