Did Henry Cavill Perform His Own Stunts In The Witcher?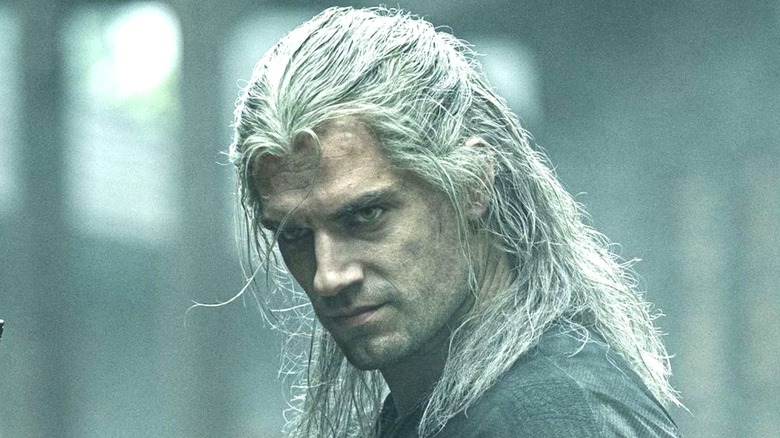 Netflix
When it comes to adapting video games for television and the cinema, the results have been mixed, to say the least. While several projects have followed in the footsteps of 1993's "Super Mario Bros.," being panned by both fans and critics, some have managed to avoid such mistakes to find major success. Take, for example, Netflix's "The Witcher" — a program that takes inspiration from author Andrzej Sapkowski's acclaimed series of novels as well as the video game franchise that rose to prominence through the late 2000s and into the 2010s.
The first season of "The Witcher" arrived on Netflix on December 20, 2019, and immediately drew the attention of casual audiences and die-hard "Witcher" enthusiasts alike. Given the overwhelmingly positive reaction to this debut season, the question springs to mind, what made Season 1 such a smash hit? Was it the gritty aesthetic that mimicked that of the games? Or the intriguing worldbuilding that helped streamers everywhere invest in the story going forward? These certainly factor in, but many love the show for one simple reason: Henry Cavill.
Cavill is responsible for portraying the main protagonist of "The Witcher," Geralt of Rivia, and has thus far nailed it. Considering his affinity for gaming in real life, it should come as no surprise that he has gone above and beyond to do the character justice, especially when it comes to stunt sequences.
Cavill was his own stuntman on The Witcher
Netflix
In fitting within the confines of the fantasy genre, "The Witcher" gives viewers plenty of sword-clanging, shield-splintering action to enjoy. Being the main character, Geralt is typically at the center of these brutal conflicts, but unlike many actors in the game today, Henry Cavill doesn't rely on a stunt double to handle these scenes. In fact, he has gone the extra mile to film them himself, citing Tom Cruise's stunt work on "Mission: Impossible – Fallout" as the reason for his heightened interest in "physical stuff."
Of course, Cruise wasn't Cavill's only motivator in taking action sequences head-on, as he explained to Variety in 2020. "If an audience is watching Geralt on-screen, they must believe that it is me," the "Man of Steel" actor explained, adding that "If it's not me, I feel like I've betrayed the character in some way, and so I try and do as much as a production will let me." This has prompted him to study sword fighting in his free time, whether that be in between takes or in the sanctity of his own home, to ensure he's performing at the highest level possible (via Screen Rant).
In the time since "The Witcher" Season 1 hit streaming, heaps of praise have been given to the show's believable and impactful fight choreography. Surely Henry Cavill's dedication to Geralt's physicality played a hand in making it happen.