The Young Sheldon Question That's Impossible For Iain Armitage To Answer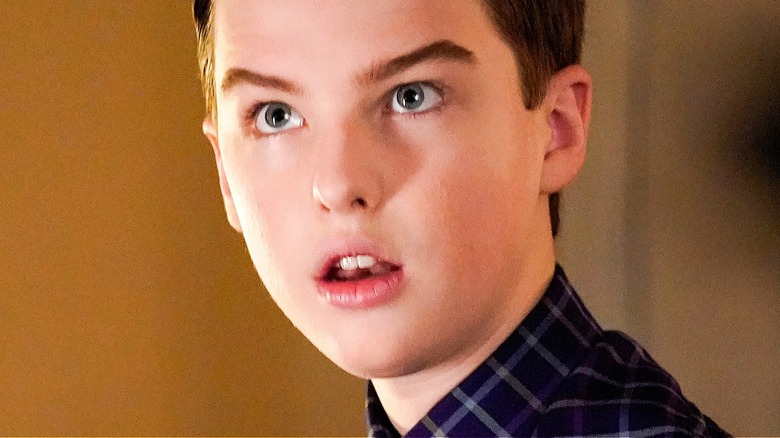 Robert Voets/CBS
The irreverent CBS sitcom "The Big Bang Theory" may have closed the door on its central gang of nerdy friends with its final season in 2019, but the show's resident supergenius Sheldon Cooper lived on by way of his very own prequel series: "Young Sheldon." Focusing on the childhood of the most beloved geek on television, the show stars Iain Armitage as the kid version of Parson's character. While the actor puts his own spin on the role, he's still very much the pop culture-obsessed, hyper-intellectual oddball that fans know and love.
"Young Sheldon" has proven to be quite a popular successor to "The Big Bang Theory," with its fans even loving some of the more unexpected things about the show. But as with any series that's enjoying its time in the spotlight, viewers and media outlets have plenty of burning questions that they would love for those involved with the show to provide answers for. However, there's one specific question about "Young Sheldon" that Iain Armitage has claimed is impossible for him to answer.
Armitage can't decide his favorite part of filming the series
It's no secret that a lot of effort goes into creating a single episode of a series like "Young Sheldon." Lines must be memorized, scenes must be rehearsed, costumes must be worn, and so on. It's an intense process that actors know like the back of their hand. Unfortunately, Iain Armitage just can't pick his favorite thing about filming the sitcom.
In an press release interview with Channel 4 (via Pressparty) near the premiere of "Young Sheldon," Armitage fielded several questions. When asked about his favorite part of filming, the young actor responded: "This is impossible to answer! I have enjoyed everything! I don't think I am supposed to mention specific things, but this week we are filming my favorite episode so far, and last week we filmed my other favorite. It just keeps getting better!"
While the actor can't decide on a favorite element, it's true that the show has been on the up-and-up since its inception. Several years later, the spin-off celebrated its 100 episode a decent ways out from the narrative point where many fans hope "Young Sheldon" will end.
"It's crazy because it feels like we've only done one episode and at the same time it feels like we've done a thousand," Armitage told Entertainment Tonight. "I love it so much and I cannot wait to make more television and I can't wait to work [with] these awesome people more and hanging out."