The Outsiders Scene That Made Tom Cruise Physically Ill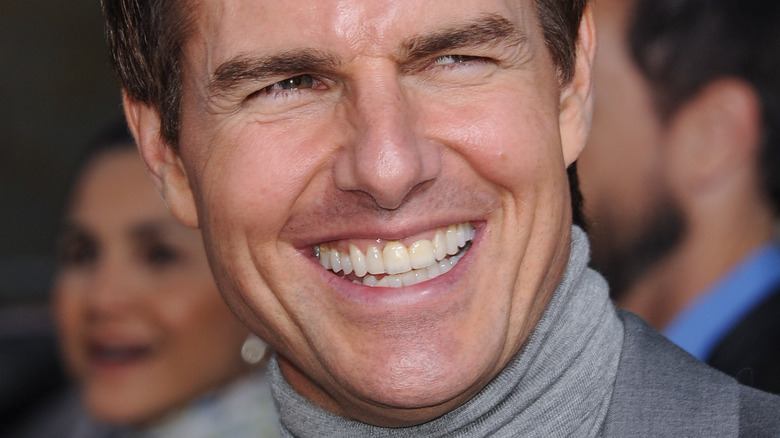 DFree/Shutterstock
At this point in his legendary career, there's almost nothing that Tom Cruise hasn't done onscreen. That statement extends far beyond just delivering solid character work. In fact, Cruise's reputation for doing his own stunt work in films precedes him these days. That reputation is well earned, as Cruise has personally participated in high-speed chases, flown jets and helicopters, dangled from skyscrapers, repelled down buildings, leaped between buildings, and more, in service of big screen spectacle over the years. And if everything goes to plan, he'll even punch a ticket to actual space before all is said and done.
During a 2021 interview on "The Graham Norton Show," the seemingly ageless Cruise claimed in no uncertain terms he still gets a sincere kick out of doing his own stunt work in his films, and admitted he's even been told by some directors to stop smiling during the death-defying scenes. While Cruise has willingly sacrificed his body in service of such spectacle over the years, it seems one scene from his early career hit "The Outsiders" pushed the famed cinematic daredevil to the absolute limits. And the "Top Gun: Maverick" superstar was clearly not smiling by the time the shot was in the can. 
Cruise apparently went into sugar shock shooting a scene for The Outsiders
If you've followed Tom Cruise's illustrious career since the early days, you know he worked with some of cinema's biggest names prior to his "Top Gun" breakout. And during the same interview with "The Graham Norton Show," Cruise regaled the talk show host and his fellow guests with a couple of hilarious tales, one of which involved an unfortunate culinary decision he made for Francis Ford Coppola's stylish 1983 ensemble drama "The Outsiders."
That decision found Cruise caught in a tricky digestive loop in a scene where he and several of the film's esteemed cast members hash out a family problem. The talky scene finds Cruise's Steve Randle contributing to the conversation while chomping down on chocolate cake. According to Cruise, the decision to actually eat cake in the scene was innocent enough. "I was working with Coppola," he said, "and I was like, 'You know what, I'm going to eat chocolate cake in the scene ... it's part of the character, I'm going to eat chocolate cake.'"
The choice soon came back to haunt Cruise as the scene took longer than anticipated to shoot. "We ended up shooting this scene for three days," he told Norton, "and we did like 100 takes of me eating chocolate cake, and I had to keep eating it." Cruise continued by adding the first few takes were pretty enjoyable. But by the end of day three, he'd had more than enough, claiming, "I was in sugar shock, I was vomiting." Culinary regrets aside, the cake scene stands as proof that even early in his career Cruise would do anything necessary to make a moment memorable.